Industry puts faith in quantum dot SWIR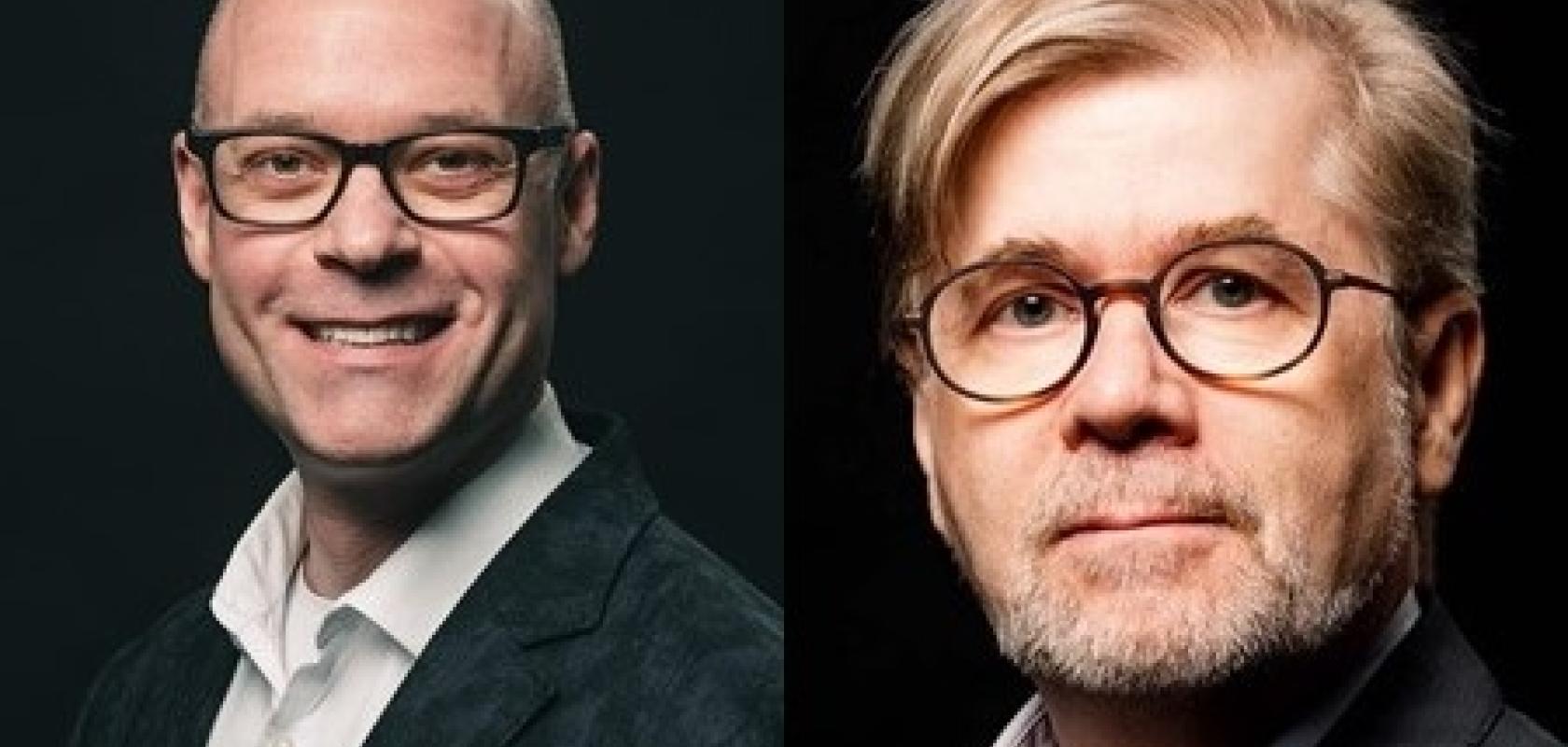 Emberion has raised €6m for its nanomaterial SWIR imagers. As interest gathers in quantum dot or nanomaterial SWIR sensors, we speak to Emberion's CEO and CTO, Jyrki Rosenberg and Tapani Ryhänen, about what the future holds for the technology
Why is there so much excitement about nanomaterial SWIR imagers?
Rosenberg: 'We're pleased with the faith the industry has put in us [through the €6 million funding]. Our investors see this technology as having wings and really being able to change the market. There are two main reasons: one is that [nanomaterial SWIR sensors] provide better performance than traditional technologies like InGaAs in terms of having, for example, wider bandwidth range – our imager is sensitive from 400nm to 2,000nm, but future generations will go beyond that. Secondly, we can do it at an affordable cost.'
Ryhänen: 'The reason why this technology is so interesting is that it's highly scalable. You are really able to create a different type of device – one with small pixels – with a colloidal quantum dot image sensor. That leads to low-cost, high-resolution devices. In addition, the technology can create imagers that can be produced in high volumes. That is where current III-V semiconductor InGaAs sensors have their limits – the technology is harder and more expensive to scale.
'We have a fabrication site in Cambridge, UK based on semi-automated production, and will be investing in that to scale up production.'
Where are you seeing most interest in your technology?
Rosenberg: 'We have chosen to focus mostly on industrial machine vision and surveillance at this time, and that's where we see the greatest demand from our customers. Medical imaging and self-driving cars are other potential areas.
'In the industrial space, we've had interest from customers involved in plastic sorting, and recycling more broadly. Food inspection is another area that benefits greatly from SWIR imaging, and we're getting lots of interest from customers across the food production value chain.'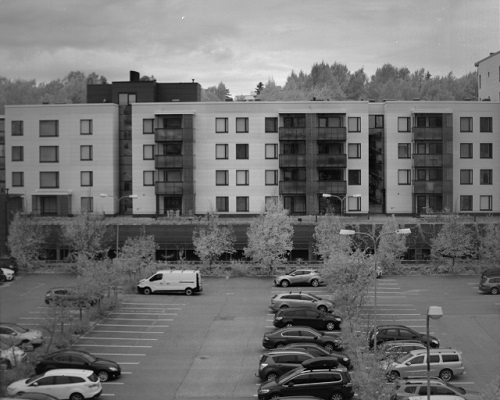 Surveillance image taken with Emberion's VS20 Vis-SWIR camera. Credit: Emberion
What performance gains can you get with this technology?
Ryhänen: 'The performance of an image sensor is the sum of many different things; noise performance and sensitivity are one element of that. At the moment, characterising our device performance we can say we have extremely good image quality and we have very high dynamic range compared to InGaAs, which means we can get good signal-to-noise ratio for dark objects in the image while also seeing bright objects. The images look really good compared to InGaAs images.
'We are on a par with other quantum dot SWIR imagers on the market in terms of quantum efficiency. Quantum efficiency depends on the wavelength you're working at; when you extend the wavelength range you get lower quantum efficiency. We have more than 80 per cent QE for visible light, but the same sensor will give a bit over 20 per cent QE at 1,850nm. It depends on the wavelength at which the sensor is working.'
Why are these sensors more affordable than InGaAs?
Ryhänen: 'InGaAs is built from two different devices, a CMOS ROIC and a pixel array. When you build the photosensitive part, you start with an expensive indium phosphide wafer; then there's an expensive process of building the different layers with molecular beam epitaxy. Plus, these two wafers need to be aligned and bonded together, and this bonding process is extremely complex and there are yield issues. It's a complex process that's very expensive.
'What we do, we take a CMOS wafer with all the electronics and we monolithically add material on top, using thin film processes and spin coating. We have just one substrate on top of which we layer the material. The starting point has a cost benefit compared to InGaAs, but also it leads to scalability; we can scale the pixel area and we can fabricate smaller or larger pixels with greater ease depending on the requirements of the customer.'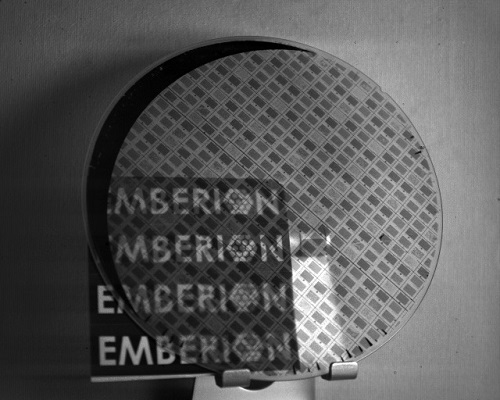 A silicon wafer, which is transparent in the SWIR region, captured with Emberion's VS20 Vis-SWIR camera. Credit: Emberion
What will you be working on in the near future?
Ryhänen: 'Firstly, we are investigating nanomaterials to extend our wavelength range. We are working on midwave infrared sensing technology, to add that to the visible and SWIR imagers already in our portfolio. That's one area of investment. And all the time when working with the material we are targeting higher performance, such as higher quantum efficiency.
'A second area is further developing our integrated circuits. Here, we have a clear roadmap towards higher resolution, to megapixel devices.
'Thirdly, we are working on lower cost and miniaturised packaging that will enable new types of application. At the moment we package the device in a robust way so that it's reliable and tolerates rougher environmental conditions. But new packaging will open up new use cases.'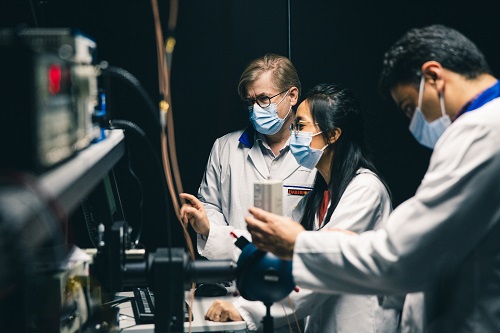 Dr Tapani Ryhänen, Emberion's CTO, is also co-founder of the company. Credit: Emberion 
Rosenberg: 'We have shipped products to customers that have started testing and evaluating, and we expect further demand from them. We want to be ready this year to increase production capability to meet this demand.
'We're investing in scaling up production, commercialising our current imagers, and continuing to develop future generations of devices. We do see adoption to be further increased by extending the capabilities of the devices. However, we're already at the point where the market will start to shift [towards buying quantum dot SWIR sensors].'
–
Emberion's VS20 camera
Emberion, established in 2016 with sites in Espoo, Finland and Cambridge, UK, offers visible-to-shortwave-infrared sensors and cameras capable of imaging from 400nm to 2,000nm. The photodetectors incorporate colloidal quantum dots and graphene on top of a CMOS readout circuit. Tuning the nanomaterials extends the sensitivity of the sensor out into the shortwave infrared.
The firm has just launched its VS20 VIS-SWIR camera based on the technology, which it will show at Photonics West in San Francisco this week. The camera is a VGA device with a 20µm pixel pitch, operating at 100fps and 120dB dynamic range.
Investors in the €6 million funding round were Nidoco, Tesi (Finnish Industry Investment) and Verso Capital.
–
Dr Tapani Ryhänen is CTO and co-founder of Emberion. Before establishing Emberion he led Nokia's research and development of sensor and material technologies. He has also worked at Vaisala Technologies, the Technical Research Centre of Finland (VTT), and at Aalto University.
Jyrki Rosenberg, CEO of Emberion, has more than 20 years' experience in the technology sector. He led F-Secure's B2B cyber security product business, was the CEO of a digital music service, and held a number of senior roles in sales, marketing, product development and general management at Nokia.