Full programme and new dates for vision conference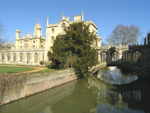 The Machine Vision in European Manufacturing Conference, organised by Imaging and Machine Vision Europe, takes place in Cambridge, UK, on 8-9 April 2008.
The full programme is now online, and features high profile speakers from companies such as DaimlerChrysler, Pilkington and GE Automotive, as well as papers from leading industry organisations, such as UKIVA, the EMVA and the Processing and Packaging Machinery Association.
A choice of delegate packages is available to suit your budget, and the conference organisers can also arrange for accommodation on site at the college itself.
Moreover, anyone booking a full two-day delegate pass before 28 February will also benefit from the following exclusive benefits:
Two-day delegate pass for £595+VAT (saving £100)
Free onsite evalation by a Stemmer Imaging machine vision specialist (conditions apply)
Free copy of UKIVA's Machine Vision Handbook
Discount voucher for Vision Academy training courses
The programme itself features a range of leading names from the world of machine vision and European manufacturing. Delegates will learn valuable lessons on how to save money, how to improve quality and how to implement vision systems in manufacturing environments.
Confirmed speakers include:
Three-dimensional robotic safety at DaimlerChrysler
Dr Christian Wohler, research division, DaimlerChrysler
Process optimisation and camera-assisted robot manufacture
Dr Jurgen Grotepass, Freudenberg Dichtungs- und Schwingungstechnik, GmbH & Co. KG
Vision in process and quality control
Andrew Thomson, Pilkington Glass
The European machine vision industry – a partner you can trust
Gabriele Jansen, President, European Machine Vision Association
Understanding your machine vision options
Don Braggins, Director, UK Industrial Vision Association
Optical inspection as a process tool – The strategic use of AOI in electronic assembly systems
Peter Grundy, engineering consultant, PG Engineering (Sussex)
Application of vision automation in food processing and packaging
David Hopper, RTS Flexible Systems
The vision needs of the packaging industry
Martin Keay, Technical Consultant, Process and Packaging Machinery Association
Vision sensors – examples of the latest industrial applications
Dr Helge Moritz, Schunk Intec Ltd
Quality control of lighting products
Robert Baranyi, GE Automotive
The challenge of electronics inspection
Mike Philips, Envisage Systems
The two-day delegate package includes all meals, as well as a conference dinner in the grand dining hall of St John's College, and a downloadable MP3 walking tour of Cambridge.
To take advantage of the early booking incentives, book before 28 February visiting www.imveurope.com/mvem