The Sun always shines on EMVA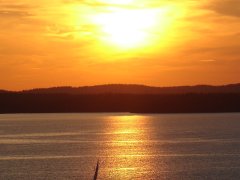 The experience began with the very odd sensation of emerging from the airport into bright sunshine – at 10.45pm. Such is the northern latitude of Tampere that in the summer, for a few nights at least, it doesn't actually get much darker than dusk at all. And, as a fellow delegate from the Tampere Business Organisation told me, in winter of course it is just the opposite – the sun barely struggles above the horizon in mid-December.
The setting for the conference itself was at the Holiday Club Tampere Spa, overlooking Lake Näsijärvi, and just a few miles from the town of Nokia, home of Finland's most famous company (though mobile phones are only its most recent venture – it's been around for more than 100 years or so).
The EMVA conference is continuing to grow in popularity, with more than 150 delegates registering – up from just over 100 last year. Expertly organised by Patrick Schwarzkopf and Dorothea Luttman of the EMVA, aided by Messe Stuttgart, the event began with a welcome from EMVA president Gabriele Jansen.
The first section of the conference concentrated, appropriately, on 'Machine Vision in Finland', and it was up to Antti Sivula, vice president of sales and marketing at Orbis Group, to provide an outline of the use of vision in the manufacturing industry. Among his many interesting observations was the fact that globalisation – which in this case meant the moving of manufacturing to low-cost labour countries, such as India – had actually led to a decrease in the level of automation in manufacturing, particularly where flexibility is required. In spite of this, Sivula concluded that there was still a place for machine vision, whether the production be fully-automated, semi-automated or entirely manual, since there would always be checks that a human eye simply could not perform accurately and efficiently. Examples include analysis of tiny objects, fast moving objects and colour measurements.
Next, the focus turned to a very specific application – that of the pulp and paper industry, which is prevalent in Finland. Arto Marttinen, director of the Technology Development Unit at Metso Automation Oy, gave a brief history of his company, which has long specialised in web-inspection systems and other image analysis based products specifically for the pulp and paper industry. He explained how image analysis had become essential for all modern paper plants in order to reduce waste and increase profitability.
Concluding the morning session, Jauko Suokas, executive director of VTT Technical Research Center of Finland, explored the level of research in machine vision throughout the country. He explained that Finland had traditionally invested a great deal in research and development, and had a track record of its high-quality university system working closely with private companies. Suokas gave plenty of examples of Finnish innovation through the years, including a very early patent for digital machine vision, filed by Professor Antti Niemi (also a delegate at the conference), back in the early 1970s. Suokas explained that the focus of recent research had shifted away from the traditional areas and into niche applications, such as multisensoral recognition in recycling, microtechnology and many bioscience applications. He highlighted some future applications, which included active safety for vehicles to help avoid accidents, and the use of vision to measure distances in sporting events, such as the long jump.
After lunch, the Technology Trends track began with a very lively debate sparked by Gunnar Jonson, who was given the rather tricky task of explaining the smart camera challenge – a task made all the more difficult by the fact that his own company, JAI Camera Solutions, has yet to enter the smart camera market. Jonson did, however, do his very best to deliver a balanced view, and outlined the benefits of smart cameras – namely that they are easier to maintain and operate, and have all the processing onboard. He believed that there would still be a market for traditional cameras, particularly among OEMs and system integrators looking for specialised solutions. Smart cameras have a greater appeal to end users, because of their apparent simplicity. His argument was that, for many applications where only one camera was required, smart cameras would often be the sensible choice, but where multiple cameras and a complex set-up was needed, traditional cameras would still dominate. Jonson admitted that the divide between smart cameras and traditional camera systems was becoming smaller, and in many ways they can complement each other. He concluded by suggesting that traditional cameras would still have the edge where applications required high levels of accuracy, speed, complexity and flexibility.
The technology theme continued with Robert Lange of PMD Technologies, who explained time-of-flight 3D measuring technology. The technology worked by using each pixel as a complete distance measurement system, meaning that each pixel would emit light and measure how long it took to bounce back again. In order to achieve accuracy down to 1mm, the technology needs to measure slices of time as low as 6.67ps. Lange also explained how PMD had overcome the challenges of sunlight glare. Applications for 3D image processing include automotive, industrial, robotics and multimedia.
The final session of the afternoon was given over to Business Trends, with EMVA vice president Mats Gokstorp giving a presentation in his role as general manager of SICK IVP. He gave an overview of the SICK group as it stands, before going on to give some explanation as to how it has achieved success. Part of this, said Gokstorp, was down to being an international organisation, with direct sales and support in 26 countries. The SICK success story also owed much to a strategy of acquisitions, partnerships and organic growth.
To conclude day one, Len Metcalfe of LMI spoke about using patents as strategic instruments. He explored the various reasons for seeking a patent and for which territories.
In spite of a pre-event warning that it would not be possible to watch the World Cup quarter final on the Friday evening, the prevalence of Germans among the delegates forced the organisers to reconsider – and a pat on the back for their flexibility! Coaches were hastily rescheduled to allow delegates to watch the first half of Germany v Argentina in the hotel, before being whisked to the harbour at nearby Lake Pyhajarvi, where the boat had a portable TV in the bar area. Several delegates crowded round, watching the crackly reception (which disappeared just at the moment that Germany scored!), only to arrive at Hotel Rosendahl just as the match went into extra time. Resourcefulness came to the fore once again as a TV was turned on in the bar area, and the dinner was delayed a few minutes to allow the majority of delegates to watch Germany win the match on penalties – the best result for the good of the evening's mood (and the less said about England's defeat the day after, the better).
Saturday began with the general assembly of the EMVA, with Patrick Schwarzkopf and Gabriele Jansen bringing delegates up to speed on activities over the past year. The organisation is continuing to grow and gain momentum, but by the committee's own admission, needs more input and membership from countries outside Germany. As well as an update on the Genicam and EMVA 1288 standards, there was an interesting debate about whether the organisation should widen its remit outside of the traditional field of industrial vision. There were many well-argued and differing opinions: most agreed that fields such as intelligent traffic systems did fall under the EMVA umbrella, but areas such as security did not. Those arguing for the inclusion of security warned that members could lose out on market share as specialist security suppliers saw the potential of other markets, particularly as their technology is catching up with that of industrial vision. The debate offered no real consensus of opinion, and is sure to continue in the coming months.
The last session of the conference concentrated on Machine Vision Markets, beginning with the always-entertaining Paul Kellett, director of market analysis at the AIA, giving an overview of the North American machine vision market. His analysis showed that growth had slowed slightly in the past two years, but that the market for machine vision was indeed still growing. Component growth was being depressed by poor performance by lighting and imaging boards, which actually fell in revenue terms in 2005.
The theme continued with Naoyuki Kani, president and CEO of Japan FA Systems Corp, who provided an insight into the Japanese machine vision market, where CMOS cameras are outselling CCD cameras. Digital cameras have a 70 per cent market penetration, and the majority of vision systems are being used for micro inspection applications. Kani also explained the various associations that had been set up for the vision industry in Japan.
The final speaker was Jurgen Wagner, a technology analyst at Sal Oppenheim Research in Germany, who discussed trends in machine vision technology. He said customers were demanding solutions that were faster, cheaper, more accurate and more robust. Wagner said that improved computer power would bring about numerous benefits, making machine vision 'more of a software game than a hardware game', and that LED lighting would increase in popularity. In conclusion, he also suggested that the machine vision market would go through a period of consolidation in future years, as there were still many small companies around.
Too often, conferences might just as well be in any place in the world, since one often sees the airport and the hotel and not much else. It was fitting, therefore, that the organisers had arranged a city tour of Tampere for the Saturday afternoon for those that wanted to see a little more of the beautiful surroundings.
The conference enjoyed a relaxed atmosphere and there were plenty of opportunities for networking. Next year, the conference will take place in Lyon – and there are sure to be even more attendees than ever.