Vision 2008 boasts packed programme of events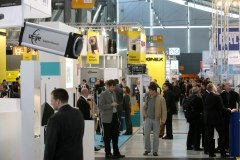 Visitors to Vision 2008, the 21st international trade fair for machine vision and identification technologies, can look forward to a packed programme of events, with approximately 300 exhibitors from almost 30 nations present at the show. The event is held from 4 to 6 November at the new Stuttgart Trade Fair Centre and covers all aspects of the machine vision industry.
One of the highlights will be the Automotive Application Park, an 180m² modular testing system for toy cars detailing how machine and robot vision systems can be used advantageously and profitably in car production. Representing many machine vision areas of application, the setup, at a scale of 1:87, will include input from companies from the machine vision and automation industry.
Car models are brought from the warehouse with the aid of a palletiser and cameras, and are subjected to several tests. One cell, for example, is responsible for measuring the axle distances. Minute paintwork scratches are detected in another cell, with a halogen lamp heating the paintwork and thermal imaging cameras recording information on the cooling process and identifying any paintwork scratches. Other checks on the specific shade of the paintwork and how the car moves are carried out, before Scara robots take the selected car and subject it to one final check.
The Industrial Vision Days, a series of talks and discussion groups running throughout the three days, will provide information on machine vision capabilities, the trends in the industry, as well as vision developments and solutions.
As in recent years, Imaging and Machine Vision Europe magazine will present the 16th Vision Award, recognising innovations, products and procedures from the machine vision industry. The judging panel consists of Roland Beyer of Daimler Chrysler, Don Braggins of Machine Vision System Consultancy, Holger Hofmann of Isra Vision, and Martin Wany of Awaiba, and the €5,000 prize-giving ceremony will take place on 4 November. The winner will present their development in a separate talk during the Industrial Vision Days.
BMWi's communal stand will showcase new and upcoming German companies providing innovative ideas in the field of industrial image processing. Germany alone accounts for 43 per cent of total turnover on the world market for machine vision and is therefore one of the most important sales region for machine vision.
Other highlights include a podium discussion with experts Katharina Geutebrück, Dr Jörg Krüger, Dr Dietmar Ley, Christoph Stroschein and Dr Stefan Gehlen, entitled 'Big Brother is watching you: Machine vision and safety technology'.
There will also be a specific stand set up providing expert advice on machine vision standards – the most important standards, their potential areas of use, and their benefits. In addition, Vision Academy, an institution organising training courses in machine vision, will be running a user workshop programme during the trade fair.