Flir Q1 thermal camera orders for fever screening jump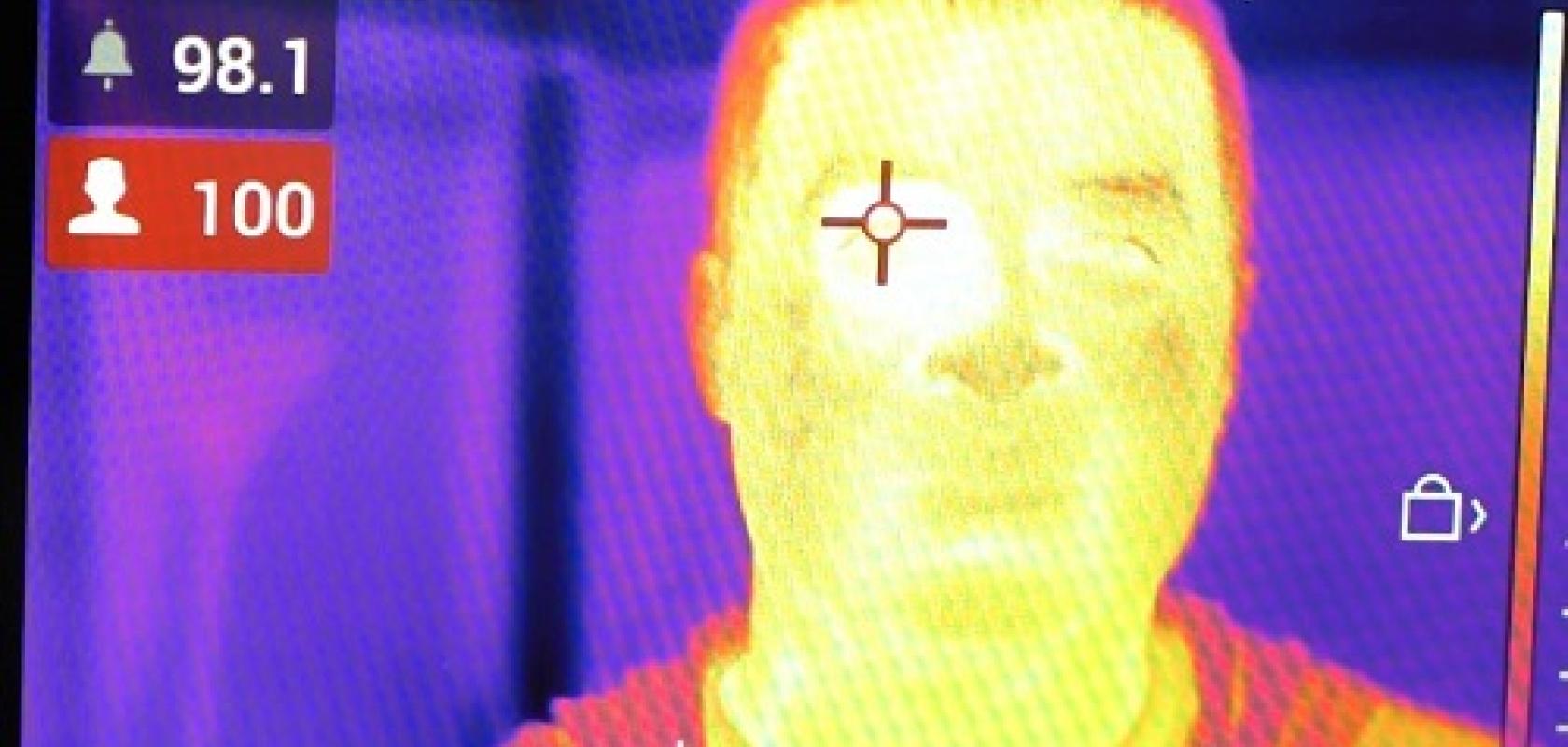 As demand for thermal imaging rises during the coronavirus pandemic, Greg Blackman asks how effective thermal cameras are at screening people for signs of fever
Thermal imaging firm, Flir Systems, has seen orders of its thermal cameras for fever screening jump in the first quarter of 2020 in light of the coronavirus pandemic.
Flir recorded $330m worth of backlog in orders for its industrial segment in Q1 2020. This is an increase of 28.3 per cent relative to the same period last year, primarily as a result of demand for cameras for body temperature screening.
The company saw a record first quarter total backlog of $859.3m, up 2.8 per cent compared to Q1 2019 – the backlog in orders for its defence segment fell by 8.6 per cent to $529.3m.
Flir posted revenue of $450.9m for the first quarter of 2020, up 1.4 per cent against the same period last year.
The modest growth in sales was attributed by Flir's president and CEO, Jim Cannon, to 'increased demand for our thermal cameras for use in elevated skin temperature screening', which has 'offset other headwinds to our business resulting from the pandemic'.
Revenue for Flir's industrial segment for the quarter was $276.4m, up 1.9 per cent. This was put down to heightened demand for cameras for elevated skin temperature screening, partially offset by lower volume in maritime products, security products and cooled cameras and components.
Demand for thermal imaging has grown during the coronavirus pandemic thanks to the technology's ability to detect an elevated skin temperature, although it should be noted this is not a test for Covid-19, or for that matter even a test for fever – you need a thermometer to say if someone is feverish.
However, airports have installed thermal cameras to screen passengers for signs of fever, and now, as countries begin easing lockdown restrictions, many other businesses, along with buildings like hospitals, could consider installing thermal imaging checks.
So, does the technology work? Thermal imaging was used to screen people in airports during the SARS outbreak in 2003 and swine flu in 2009. The technique can give a reasonable approximation of core body temperature by focusing on the tear ducts around the eyes, which has shown to be the area on the face most closely correlated with body temperature.
However, as Markus Tarin, president and CEO of MoviTherm in the USA, said in a video for MoviTherm's YouTube channel, a thermal camera can only detect skin surface temperature – it can't diagnose whether someone has a fever or has an infection of any kind. In addition, it's only really by focusing on the tear ducts that a thermal camera can give an accurate reading; measuring skin surface temperature elsewhere on the face won't work.
Tarin puts the accuracy of most thermal cameras as ±2ºC, considering various factors such as emissivity, spatial resolution, detector and system noise, and temperature drift. He also makes clear in the video that thermal cameras cannot detect someone with elevated body temperature in a crowd of people. 
Thermal cameras have low spatial resolution – typically 320 x 240 or 640 x 480 pixels for this type of application – which means that the person has to be directly in front of the camera to get a reliable measurement from such a small area on the face as the tear ducts.
Tarin told Imaging and Machine Vision Europe: 'Due to the very small size of the inner canthus [tear duct], several pixels are required to measure that region accurately. We have determined that the approximate pixel size – projected onto the face – should not be much larger than 1.5mm/pixel. With thermal cameras having a relatively low spatial resolution of maybe 320 x 240 or 640 x 480 pixels, this implies that the image size should not be larger than about 500 to 600mm in width for a 320 x 240 pixel detector – twice that for the 640 x 480 resolution camera at most.'
Flir recently released its A400/A700 camera with a resolution of 320 x 240 pixels, which the company says it is prioritising for tasks that combat the spread of Covid-19. Andreas Zinssmeister, head of EMEA sales at Flir Systems, told Imaging and Machine Vision Europe that Flir's A-series, T-series or E-series are suitable for elevated skin temperature measurements.
The distance the camera can be positioned from the subject depends on having enough pixels to get a reading across the tear ducts, but also on the lens. 'As long as our application meets the minimum pixel over the smallest area of interest requirement, we can move further away,' Tarin explained. 'For example, with a 24d lens and a resolution of 320 x 240 pixels, I can achieve a scanning distance of about 6 to 8 feet, or thereabout. Using a 14d lens, I can stretch that to 10 to 12 feet,' adding that these are approximate figures and will depend on factors such as the pixel pitch of the detector.
All of this means that it is best to scan people one at a time in an airport security-style check to get an accurate reading, which also has the advantage that it allows staff to pull the person aside to run further tests if the camera does detect an elevated skin temperature.
According to Tarin, there are really only two legitimate screening setups for measuring elevated skin temperatures accurately with thermal cameras. The first is to use a camera that uses a baseline reference and then compares all future subjects to the average temperature of that baseline. The second uses an absolute temperature measurement, which requires a calibrated reference temperature source or black body.
'Either one of these setups would work in a hospital setting,' Tarin said. 'The addition of the black body adds a bit more complexity to the system, but not much. Either setup requires an occasional adjustment to make sure the system does not create false positives or false negatives.'
Zinssmeister at Flir Systems noted that 'when setting up a screening system, it is important to understand that temperature reading accuracy is not about the exact absolute temperature of any single person. Rather, it's about how the camera's application is measuring relative temperature readings to other people, taking into account external conditions such as hot or cold.' Thermal cameras can only measure the surface skin temperature, which is going to vary depending on how hot or cold the room is, among other factors.
Tarin added that the main challenge for using thermal cameras for this kind of application is human physiology. 'We are not measuring the temperature of a piece of steel,' he said; 'we are looking at a living being.'
He continued: 'We need to understand that thermal cameras can really only measure the surface temperature of any object they are being pointed at. So even if we had a 5 megapixel thermal camera with an accuracy of 0.0001ºC, this still would not solve the issue with thermoregulation [in humans]. The human body takes about 25 to 30 minutes to normalise its skin temperature, after entering an air conditioned room from a much colder or much warmer environment to put this into perspective.
'Nonetheless, using these cameras for elevated body temperature screening is still a valuable tool, as long as you understand the important variables involved,' he concluded.
Get in touch
If you can add to this advice about using thermal imaging for screening people, please get in touch to ask about writing for us: greg.blackman@europascience.com