Automation demand grows in essential sectors, say robot firm CEOs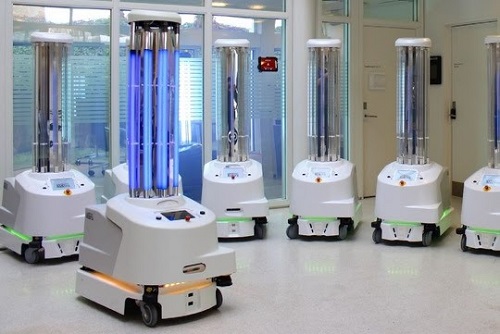 Chinese hospitals have ordered 2,000 UVD robots from Blue Ocean Robotics since the start of the pandemic. Credit: Blue Ocean Robotics
The Covid-19 pandemic has highlighted the importance of robotics and automation in many areas of manufacturing and society, according to panellists taking part in a webinar run by A3, the Association for Advancing Automation.
The heads of Fanuc America, Schunk, Fetch Robotics and Universal Robots felt that, while the global health emergency is going to have a negative impact on their businesses in the short term, there are markets that are running at maximum capacity at the moment, and other areas are beginning to recognise the advantages of automation.
'There are a number of industries, like the pharmaceutical industry or the food and beverage industry - those places are running full tilt, as fast as they can, making sure that all hands are on deck,' said Mike Cicco, president and CEO of Fanuc America, but added that automotive production is getting hit hard at the moment.
General Motors, Ford, Fiat Chrysler, Honda and Nissan are among the automobile manufacturers that have closed factories, as social distancing and lockdown measures have come into place in different countries.
Melonee Wise, CEO and founder of Fetch Robotics, said that there is a huge amount of interest in fitting mobile robots with disinfection capabilities, such as UV lamps or chemical disinfection.
Fetch Robotics is fielding 10 or 20 leads a day, Wise said, on whether the firm's robots would be able to disinfect a production facility autonomously before staff enter.
According to data from the International Federation of Robotics (IFR), Chinese hospitals have ordered more than 2,000 UVD robots from Danish manufacturer Blue Ocean Robotics since the start of the coronavirus pandemic.
The UVD robots are mobile units fitted with UV-C lights that move around an empty room to disinfect it before staff enter.
Global sales of medical robots increased by 50 per cent to 5,100 units in 2018, according to IFR statistics, and this trend will only continue because of the pandemic.
Wise added that, at the moment, there is huge demand to develop new medical and decontamination robots, aided by a relaxation in regulations to a certain extent – the need is so great that it's a case of getting disinfection robots out in the field, even if they don't have all the certifications they might have needed in the past.
'Right now, there's this huge opportunity and opening for a lot of these devices in medical scenarios, or in decontamination,' she said. 'A lot of things are being opened up; you can move fast, break things. The quesion is that, after this window, what's going to happen in terms of getting these devices fully to market, and whether people will still want to pursue bringing them to market?

'In the mobile space, there's a lot of push for us to develop new products for certain markets, but the push is during this crisis and whether that need will continue past the crisis is the real question,' Wise continued. 'There's a lot of ambiguity there.'
She added that the need for decontamination robots might continue past this pandemic, but that it's not clear whether all the new applications of robots and automation are here to stay. 
Supply chains
Another discussion point was whether the disruptions to supply chains will change the way companies do business. Milton Guerry, president of Schunk and president of the International Federation of Robotics, commented that most successful companies will look at how efficient their supply chains are after the crisis.
Guerry felt that there will be some snap-back to the traditional supply chains, but that bringing supply closer to consumption has benefits.
Cicco added that companies might now consider onshoring as more attractive, although he said that firms have been considering onshoring for a while.
'Peoples' feelings are changing on a daily basis,' Cicco said, adding that the situation is continuously evolving. He stated that the pandemic is going to have a lasting impact on robotics firms and the way they do business and their supply chains.
The future
The panel were asked whether there were changes that the companies had implemented during the pandemic that they might carry forward. Wise said that Fetch Robotics was deploying robots with customers over Skype at the moment to avoid Fetch engineers having to be on-site. This practice will continue, Wise hopes, because it's going so well.
Fetch Robotics is a software company, so is reasonably well set up for dealing with customers remotely. It works in the cloud so can deploy robots without sending engineers to customer sites.
Wise said that after the crisis, there will be a lot of interest in flexible automation. Most of the systems Fetch Robotics has deployed recently have been reconfigured in some way to suit the situation.
She advised companies thinking about installing automation systems to get in contact with suppliers now to get automation projects started while countries are in lockdown. 'When we come out of lockdown and move into a transition period, there's going to be a long line of people... wanting to kick off an automation project,' she said. Companies looking to install an automation system should start planning now to avoid waiting six months because of high demand after the lockdown eases, was her advice.
Get in touch
Please let us know how you are coping with the current situation. What are you most concerned about; how are your organisations aiming to deal with the effects of Covid-19? greg.blackman@europascience.com