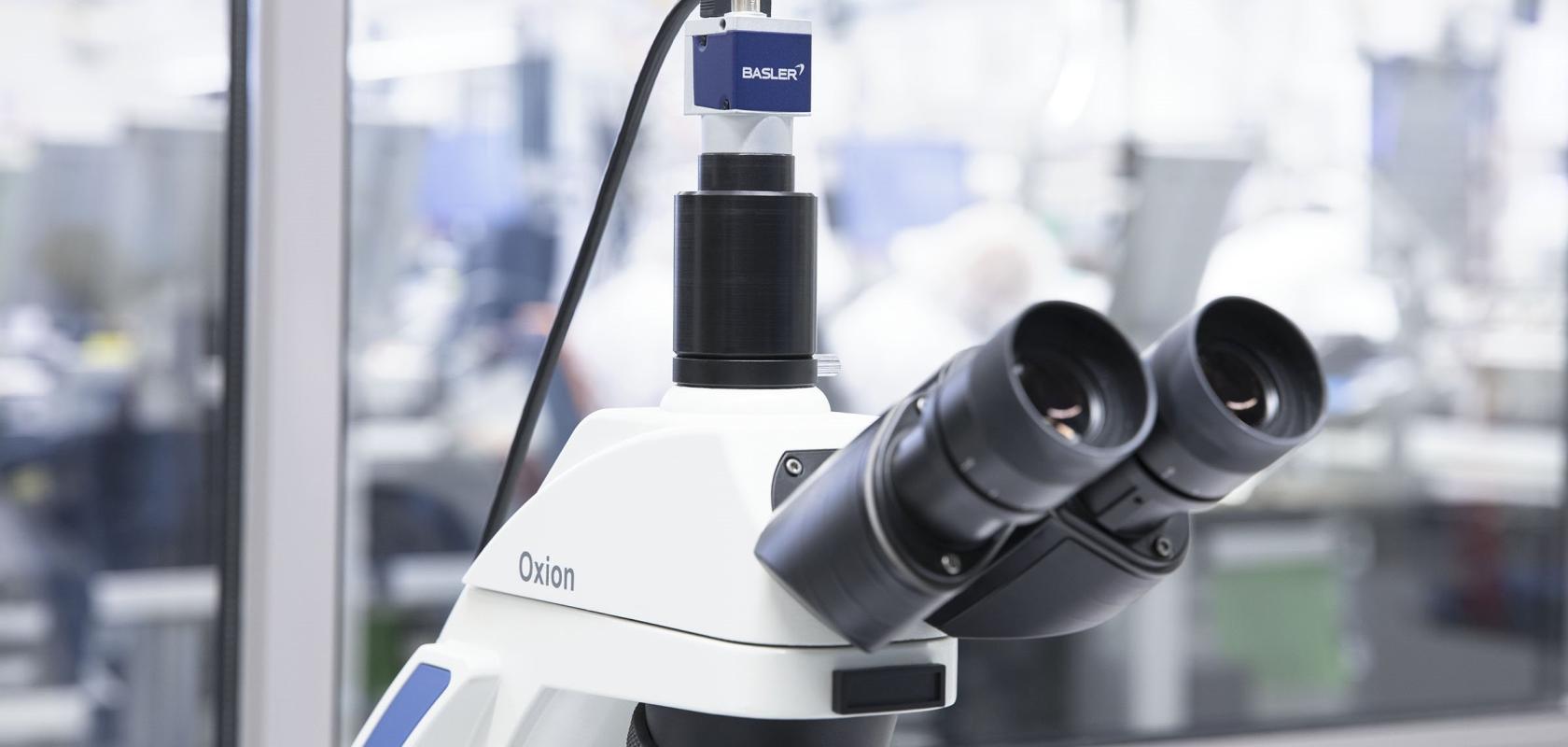 Camera manufacturer Basler enhances its microscopy portfolio: the new Microscopy ace camera model offers a high resolution of 12.2 megapixels with up to 15 frames per second and features the latest rolling shutter CMOS sensor IMX226 from Sony's STARVIS line. This innovative sensor works with a new technology using back side illuminated pixels and offers very low dark noise of only three electrons (3.2e-), combined with a quantum efficiency of over 80%. With this particularly light-sensitive sensor, the new Microscopy ace 12.2 MP delivers detailed images and at the same time high image quality, even in low light conditions. It reaches up to 71 dB of dynamic range. Thanks to these properties, the new Microscopy ace 12.2 MP is an excellent choice for a wide range of microscopy applications. This includes, for example, material inspection, lab routine work and more.
Using cameras with high resolutions in microscopy tasks offers various benefits: samples can be viewed with less magnification, the images contain more detailed information and therefore samples can be screened in less time.
The new Microscopy ace 12.2 MP is available within Basler's PowerPack for Microscopy which offers a variety of components. The camera comes along with a tested and compatible USB 3.0 cable, a simple-to-understand quick install guide, as well as professional microscopy software for camera control, image acquisition, processing and analysis and in its latest version 2.0, numerous additional features. Also included in the PowerPack is the Basler Video Recording Software for capturing single images, high-speed videos for slow-motion analysis and image sequences for time-lapse microscopy.
The Basler Microscopy Software can be downloaded from the Basler website:www.baslerweb.com/MicroscopySoftware.