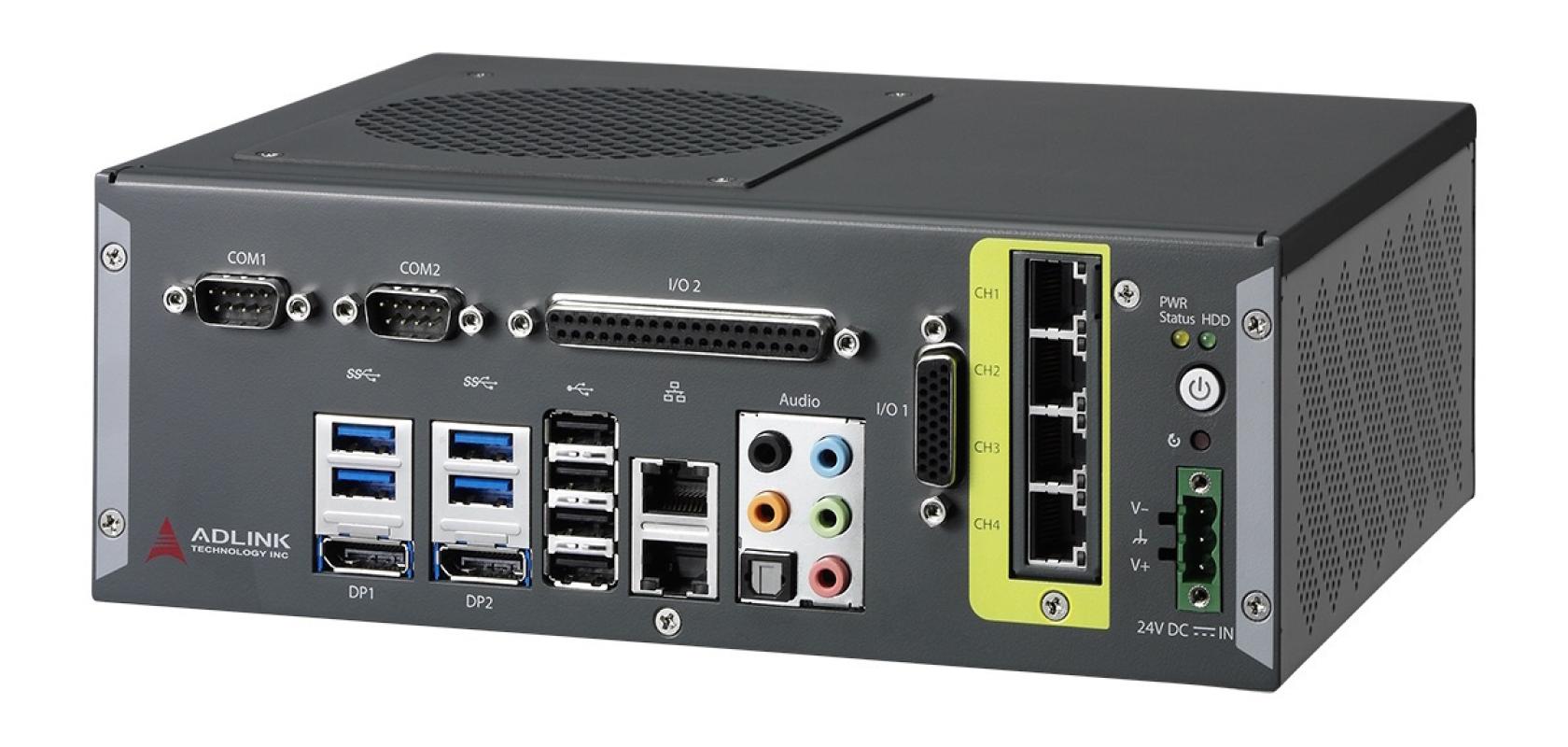 The new EOS-1300 from ADLINK is a high performance, compact embedded vision system designed for demanding machine vision and automation applications requiring multiple cameras, high computing power and time deterministic solutions. The EOS-1300 features 6th Generation Intel® Core™ i7, i5 or i3 processors, four Gigabit Power over Ethernet ports, four USB 3.0 ports, and FPGA-implemented digital I/O functions, all in a very small footprint.
The EOS-1300 is ideally suited for industrial applications. Its robust construction includes extended shock and vibration protection and long-term component availability to eliminate the failure points commonly found when non-industrial PCs are used in industrial vision applications. With the latest 500 Gb capacity solid state hard drives and Windows embedded operating systems the EOS is tolerant to any instant power loss making suitable for use in harsh environments. In addition, all I/O connectors are located on one side of the unit for easy installation. 
The latest 6th Generation Intel® Core™ i7/i5/i3 processors provide the computing power needed for demanding machine vision applications. Four independent PoE (power over Ethernet) ports deliver fast data transfer rates up to 4.0 Gb/s allowing a wide variety of high-resolution Gigabit Ethernet cameras to be used even in high throughput inspection applications. 
A powerful and flexible digital I/O capability provides minimal and fixed latency. It is FPGA-based meaning that there is no demand on the system's CPU resources, keeping them available for application processing activities. I/O functionality includes:
Programmable DI de-bounce filter, delay time, and DO pulse width 
On the fly trigger out
Sink or Source DO via external wiring
12x isolated DI (4x DI can be configured to trigger in)
16x isolated DO, 2x encoder inputs, and 4x USB 3.0
Advanced encoder functions are also provided making the system perfectly suited to conveyor applications in production lines. STEMMER IMAGING is experienced in configuring embedded operating systems and has developed an embedded lockdown utility which can be easily deployed to make the system tamperproof.