Racehorses receive thermal checkups to avoid injury
A thermal imaging system designed to detect muscle and ligament damage in the legs of racehorses is currently being used by horse trainers and veterinary surgeons in the UK.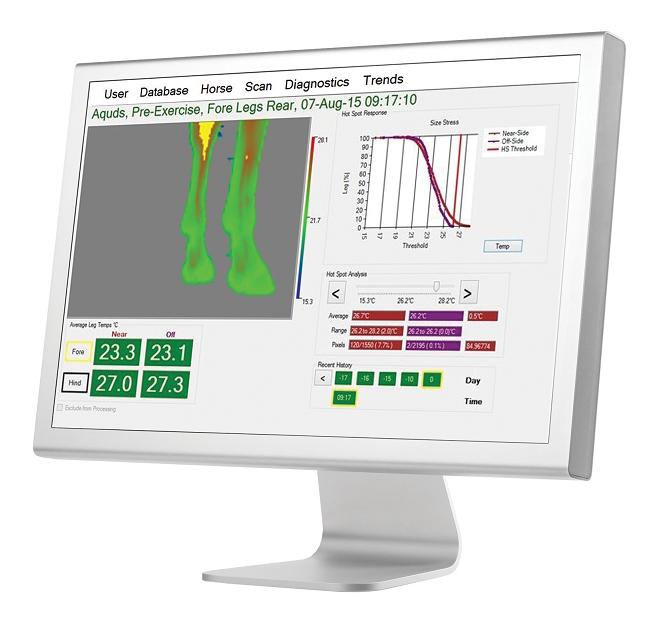 Tendon Manager uses high resolution thermal imaging cameras to detect temperature changes that could indicate injuries in the leg muscles of horses. (Credit: Micro-Epsilon)
The new machine, named Tendon Manager, uses industrial thermal imaging cameras from Micro-Epsilon to measure the cool-down rate of a horse's leg muscles. If the legs take a long time to cool down after training, this may indicate strain or damage to muscles or ligaments. 
Tendon Manager was launched by UK-based Byerley Technologies, which creates and sells monitoring products for horse racing. Steve Hudd, managing director of Byerley Technologies, explained how the system works: 'Before and after the horse has been exercised, the handler walks the horse into the machine, which waits for the horse to settle before automatically scanning the fore legs. The machine then prompts the handler to move the horse into the hind leg position before scanning the hind legs. The horse leaves the machine after the leg scan and weight are recorded.'
Race horses can be worth up to tens of millions of pounds, therefore the machine – as a device that can reduce or prevent injury to these valuable horses – has generated much interest in countries including Germany, Australia and Dubai. The system is already being used in the UK.
'The very best horse trainers can normally detect a minor difference in leg temperatures of around 3-5°C,' continued Hudd. 'Tendon Manager is much more precise than this. The ThermoImager TIM160 infrared camera, which is integrated into our Tendon Manager system, has a high sensitivity and is able to detect temperature differences of 0.2°C. The TIM160 also provides us with the high resolution we require – 19,000 pixels at 100 frames per second.'
Powered and operated via a USB 2.0 interface, the industrial ThermoImager TIM160 is an inline radiometric high resolution thermal imaging camera that provides temperature images and profiles of a target area. The unit is plug-and-play and supplied with a full software package, TIM Connect, that enables the user to configure the device's parameters and enables real-time capture and storage of images or video at 120Hz.
'When we were looking for a suitable camera, having the ability to program the camera easily to suit our system was critical,' said Hudd. 'The Software Developer's Kit provided with the TIM160 camera has enabled us to capture and process the raw data stream from the camera and make this information available to Tendon Manager for users to visualise on-screen.'
The TIM Connect software can be used to set and change alarm thresholds for the temperatures of tendons and muscles. If an alarm limit is reached, this can trigger an email being sent to the trainer or a veterinary surgeon along with temperature profile images that show where the hotspots are located. 'However, a single temperature profile image on its own can be misleading, so we also provide a full history of recorded temperature profile data for the horse,' commented Hudd. 'We maintain a huge database that looks at the temperature profile over time, allowing the user to make a fully informed decision about a potential injury to a horse.'