OVST secures funding to bring down cost of 3D sensors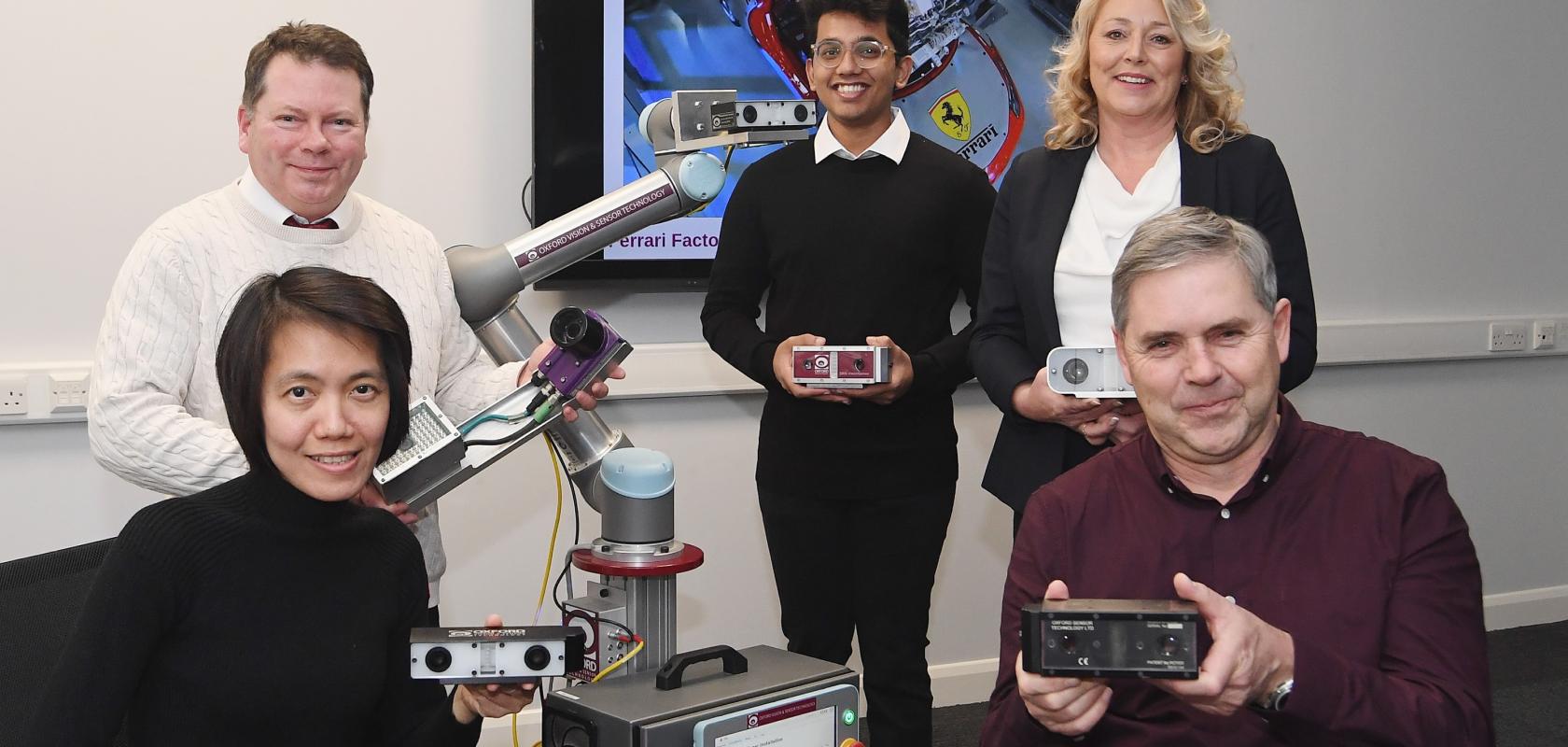 Oxford Vision and Sensor Technology (OVST) has received grants to further develop its 3D sensors and make them more competitive, which will enable it to launch them in China.
The firm, based at the University of Warwick Science Park's Venture Centre in Coventry, UK, designs and manufactures specialised 3D camera sensors for robot guidance and component inspection applications for the automotive sector.
It has worked with global manufacturers such as Ford, Ferrari, Jaguar Land Rover, and Honda, with the assembly of millions of vehicles having been guided by OVST vision systems.
While both OVST's sensor hardware and software are designed in-house, its firmware previously came from a third-party. 
However, thanks to a grant from Coventry City Council Business Support, OVST has now been able to develop its own sensor firmware. 
This means that the entire sensor IP is now wholly-owned by OVST and will allow the company to become much more competitive.
"One of the limitations with our previous generation of 3D sensors was that we were reliant on third-party firmware to allow them to operate, which hurt our bottom line," confirmed Dr Fhon Supmak, CEO of OVST. "But now, by using entirely our own IP in our latest 3D sensor, we have complete freedom to operate which helps to drive our costs down. This has allowed us to launch our sensors into new markets in China."
Coventry City Councillor Jim O'Boyle, cabinet member for jobs, regeneration and climate change, said: "This is the perfect example of how grant funding, delivered and supported by the right experts, can have a real impact. This shift in house will ensure OVST remains competitive and I'm sure it will help to safeguard and protect jobs – which is exactly what it's all about."
Aiding education
OVST has also used an additional grant to develop 'OVST EdTech', an online industrial automation learning and simulator platform to help students learn about modern manufacturing.
The firm has collaborated with Coventry University, where students undertaking the Master of Science degrees in control, automation and AI (CAAI) have used OVST EdTech as part of their studies.
Students at Warwick University taking internships with OVST also use OVST EdTech to learn industrial automation, gaining practical experience of industrial software with the same simulator environment that is currently used by several prestige automotive manufacturers. 
"We developed OVST EdTech as an industrial automation online learning platform for both students and practitioners," said Supmak. "Our simulator helps to close the skills gap between academia and industry, and shows the positive impact that having practical industrial experience can have in supporting students to reach their career aspirations."
The roll-out of the EdTech platform to universities has been supported through an award from the Royal Academy of Engineering via the Distinguished International Associates programme.
Dr Andrew Pike, course director of the above-mentioned Coventry University MSc CAAI course, added: "Our students working on OVST projects benefit significantly from being able to access and work with the leading-edge 3D-sensor and virtual industrial automation learning software developed by the company. This has formed the basis of a number of successful MSc projects, with the student experience enhanced by close collaboration with OVST's R&D experts."