New lidar solutions presented at CES 2023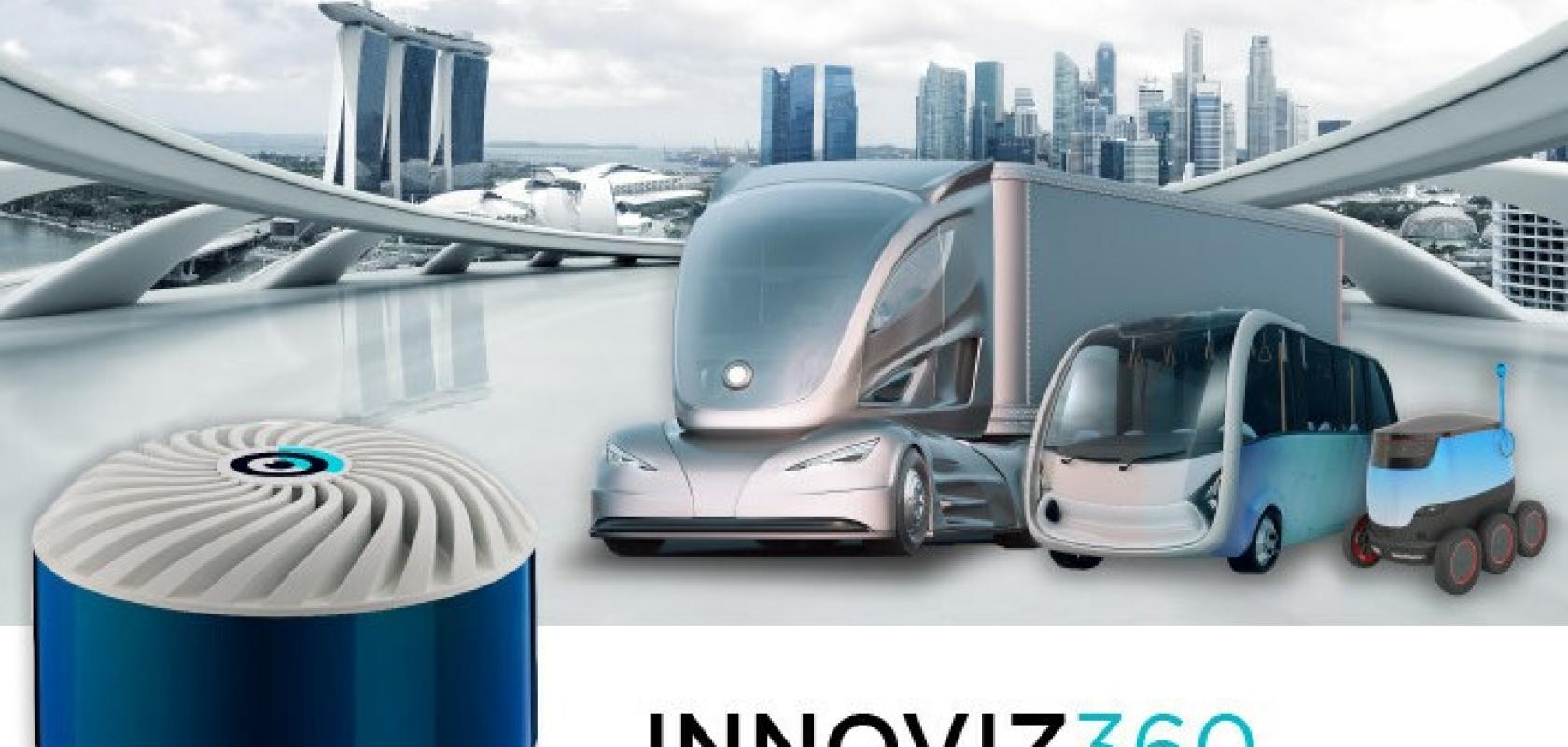 The annual Consumer Electronics Show (CES) in Las Vegas saw a number of new lidar solutions presented this week.
Innoviz360
Innoviz displayed its newly released Innoviz360 system, which is based on an innovative design that according to the firm overcomes existing barriers for spinning lidar regarding performance, size and cost.
The Innoviz360 features up to 1,280 scanning lines per frame, configurable frame rate, 0.05°x 0.05° resolution, and 300m range. Its design leverages many hardware advances from its predecessor, the InnovizTwo, including a single laser, detector and ASIC.
The Innoviz360's high resolution, high vertical field of view and reduced cost could help overcome major challenges for original equipment manufacturers (OEMs) looking to achieve Level 4-5 automation in applications such as robotaxis, shuttles, trucks, and delivery vehicles. It also enables autonomy in non-automotive applications, such as heavy machinery, smart cities, logistics, construction, maritime, and more.
"Innoviz continues to show its commitment to break through meaningful technology barriers that allow safety in mobility," said Omer Keilaf, Co-Founder and CEO of Innoviz. "The Innoviz360 adds another dimension to the company's growth by enabling Innoviz to become a one-stop shop for all types of LiDAR solutions"
FT120
Hesai was also present at the show debuting its new fully solid-state lidar FT120. Designed for near-range blind spot coverage for ADAS technology, the FT120 helps vehicles accurately identify small objects while turning, passing and parking.
The system delivers 100° x 75°  field of view and a maximum detection range of 100m. Its data rate per second is 192,000 points (in single return mode) while its overall resolution is 160 (H) x 120 (V).
Together with Hesai's long-range hybrid solid-state lidar, the AT128, the two sensors form a complete automotive grade lidar perception solution.
Hesai has already received pre-orders of one million FT120 units from top automotive OEMs, and will begin deliveries in the second half of 2023.
ML-30s+
ZVision formally launched its new short-range lidar ML-30s+ at the show.
With an ultra-wide FOV, enhanced imaging effects, new automotive-grade hardware and software architecture, and customised engineering solutions, the new system is expected to deliver the excellent lidar experience for autonomous driving.
The ML-30s+ has a field of view of 140° x 70°, enabling it to detect a vehicle advancing from behind 1.4m earlier than 120° lidar systems, which gives the regulation and control system an extra 300-700ms to respond. The system can effectively detect objects at ground level, such as low safety guardrails, bricks, boulders, stone abutments, safety cones and other road obstacles, as well as accurately identifying lane and parking markings.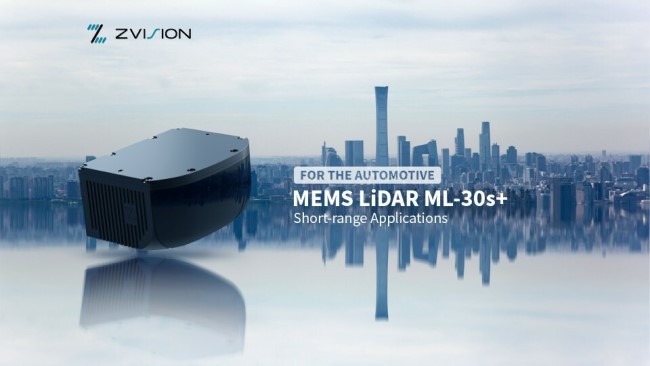 The system offers an angular resolution of 0.44° x 0.44° and a frequency of 512,000 points per second (in single echo mode). It can obtain 20 point clouds from a black-clad pedestrian at a distance of 22m, and 6 point clouds from a triangular cone barrel at a distance of 25m.
The ML-30s+ adopts a non-coaxial architecture design. A MEMS mirror module is responsible for the two-dimensional scanning of the transmitting module, while a pure solid-state receiving module is responsible for the gaze reception of large FOV. The two do not interfere with each other. As for device reliability, the MEMS mirror module comes with new proprietary packaging, as well as temperature and humidity resistance and vibration shock resistance at the highest levels. The design life tops 50,000 hours, fully meeting the requirements of passenger vehicles.
Precision eJib
Lumotive and Axibo, a developer of autonomous camera motion control systems, jointly presented a new solution in which Lumotive's Light Control Metasurface (LCM) beam steering chips have been integrated into Axibo's Precision eJib. The resultant solution is a unique, designed-for-cinema, six-axis robotic arm with 3D sensing capabilities. It grants photographers and videographers benefits such as smart object targeting and tracking, enhanced image stabilisation, and new autofocus features to produce far crisper images and films combined with automated scene capture.
Available initially for professional-grade cameras, and under development for consumer-grade cameras, the new photography and cinematography automation solution takes advantage of Lumotive's LCM beam steering chips that deliver exceptional performance and range in 3D sensing.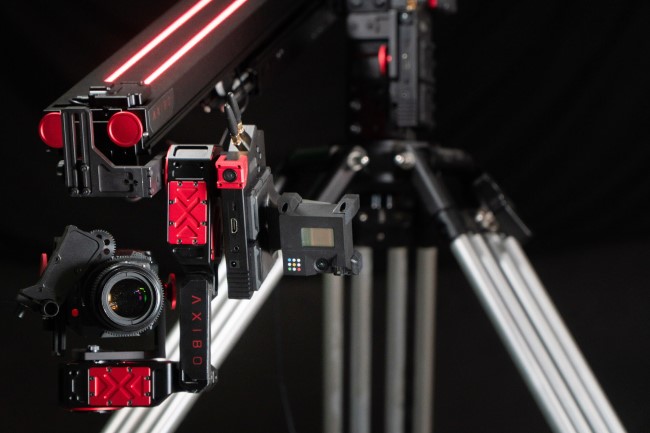 Enabled by Lumotive's M30 lidar reference design, Axibo's CES demonstration showcased advanced object tracking combined with automatic focus of a large, manual lens for enhanced filmmaking. 
"Until now, many advanced camera features, such as object detection, subject tracking, and closed-loop autofocus, have been limited in both performance and visual quality due to the lack of 3D sensing capabilities in photo and video camera systems," said Axel Fuchs, Vice President of Business Development at Lumotive. "The integration of our LCM beam steering technology with AXIBO's Precision eJib camera motion system takes photographic and videographic automation to a whole new level without sacrificing creativity. We are extremely pleased with the results of our collaboration."
Early versions of Lumotive's M30 lidar reference design are currently being evaluated by a growing number of leading consumer product companies, robotics systems developers, tier one automotive sensor suppliers, and industrial OEMs. The M30 reference design with enhanced performance and optimised for volume manufacturing is expected to be available by mid-2023.
Eyeonic Vision System 
SiLC Technologies was at the show demonstrating its compact and powerful Eyeonic vision system. The new system features high resolution, high precision and long range while being the only frequency-modulated continuous-wave (FMCW) lidar solution to offer polarisation information, according to SiLC Technologies.
The system represents a highly flexible turnkey vision solution that reduces time to market for manufacturers seeking to incorporate machine vision into their products. Targeted to robotics, autonomous vehicles, smart cameras and other advanced products, the Eyeonic Vision System delivers the highest levels of vision perception to identify and avoid objects with very low latency, even at distances of greater than 1km.
"Our goal is to change the status quo for machine vision," said Mehdi Asghari, SiLC founder and CEO. "When bringing vision to machines the criticality of ranging precision, direct monitoring of motion through instantaneous velocity, spatial resolution for recognition of fine features and polarisation for material detection cannot be understated. For machines to augment our lives they must have a vision solution that is powerful, compact, scalable, and unaffected by environmental conditions including interference from other systems. Our groundbreaking technology will empower the next generation of machine vision applications with bionic vision that will exceed that of humans and yet be compact, cost effective and power efficient."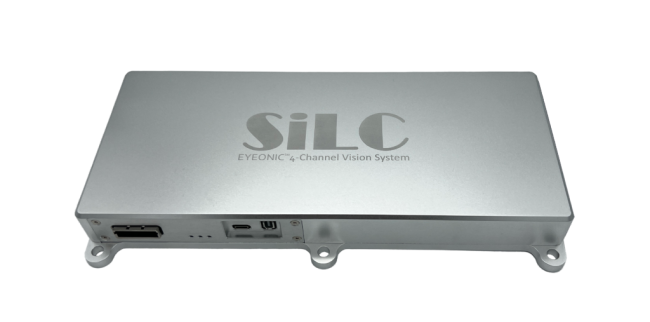 At the heart of the Eyeonic Vision System is the company's fully integrated silicon photonics chip. With roughly 10 milli-degrees of angular resolution coupled with mm-level precision, it provides more than 10x the definition and precision of legacy lidar offerings. This enables the Eyeonic Vision Sensor to measure the shape and distance of objects with high precision at great distances.
The new system couples the Eyeonic Vision Sensor and a digital processing solution based on a powerful FPGA. The compact, flexible architecture of the system enables synchronisation of multiple vision sensors for unlimited points/second.
The Eyeonic Vision System is highly versatile – supporting multiple scanner options and providing customers with the flexibility to tailor their designs to maximise performance for distance and field of vision for their application. It is accompanied by a broad range of accessories.
RS-LiDAR-E1
RoboSense presented its solid-state, short-range flash lidar solution, the RS-LiDAR-E1, for the first time at CES. The solution is equipped with RoboSense's first in-house developed chips designed for a flash solid-state lidar platform and its first 2D electronic scanning technology.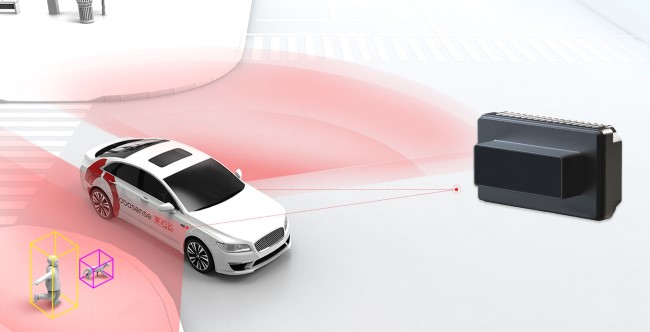 With highly integrated chips that incorporate the three core components of transmission, reception, and processing, the new solution greatly streamlines the circuit design and production processes. It enables performance and cost advantages while serving the durability and reliability requirements of blind spot lidars in the automotive market.
The RS-LiDAR-E1 provides a 120° × 90° field of view, supports a refresh rate exceeding 25Hz, and has a ranging capability of 30m at 10%. The solution will be mass produced in the second half of 2023.