Fish farming vision startup raises $3.5m
American startup Aquabyte, a developer of computer vision and machine learning technology for the dramatic optimisation of fish farming, has announced a $3.5 million seed round that will help the firm expand its operations in Bergen, Norway and San Francisco, US.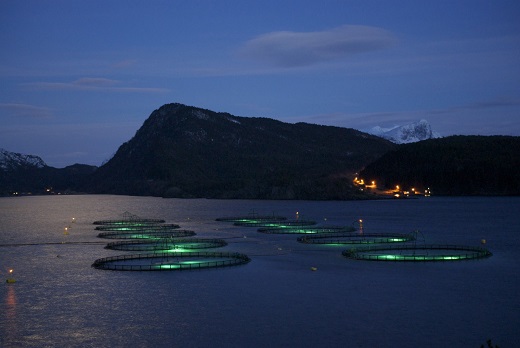 Aquabyte's smart computer technology will be installed inside the net pens of fish farms to estimate biomass and count sea lice. (Image: Björgólfur Hávarðsson) 
Fish farming is the fastest growing sector of food production in the world, with more fish being farmed than beef; it represents nearly $160B in yearly production. The industry is rapidly expanding, with experts anticipating that protein consumption will increase world-wide by at least 50 per cent by 2050. The cost of fish feed must therefore be driven down before these demands can be met, as it currently represents 50 per cent of the cost of fish farming.
Aquabyte intends to address these issues by installing its underwater 3D smart cameras in fish farm pens and using machine learning algorithms to estimate the amount of contained biomass and determine the optimal feed quantity required. Through this application of vision and machine learning and collating the data on its web dashboard for fish farmers, Aquabyte anticipates that the increases in feeding efficiency could lead to a 20 to 30 per cent decrease in feed cost over a fish's lifetime, which amounts to tens of billions of dollars saved.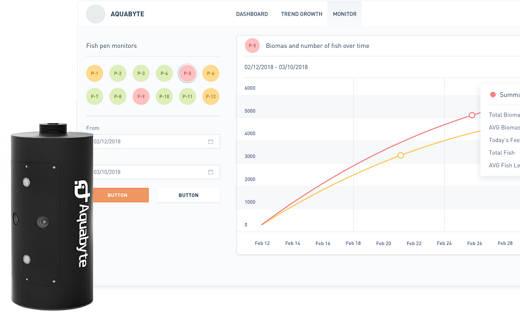 The Aquabyte camera and web dashboard. (Image: Aquabyte)
Aquabyte is also working on other applications such as sea lice counting. Sea lice currently account for $1 billion in damages in Norway, the largest salmon fish farming country in the world.
'The development of computer vision over the past couple years along with the advent of deep learning has opened up dramatic opportunities to build new vision-related products that can solve very practical, real world problems,' said Bryton Shang, founder and CEO of Aquabyte. 'The same computer-vision models I worked on for tissue cancer diagnosis are applicable in a way that can transform the fish farming industry and the future of protein consumption around the world.'
Shang continued by saying that fish will one day be grown in tanks very close to home, and with that the industry will need an increasing level of automation.
Growing operations
Co-led by New Enterprise Associates and Costanoa Ventures, the $3.5 million seed round will enable Aquabyte to hire computer vision and machine learning engineers in San Francisco and have them work with its current team in Bergen, Norway, which was established with assistance from the country's NCE Seafood Innovation cluster.
'In the coming year, we will need to hire out a growing team in San Francisco and Bergen of computer vision and machine learning engineers,' Shang explained. 'We believe our two teams working together we can leverage the best of both countries.'
Following the success of its technology in Norway, the firm has future plans to grow its business and expand to other countries.
'We originally started this company with the concept of applying machine learning in a way that fit certain characteristics of making a key decision with feedback loop in a high dollar per m³ context,' said Shang. 'That high-level idea has evolved and transcended into a business that has a clear mission, purpose, and raison d'etre: one that has enormous implications on food sustainability and fulfills a demand that can only be viscerally intuited by the level of reception we have seen in Norway.'
Aquabyte's funding started with NEA back in early 2017. Since then the startup has worked with a variety of partners: from current seed leaders NEA and Costanoa Ventures, to Alliance Venture, Struck Capital, Princeton University, 'and other great investors that wholeheartedly believe in our mission and represent our commitment to the US and Norway,' according to Shang.
Related articles