Engineering project Bloodhound SSC land speed car in successful first run
The first public run of the Bloodhound SSC land speed record car has taken place at Cornwall airport in Newquay, UK. The car, which incorporates cameras supplied by Stemmer Imaging, reached 200mph in eight seconds.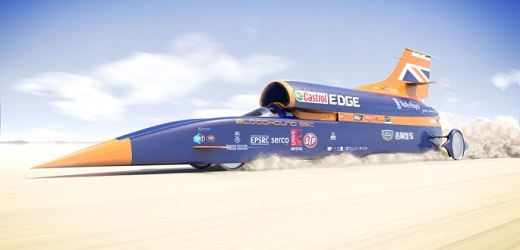 (Credit: The Bloodhound Project)
Bloodhound SSC is aiming to reach 1,000mph when it attempts to break the world land speed record in 2019. The car is powered by both a jet engine and a rocket, generating 135,000 bhp of thrust.
It is a huge engineering project that hopes to inspire the next generation of scientists, engineers and mathematicians.
Stemmer Imaging provided cameras for both testing the rocket plume – an Optronis high-speed camera and a UV camera from JAI – and for onboard the vehicle.
There are a possible 25 camera locations around the car, while three compact Adlink EOS embedded vision systems will be installed, which can each accept and record four independent HD feeds.
Each recorder also provides a single H.264 video stream from any of its four inputs for live transmission to the control centre.
The 25 camera locations on Bloodhound include five safety-critical locations and camera feeds from these will be used on all runs. These cover the instruments and controls, forward facing and rear facing fin tops, the rocket fuel connection hose and the rocket plume.