Alpina Partners acquires significant shareholding of VR firm Virtalis
Alpina Partners, an independent investment firm, has acquired a significant shareholding in Virtalis, a virtual reality (VR) provider that will become part of a larger group of software companies in Alpina's portfolio.

Virtalis founders David Cockburn-Price and Andrew Connell will remain as directors; each retaining a stake in the business. The company is headquartered in the UK with additional offices in America, Germany, Finland and Malaysia.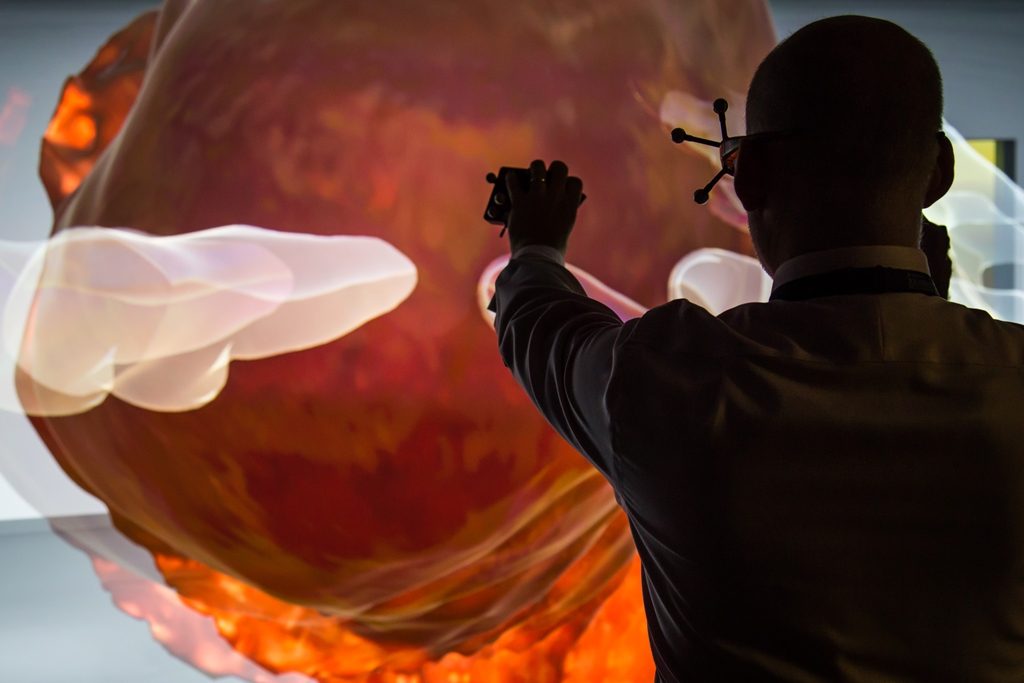 Virtalis's Active Wall provides an immersive, interactive 3D visualisation system that allows users to move around a virtual environment shown on a large wall display. (Credit: Virtalis)
'Alpina is an experienced growth investor, which will help us to ensure the sustainable development of Virtalis – especially with reference to our direct and indirect sales channels,' said Cockburn-Price, who believes that Virtalis will be able to exploit the currently existing synergies of Alpina's software group in a number of ways.
'We are excited to be supporting the next phase of Virtalis' worldwide growth strategy,' commented Florian Strehle, a partner at Alpina. 'Virtalis has launched innovative software like Visionary Render, VR4CAD and GeoVisionary in recent years, to work with its well-known ActiveWorks VR display systems, and this is where we see the growth potential. We will work with the Virtalis management team to further develop the company as a leading player in the global enterprise VR software market by leveraging our network and expertise.' 
Alpina's portfolio is centred on small and medium-sized enterprises (SMEs) in Europe with strong technical USPs, and is supported by the European Union through the Competitiveness and Innovation Framework Program (CIP).

Virtalis provides VR systems and software for applications in design, manufacturing, maintenance and academia. The company's VR4CAD software is designed to be a 'gateway to professional VR' for CAD engineers and designers, making it quick and easy for them to view, investigate and annotate their CAD models.
Imaging and Machine Vision Europe's own Greg Blackman experieced VR for the first time at this year's Laser World of Photonics in Munich. (Credit: Messe München)
Other systems include HCR (helicopter crew reality) – a realistic virtual environment where helicopter crews can train together for complex missions – and Active Wall, an immersive, interactive 3D visualisation system that allows users to move around a virtual environment shown on a large wall display.
'My entire career has been spent nurturing Virtalis and its predecessor entities as the fledgling field of VR has moved from research demonstrator programmes within universities to the compelling real-world, commercial toolkit it is today,' said Connell, technical director of Virtalis. 'Back in the 90s, many commentators said VR was dead – it has been gratifying to prove them wrong as Virtalis has brought VR solutions to industries as diverse as engineering, security, academia, asset management and geoscience. With the help of Alpina, we aim to rapidly develop our technology to reach a larger global user base.'
Virtual reality could see huge demands for image sensors in the future, and was one of the topics covered at the Image Sensors Europe conference in London this March. The technolgy was also discussed at this year's Embedded Vision Summit, with startup Lucid VR winning the Embedded Vision Alliance's Vision Tank competition at the show. Augmented reality, an adapted version of VR, is also seeing increased uptake in industry, and could soon be used to assist doctors with complex surgeries.