Cmosis is one of the industry's leading companies in CMOS image sensors - a position it has achieved in a very short space of time, as Warren Clark discovers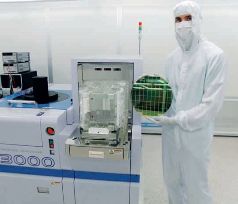 Cmosis was created in November 2007 by five former employees of FillFactory, which had been sold to Cypress Semiconductor in August 2004. These former employees, who included Lou Hermans (now VP sales and marketing at Cmosis), had begun leaving Cypress in January 2006, as they did not agree with the business policy of the new owner.
They believed that the technology and service that their current employer was able to offer its customers was below the standard that they, as individuals, felt they should be offering in the market sectors in which they were active.
Hermans says: 'After we had left, a number of former FillFactory customers contacted us, and said that if we ever started something up, they would be interested in continuing a working relationship with us. This was really the trigger for the start of Cmosis.'
Hermans was a founder of FillFactory too, and as part of the sale and his subsequent departure, had to adhere to various non-competition clauses. Also, for the first few months, Hermans was not an active executive in Cmosis, largely to keep the running costs down.
Indeed, the funding for the Cmosis start-up came from the five founders, with assistance from a venture capital fund, which together ensured they had sufficient seed money of €1m, which would cover the first 18 months of development. An intermediate round, with the same investors, followed a year or so later of a further €1m.
'Cmosis was more of a start-up than FillFactory,' says Hermans. 'FillFactory spun out of IMEC (a research/academic organisation in Belgium), so at the time it became its own entity; we already had IP, projects, products and customers. It was already operating within IMEC, and was simply taken out and continued what it was doing. This time, we really had nothing – no IP, no customers, no product. All we had to offer our investors was our experience, and the fact that we had successfully created, run and sold a company in the same industry.'
In the first year, Cmosis set itself two goals: firstly, to check that the market still had need of the specific branch of CMOS technology in which they were all experts. 'This included taking account of the different market conditions to those that existed when we started FillFactory in 2000,' says Hermans, 'and also checking that those former customers that had expressed an interest were in a position to place orders.'
Secondly, the team needed to develop its new IP, which had to be tested in hardware operation, and subsequently patented, while not infringing any third party's (including FillFactory's) IP. 'We really had to come with new concepts, which were outside of the old IP,' says Hermans, 'and a couple of the more technical individuals in our team certainly had some interesting ideas that needed proving. Also relevant was the fact that the technology was specifically aimed at the machine vision market, which we had identified as our key target.'
At the end of that first year, Cmosis had filed two patents for technologies, one of which was the 8-transistor pixel. This technology forms the basis of the company's current standard products, and has also been used in a number of custom design projects. The second patent was for its fast column A/D (analogue to digital) converters, which has also since been used in Cmosis standard and custom products. Notably, the A/D patent has also since been granted in the US, which was an important step for Cmosis.
Lou Hermans, VP sales and marketing and one of the founders of Cmosis
During that first year, Cmosis also worked on its first custom design, as one of those former customers that had expressed interest was able to deliver on its promise and sign a contract. This had the benefit of generating revenue at an earlier stage than perhaps Cmosis was expecting.
With IP developed and a custom design contract in hand, the team was able to pursue a final round of funding in August 2009, this time for a further €3m, with the help of a bank and some government supported investment funds. This enabled them to move to larger offices, install a cleanroom, and invest in a wafer prober for wafer testing. The company also invested in its infrastructure and expanded its team.
Up until this point, the majority of work had been on custom products, but Hermans and the team were always of the view that they didn't want to be just a 'design house'. 'We wanted to develop and sell our own products as well,' he says, 'with the long-term goal to be a company that sells products – be they our own standard products or custom-designed products.'
So, concurrently, Cmosis had been developing its standard CMOS image sensor products for the machine vision market – the CMV 2000 and 4000, which it launched at the Stuttgart Vision show in 2009. The sensors, which offer 2.2 Megapixel and 4.2 Megapixel resolution respectively, are designed to be integrated into cameras or into machines in which the camera is an integrated part.
'What is special about these products is the technology we had previously patented,' says Hermans. 'The 8-transistor pixel is the first pipelined global shutter pixel with correlated double sampling (CDS). Global shutter means that the integration for all the pixels starts and finishes at the same time, and pipelined means that during readout of one frame, you can already acquire the next frame.
'The inclusion of CDS results in very low read noise or dark noise. This meant that our noise readings were about one third lower than our competitors, meaning you could get the same image quality with about one third of the light.
'We combine this 8-transistor pixel with our A/D converter, which enables us to achieve very high frame rates – 340fps in the CMV 2000 and 180fps in the CMV 4000.
'Customers also like the compact packaging of our sensors. The image sensor is one of the major components of a camera, so its size has an impact on the overall size of the camera.'
The success of the Cmosis standard products has been staggering. Leading names in the machine vision industry have adopted the sensors for their camera ranges, including Basler, Point Grey Research, IO Industries and Adimec.
The work that Cmosis is doing has helped close the gap between CMOS and CCD sensors, both in terms of cost and performance. 'It's still the case that CCD is better at low frame rates, but any advantage disappears at high frame rates,' says Hermans.
'And as far as cost is concerned, you have to bear in mind that a CCD still needs a separate A/D converter and a controller. This also has implications for the size of the camera.'
Come September, Cmosis will have 35 employees based at its headquarters in Antwerp, Belgium. Future plans include the launch of a new product at the Vision show later this year, aimed at the lower end of the market.
'Our success is, apart from the image sensor performance, also down to our high levels of customer service and support,' concludes Hermans.
'We aim to answer all technical queries within one working day, wherever possible. We also have fast turnaround times; for a normal order, we would expect to be shipping products within a week. Throughout the company, we practice a very customer-oriented approach. We spent a lot of time talking to potential customers about what they would want.'