Stories to tell - marking our 50th issue
Imaging and Machine Vision Europe is celebrating its 50th issue, a milestone that represents around a decade of reporting on the machine vision market. To mark the occasion, we've asked senior industry figures to recount their favourite moments from the last 10 years of working in the industry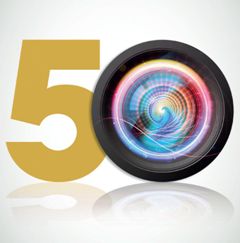 When the first issue of Imaging and Machine Vision Europe was published in October 2003 – initially as a supplement to our sister title Electro Optics – we had no idea that it would be the start of something very special.
Now, it is with a huge amount of pride that we celebrate our 50th issue, and to mark the occasion, we have asked some leading lights from the vision industry to share with us their memories of the past decade. We are extremely grateful for the response we've had – a fascinating mix of technical developments, product milestones and personal anecdotes that reflect the close-knit, friendly and forward-thinking positive nature of the industry as a whole.
From a personal point of view, my annual trips to Vision in Stuttgart and the EMVA Business Conference are always highlights. Like many who were there, in particular I will never forget being stranded in Istanbul for the 2010 EMVA event, due to the ash cloud, and arriving home four days later than planned, after a 45-hour door-to-door journey that literally involved trains, planes and automobiles (and a boat)!
Warren Clark, Publisher and Founding Editor
Dr Dietmar Ley, CEO, Basler

My favourite vision-related memory of the last decade: watching Germany beat Argentina in the World Cup quarter finals during the 2006 EMVA business conference in a bar in Tampere, Finland.
I could tell several stories related to technology or market, of course, but my very personal highlight took place on 30 June 2006. I was staying in Tampere, Finland for the annual EMVA business conference. During that summer, the football World Cup was taking place in Germany and on the evening of the 30th the German community met in the bar to watch our team play Argentina in the quarter finals. Our nerves were completely wrecked after 90 minutes, with Germany only drawing level in the 80th minute. After a tense period of extra time, it came to the penalty shoot-out and all of us were in a cold sweat. When Argentina's Cambiasso's low effort was kept out by the then Arsenal keeper Jens Lehmann, the greatly relieved and proud German fans, myself included, celebrated the victory until late into the night with lots of beers and a more than happy Finnish barkeeper.
Jeff Burnstein, president, AIA

My most significant memory from the last decade concerns my first trip to Shanghai in 2006, where I was giving an opening address at a vision show. I had heard about how modern China was, but I was still amazed to find a beautiful city that rivalled any I had ever seen anywhere in the world. And, Shanghai was still growing, with new skyscrapers and other buildings under construction. Everything I had heard about China and its booming economy was true, which meant enormous opportunities for the growth of vision in China. That's when it truly hit me how global vision technology had become, how spot-on Thomas J. Friedman's book, The World is Flat, was and how important a global role AIA had to play in helping educate companies about the benefits of vision.
Martin Wäny, CEO, Awaiba

As a PhD I submitted an abstract of my work on LinLog high dynamic range technology for the Vision Award at Vision Stuttgart, which, surprisingly, won. I shall never forget building our first ever trade fair booth at the show: squeezed between two skyscraper booths, we were kicked out at 10pm, half the demos not running. Tired and demoralised, we felt that nobody would take us seriously. Well, the show was anything but disappointing; our booth was almost overrun by interest and, together with colleagues, we launched Photonfocus shortly afterwards. More than 10 years later and now running Awaiba, I can say that you can still base a company on a solution in this industry and not only advertising.
Mark Williamson, director of corporate market development, Stemmer Imaging

I think the industry has matured as it now gains interest from major corporate investors. This has driven significant consolidation. For me the star was the rise of DVT, with its unique marketing approach and then being sold to Cognex. DVT was the best example of marketing and brand building in this industry. Another example of consolidation was ITI being acquired by Coreco, Coreco being acquired by Dalsa and Dalsa acquired by Teledyne, a company with revenues in the billions. Here they did well to retain continuity and convert customer loyalty. Creating companies that are bigger than the individual parts in an acquisition is key and I look forward to more consolidation as our industry continues to mature.
Gregory Hollows, director of machine vision solutions, Edmund Optics

It's always difficult to describe to friends and family what I do. Tell them too little and they think I sell eye glasses, tell them too much and they think I work on secret projects for NASA. For years my wife told people I sold telescopes; while not accurate it worked for her. One day while watching a popular crime scene investigation show, I noticed an imaging product of ours that was integrated into a real-life instrument the actors were using for ballistics testing. After my excitement subsided, I explained to my wife what it was and how it was used. Now when people ask me what I do, I begin with have you ever seen the show…
Marc Damhaut, CEO, Euresys

These past ten years, I have witnessed the amazing development of machine vision in Asia, more specifically in Japan, Taiwan and in Korea, but also in China and South-East Asia. Some of my customers and friends have seen their company grow from a few people to hundreds of engineers! The Asian automation market continues to grow at double-digit rates. This market is dynamic, vibrant and full of opportunities and challenges!
Patrick Schwarzkopf, EMVA general secretary and director VDMA Machine Vision

I don't know why, but the people in the machine vision industry are simply the best networkers. The eye-opening experience for me came in 2005 in Palermo during an EMVA conference dinner. We collected business cards, shuffled them and dealt them out again at random. Every card found its way back to its owner and the place virtually turned into a beehive! Even months later, we found two participants who met like this in a joint booth exhibiting at Vision in Stuttgart. Great networkers they are!
Eric Carey, R&D director, Teledyne Dalsa

In December 2005, I participated in a pivotal GigE Vision/GenICam technical meeting in Ahrensburg where the AIA gave a friendly ultimatum to release version 1.0 of the GigE Vision specification by May 2006. After two years of discussions and meetings, it was now time to deliver! Technical members worked relentlessly for the next couple of months and finally succeeded. This spawned the GenICam Standard Feature Naming Convention, the machine vision dictionary used by most camera standards. And more importantly this launched the GigE Vision industry! A strenuous period, but a great memory!
Thomas Walter, manager of the Industrial Solutions department at Messe Stuttgart

We are family! That's what for me is typical of the machine vision sector. People make markets! This also applies to Vision, our world-leading trade fair for machine vision, which this year is celebrating its 25th anniversary. No other trade fair gives such a feeling of belonging. The funniest experience in recent years was a squash tournament in which beginners and accomplished players played against each other, cheered on by their respective colleagues. Today, Vision provides various networking events and exhibitor evenings, which have ensured that the 'family' has grown even closer together. I would like to express my thanks to Imaging and Machine Vision for supporting Vision and congratulations on the 50th issue!
Kyle Voosen, marketing director, National Instruments

I joined National Instruments 11 years ago as a machine vision applications engineer. In those days, getting an image from a multi-tap camera into a computer involved complex cabling, a custom camera file and a lot of luck! Camera standards, such as Camera Link, certainly made my life easier. Beyond that, they helped improve the image of imaging and increased the accessibility to the technology. Many thanks to those developing these standards. And congratulations IMVE!
Ron Folkeringa, business manager, Intercon 1

The memory that sticks out for me is the technology advancement that was made by a Camera Link cabling subcommittee in regard to understanding what really was critical in maximising the length of a Camera Link cable assembly. A team of leading cable manufacturers spent countless hours in researching Camera Link technology and testing Camera Link cable assemblies to be able to document accurately the requirements of a Camera Link standard compliant cable assembly. That knowledge was transferred into the newly released Camera Link 2.0 standard.
Sebastien Teysseyre, marketing manager for industrial cameras, e2v

Working in the machine vision industry, I've witnessed first-hand how it has set new standards in manufacturing processes and brought numerous benefits including, higher quality performance and cost efficiency. I particularly remember visiting a French wine manufacturer who was testing a new grape sorting machine. The machine was providing almost perfect sorting yields on its output; on one side I saw perfectly calibrated grape grains and on the other over mature grains, stems and other garbage. I was surprised to see that the last part of the sorting process involved the winemaker taking around 30 per cent of the discarded waste materials and adding them back to the perfect grapes! This was so they could get the suitable mixture for the wine. It is not a perfect world, but I like it!
Torsten Wiesinger, CEO, IDS Imaging Development Systems

Even after ten years in the industry I am still fascinated by the huge number of interesting machine vision applications. I have seen many remarkable projects, however, one application was most unusual: A gentleman ordered a single uEye camera and decided to pick it up in person. When I asked him what the camera was for, he said he was an alien hunter and on a mission to prove the existence of alien life forms. However, as I have neither heard from him since nor have I seen a story about him in the news, I guess that he is still working on it!
Uwe Furtner, general manager, Matrix Vision

More than 10 years ago a study confirmed that a vision system is not capable of checking a secure symbol on one-way deposit bottles in reverse vending machines at a reasonable price. Just five years later we succeeded in creating an attractive product by using an embedded processor and CMOS sensor, thus making today's German deposit system (DPG) possible. Thanks to the steady decline in prices and performance improvements of components, the potential for image processing applications has also invariably increased. I am looking forward to the innovations of the next 10 years.
Berndt Zingrebe, managing director, Sill Optics

For more than 10 years, Sill Optics has been a successful OEM player in the machine vision market due to the implementation of telecentric lenses in machine vision applications. The reason for the success of machine vision has been the understanding that software alone cannot solve all problems. It is the image, created by optics, which is the essential part of the success. Without a good picture, even the best algorithm cannot extract satisfactory results.
Dr Olaf Munkelt, managing director, MVTec Software

Ten years ago, MVTec was visited in Munich by the CEO of an Indian distribution partner. After tricky morning negotiations we were feeling hungry and I asked our guest what he would like for lunch. He said the monotonous German food had increased his appetite for Indian food. Thus, we went to an Indian restaurant. After a brief interaction between our guest and the waiter, it was clear that both came from the same region. Moreover, the food was an excellent authentic Indian meal which seemed to inspire our guest and relaxed him perfectly. That made my day! The afternoon negotiations went extremely smoothly. I learnt: as a sales man, I must not only have expert knowledge in machine vision, but should also always be accompanied by an excellent cook.
Vlad Tucakov, director of business development and co-founder, Point Grey Research

Over the last 10 years we have seen new insects, fish, reptiles and mythical creatures appear in the machine vision market. I am, of course, talking about all the innovative new cameras. In addition to improvements in the price/performance ratio, new camera technologies have introduced applications beyond factory automation and industrial tasks. Some of my favourites include gesture recognition, eye tracking, and augmented reality. The future for vision is bright and I am sure many more animals will join our market in the future.
Jochem Herrmann, chief scientist, Adimec

In 2002, Adimec launched a camera based on a 1MP CCD sensor and Camera Link interface. This at a time when most cameras were analogue using the RS-170 video format. Today, our latest cameras feature 20-50 times higher resolutions and speeds. CCDs have been replaced by CMOS and the Camera Link interface by CoaXPress. We've been able to do this by cooperating with other companies, both partners and competitors. We will continue to cooperate because no individual company has enough innovation to meet the future's challenges. And on top of that, it is great fun!
George Chamberlain, CEO and co-founder, Pleora Technologies

Here in Canada, people are crazy about their Tim Horton's coffee. So much so, that people like to wonder if it has a 'special' ingredient that makes it so addictive. Lately, I've started to wonder the same thing about the machine vision industry! With individuals, so many people who leave this industry don't actually leave it for long – they almost always come back! Even with technology, such as camera interface standards, once they're here, with few exceptions, they're here to stay. And with IMVE, it's the same – once you're a reader, you're a lifetime reader! Congrats on this milestone anniversary.
Anne Braggins, whose husband Don passed away summer 2011

Don was enthused by vision following the emergence of commercial image analysis in the late 1960s. When he set up his machine vision consultancy in 1983, he said that it wouldn't be long before everyone would know about vision. Yet he was still educating people about vision right up to the time he passed away, nearly 30 years later! Don's genuine desire to acquire and disseminate information about vision and my interest in orienteering led us to travel the world, combining these pursuits whenever possible. The Vision shows in Stuttgart were always a highlight both from a professional viewpoint and for the friends we made there. I am extremely proud of the high standing Don achieved in the vision community, where his knowledge and opinion was respected wherever he went.
Tue Mørck, director, global business development, JAI

During the last decade the camera business went digital in several ways, but most significantly with standardised interfaces – CL, IEEE, USB and GigE. In terms of GigE Vision (2004), companies realised that to make vision a standard tool a common software interface was needed. JAI hosted the initial meeting (the Copenhagen Meeting) with participants from a handful of companies, mostly competitors. It was an effective meeting with no hidden agendas thanks to R&D and the outcome was the GenCam Position Statement (2005) which developed into GenICam. Thanks to all involved!
Frank Grube, CEO, Allied Vision Technologies

Ten years ago, Allied Vision Technologies had just begun developing and manufacturing its own cameras. After a successful start with the Dolphin, we designed a camera that we wanted to name 'Merlin', like the famous wizard. However, we anticipated some trademark issues, so we decided to call it Marlin instead, a fish name. It was a huge success and helped AVT become one of the top camera manufacturers worldwide. Even today, it is still one of our bestsellers. That's why all our cameras have fish names.
Loïc Premartin, vice president EMEA sales,Flir Commercial Systems

Ten years ago when I was promoting our infrared systems to the industry, people's first reaction was, infra-what? This was not because of my 'Frenglish' but mostly because outside military, potential users were not aware of the benefit of a thermal approach. Today, the situation is different: some car drivers could have a Flir night vision system on their multimedia display, while, soon, some smart phones will also include a thermal eye. Without any doubt, more and more users are benefitting from thermal imaging.
Colin Pearce, CEO, Active Silicon

'What does your company do?' a visitor asked me at Vision in Stuttgart several years back, after GigE Vision entered the market. 'We are showcasing our frame grabbers,' I replied. 'You do realise you'll be out of business in a year's time now that GigE Vision is here,' he insisted. His prediction was wrong. Disruptive technology is always coming along, sometimes beneficial, sometimes not, but always making for an interesting business environment. We are seeing new technologies again in the form of CoaXPress and USB3. In a constantly growing market, the future's bright but no one can say what's around the corner.
Dr John Haddon, technical consultant to the UK Industrial Vision Association and director of Panther Vision

This year is the 20th anniversary of UKIVA and in recent years rapid developments in vision technology have dramatically reduced costs. This has made vision solutions affordable, practical and the right choice not only for industrial applications, but also many other everyday areas from traffic control, security and medical right through to sports analysis. Vision technology now touches almost everyone's lives from buying products that have had some level of vision inspection during the manufacturing or packaging process to filling up the car, where most petrol stations now record and check number plates before turning on the fuel pumps.
Dr Oliver Vietze, CEO, Baumer Group

In the 90s I was one of the first PhD students doing a doctors degree in the field of CMOS sensors. At that time, devices with pixel sizes of 30μm at 256 x 256 resolution were sensational. Today, machine vision in many areas has become an established business. The time of revolutions is over. What counts is easy handling and reliable operation of components and systems under industrial conditions. But it is astonishing how many faces I met 20 years ago as a student at the IEEE conferences that are still active in this industry.
Herve Copin, sales manager Europe, Xenics

I have been working in the machine vision industry for about 10 years and am delighted to be involved in an enthusiastic business sector in continuous development. I have seen many successful initiatives for industry standards such as GigE Vision, GenICam and CoaXPress. The machine vision world deals with highly technical challenges, but is also involved in more and more applications. Vision is a small community where everybody knows everybody. It was funny this year during the Stemmer party at the Vision show to have a beer with a group of five people and realise we were all looking the same but just wearing new company shirts!
Laval Tremblay, vice president, engineering, Matrox Imaging

I've worked in the imaging and machine vision industry for more than 25 years, so a true veteran. A decade ago, single core processors like the Intel Pentium 4 were the norm. Today, multicore processors like the Intel Core are mainstream. Then, the standard computer interface, USB 2.0, maxed out at 60MB/s. Now, USB 3.0 can handle 625MB/s.
However, the requirements of high-resolution sensors have offset the gain in speed achieved by standard interfaces. Higher-end sensors require the development of more powerful interfaces like CoaXPress and Camera Link HS.
In the past decade, image processing software uses more sophisticated algorithms that can now run at practical speeds because of gains in computing performance. I look forward to seeing what the future holds for this exciting industry!