Something old, something new
Warren Clark finds a familiar face back at the helm of Edmund Optics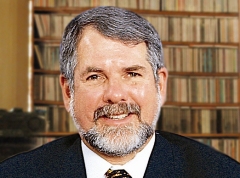 When we last profiled Edmund Optics (EO), back in August 2005, Robert Edmund had all but retired. As the second generation of a family business that began back in 1942, he was finally delivering on a long-standing promise to his wife to hand over the reins to others and spend more time with her. His duties were as chief executive officer and chairman of the board, but the day-to-day business was in the hands of John Stack.
By late 2006, however, Stack had left Edmund Optics for pastures new, and the board began the hunt for a new president. After an exhaustive search – and one or two very promising candidates not being able to take up the job for one reason or another – the board finally found their man: Robert Edmund. Nobody but his wife was disappointed.
Edmund had successfully steered the company for more than 20 years, so there was no doubting his experience. Not only that, but at the time the military optics division was suffering, and this was an area in which Edmund had particular expertise. He was brought in, initially as a short-term fix for that specific problem. He was successful at sorting out those problems, but at that time, nobody could have forecast the economic turmoil that has now enveloped the world. At the November board meeting, Robert Edmund was seen as the only man fit to see them through these tough times; he was awarded a five-year contract to continue as president.
'We're looking at a rollercoaster year for sure,' says Edmund. 'One moment you get good news, such as the excellent attendance at Photonics West, and then the next you get bad news from the stock market, which leads to a lack of confidence. Sales go up and down as a result, so there's no identifiable trend. It's more unpredictable than ever – I've never known it like this. With the tech recession at the beginning of this decade, you could at least spot a trend. It wasn't a pretty one, but at least it was all in one direction.'
Working with integrators
As well as increasing the global staff to 115 engineers, and an improved percentage of technical know-how within the team, one of the major innovations at Edmund Optics in recent years has been the introduction of the Vision Integration Partners (VIP) programme, which allows integrators to buy products on a wholesale basis. More than 100 integrators have now joined the scheme, and it has given both these integrators and several product lines at EO a huge boost.
'Initially, the attraction of wholesale prices led integrators to come to us asking about the scheme,' says Edmund. 'We then began approaching people ourselves. It's been a great help to us at shows and exhibitions, for example. A lot of machine vision optical suppliers will just display products doing nothing in a cabinet or on a shelf. We have VIP integrators on the booth demonstrating the products in working applications. It's a very successful approach to shows for us.'
While some integrator schemes use geography as the major discriminator, Edmund Optics looks first at the technical capabilities of an integrator. 'Geography is probably the least important factor in deciding whether we accept an integrator into the programme,' says Edmund. 'The lenses have Edmund Optics all over them, so we need to be confident that the integrator has the capability to specify and install them correctly. Also, we have instances where more than one integrator operates in a (US) state, but their areas of expertise are so different that they can work side by side without overlapping.'
The VIP programme also ensures that integrators receive the very best levels of technical support available, including – in certain circumstances – sending EO engineers onsite to help with a particular problem.
There has also been a significant expansion in the range of imaging lenses available, and the way in which these products have been marketed is one reason why Robert Edmund believes his company is better positioned to battle through the tough times. 'We've introduced Silver and Gold lines in the range,' he says. 'This gives customers a choice. When times are good and the economy is roaring, customers can afford to over-specify. But when you get into tighter times, everybody gets practical all of a sudden. They look at the specifications of a product more closely and make a real judgment on performance and cost. There are plenty of other suppliers out there that only offer the "Mercedes Benz" top end line of products; my impression is that those folks have suffered more than any in the current downturn. We're in a good position, in that we have these three different levels of products on offer. It's no surprise that our highest-end products are not doing so well, but that's more than compensated for by products in the other tiers.'
The European perspective
Back in 2005, Europe represented 10 to 12 per cent of Edmund Optics' global sales. It is indicative of the strength of the European market in the intervening period that the figure has now jumped to 25 per cent. 'It's grown much more quickly than any other market we are in,' confirms Edmund.
Edmund Optics' offices in Karlsruhe, Germany.
Thomas Kessler has recently been appointed as vice president of European operations, and part of his role will be to spearhead a united effort in the region, breaking down the geographical barriers between individual countries within.
'We started our European effort in the UK, as it was the closest to us in language and culturally,' says Edmund, 'but our German office has grown much more quickly and has found a much larger market. Thomas has brought a great deal of experience from his time with Schott, and he has a wealth of contacts too.
'Another challenge for Thomas is to increase the percentage of products that we source from Europe. We now have more than 16,000 products, but very few are sourced in Europe, and I think there is a great opportunity for us there.'
Around 50 per cent of EO's turnover is from products it makes itself, and the rest are products acquired or represented. Some of these are branded as Edmund Optics products, but others from premium suppliers, such as Schneider, are listed under their own brand names as they have their own value.
'We're also looking for customers in custom manufacturing in Europe,' continues Edmund. 'About 70 per cent of what we sell is standard, "off-the-shelf" product, but 30 per cent is custom-made for a particular integrator or customer. We're looking to push that element of our business in Europe.'
Robert Edmund, in his own words, has 'lived through a few recessions' in his time, so he has as much experience as anyone in how to deal with them. 'Whatever you do, it must be invisible to the customer,' he says. 'It might be something as simple as ensuring the phone is answered promptly. We will not make any compromises on the levels of service that we offer.
'My impression is that in a downturn, customers want products quickly and efficiently, and that means good service. Some say that larger companies fare better in a recession, and that's because people are less willing to take risks. Fewer people can afford custom manufacture, so having a broad range of lines means we can usually always find something "off-the-shelf" in a way that many smaller companies could not – and that stands us in good stead in today's climate.'
Robert Edmund is optimistic that the imaging industry will continue its sustained period of growth, in spite of the global economy. 'Economic activity is down on all fronts, but this is not a recession that was caused by technology. Technology was last in and will be first out. Companies like us continue to invest in new products and new technology, as innovation is what will help get the economy going.'