Keely Portway looks at new terahertz and infrared technologies being developed to inspect aircraft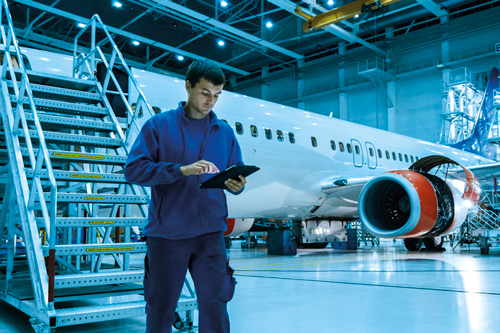 The most recent figures from Airbus and Boeing point to a need for tens of thousands of passenger and dedicated freight aircraft to be produced over the next 20 years. To ensure this demand is met, the big players in the sector are turning to smarter solutions to ensure efficient build of aircrafts, including testing and fault finding.
Looking at a number of ways in which to take advantage of the available technology, the Alpha-RLH cluster in France launched the Saphyr project last year to make use of disruptive solutions, such as photonics and microwave technologies specifically for aircraft production and maintenance. It will present its 10 prototypes at the Paris Air Show from 17 to 23 June.
According to Alain Fontaine, president of French consulting company Pegase and Saphyr coordinator, the Saphyr project will create a line of products for the needs of the aircraft of tomorrow – to design an aircraft which can be produced and supported efficiently. Here, predictive maintenance is important, Fontaine said. The aim is to use data from the inspection technology the Saphyr project is developing to identify potential faults before they occur.
Among the prototypes to be presented at the show is a terahertz camera, designed to identify failure or issues on the composite structure of the body of the aircraft. The camera is coupled with a robot in order to map the composite structures, to identify any potential delamination, cracks or anomalies. Fontaine said the results are 'very encouraging'. The work was undertaken in collaboration with two laboratories: IMS laboratory, in Bordeaux, and R&D Vision, which specialises in measurement solutions using image analysis.
Commercial boost
The two laboratories became partners in the project in November 2017. The aim was to work towards the Paris Air Show with industry in mind, not just from a research perspective, according to Fontaine. 'The idea by presenting at the [Paris Air] show is to boost things commercially; to present things that can be sold and taken to market,' he said.
Another prototype that will be presented was developed with VLM Robotics, and mixes photonic technology with imaging and robotics. The system is made up of two robots, one performing the mechanical, production task, the other controlling the work using terahertz imaging to inspect the structure of the part.
It's important, explained Fontaine, to be able to trace any anomalies that appear during production. Synchronising the production and the control system means anomalies are identified early in the production cycle, rather than only discovering faults at the end.
People skills
Of equal importance to Alpha-RLH is ensuring that engineers are taught how to use this technology, which will also feature at the air show. Alpha-RLH offers training for engineers to be able to use the new technology effectively. 'It is important that, at the same time as developing the technology, we have the right way to teach it,' Fontaine said.
'The prototypes we are going to display are only part of something bigger – looking at the best way to support aircraft [industry] in the near future.'
Infrared inspection
From a commercial standpoint, Dr Cristian Ferber, active thermography expert at Automation Technology, believes that infrared imaging has a benefit for testing and building aircraft. 'Because [infrared inspection] is contact-free, you can basically say that you are not influencing the object you are testing. This is very important, since most of the inspection tasks are carried out from outside of the aircraft, so you don't have to dismantle anything.'
In addition, Ferber stated, today's thermographic cameras are precise; a calibrated camera can have an accuracy of plus or minus one per cent, and the microbolometers in Automation Technology's cameras are able to detect deviations in temperature of 20mK. The image gives a thermal distribution over an area, which is easy for the engineer to interpret and document any abnormalities.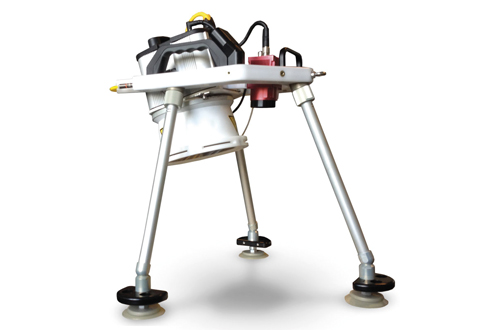 Automation Technology has built a portable active thermography prototype for aircraft inspection
Automation Technology has also worked with customers to inspect various composite structures used to make aircraft. There are new multi-layer composite joining technologies and new ways of building aircraft, which require effective non-destructive testing methods. Defects are wide-ranging, such as faults in the lamination between the layers of the composite material, or water ingress in honeycomb structures. 'Many parts of the aircraft are made from a honeycomb structure,' explained Ferber, 'so water ingress is a critical aspect, and with active thermography you can very easily locate this.'
Satellites are also often made of a honeycomb structure. 'Normally, the quality requirements for the satellite panel are even stricter,' Ferber said. 'This technique [thermography] is beneficial for all applications where you want to cover larger areas fast.'
In terms of developments in commercialising infrared technology, Ferber believes that there is now a tendency to try and make it more user-friendly. Automation Technology has developed a smart camera, which runs image analysis inside the camera. Ferber said: 'The performance of the [infrared] cameras was not so good 10 years ago and they were expensive, so you had to think very carefully about which application was justifiable to invest in such expensive equipment. The cameras are becoming better and more affordable, so the range of applications becomes wider.'
Looking at the challenge of developing an inspection system for aerospace, Ferber said it has to meet the requirements of the application. This might include making the system portable to make measurements around the aircraft. Automation Technology has built an active thermography prototype using optical excitation sources – a flashlamp or a halogen lamp – that creates a thermal flow over time through the aircraft material. This is analysed using infrared images. 'Whenever you have a defect, you would have some influence in how this thermal wave is penetrating the material,' explained Ferber. The thermal behaviour gives information about the structure of the material.
Automation Technology used large industrial halogen lamps in the laboratory, but had to create a smaller version for the portable system. All electronic control was implemented inside the small lamp, while functionality to modulate light intensity from the source was built in the smart camera. 'We spent time developing this smart camera to be able to have a more portable and compact system,' Ferber said. 'It was a very interesting, challenging project, and exciting as well.'