Gemma Church looks at the increasing range of applications of thermal and infrared imaging products away from the battlefield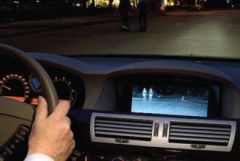 The first thermal imaging camera for the military was developed in Sweden in 1958 by a company called AGA, today known as Flir Systems. Seven years later, in 1965, the first infrared camera for commercial applications was developed to inspect power lines. It took until 1973 for the first portable battery-operated infrared camera to be developed.
Thermal imaging has seen many changes over the years. The previous bulky liquid nitrogen filled and cooled cameras (where the camera's detector needed to be kept at low temperatures) have metamorphosed into uncooled microbolometers, which are a type of detector with no moving parts – making them less susceptible to breakdowns. Paul Sacker, UK sales and marketing manager of the thermography division at Flir Systems, says: 'The technology has changed over the years – thermal cameras used to be cooled cameras, but now around 95 per cent of thermal cameras are uncooled.'
This move from cooled to uncooled systems has allowed thermal imaging to be used more within non-military applications. Edouard Campana, sales engineer at HGH Systèmes Infrarouges, explains: 'For thermal imaging, there are two technologies: cooled infrared (IR) and uncooled IR. Cooled means that the infrared detector needs a cooling system. Cooled IR has better performance, but is much more expensive, while uncooled IR is cheaper with lower performance. So cooled IR is for military applications, with uncooled IR for thermography in industry or for IR cameras for short range surveillance.'
The uncooled, and therefore more portable, cameras are also getting more advanced, as Sacker explains: 'The uncooled cameras are getting close to the cooled technology, with uncooled cameras reaching a 50mK sensitivity and cooled cameras having an accuracy of between 15mK and 25mK.'
As the thermal imaging kit developed, and became less expensive, the commercial world started to see the advantages of using thermal cameras in a whole host of ways, as Sacker explains: 'There are four large segments where thermal cameras can be used in a non-military way. Firstly, within R&D, which can encompass anything from volcanology to electronics to medical and veterinary research. Secondly, within process automation, which could include monitoring for deviations within a process and within health and safety applications. Thirdly, within the building and construction industry to complete surveys. And, finally, within condition monitoring to assess the current condition of a system.'
Industrial applications
Within this wide range of areas lies a diverse range of applications. Industry quickly discovered that thermal imaging can give information about electrical equipment and help maintenance managers see an anomaly before a real problem occurs. Therefore, costly breakdowns can be avoided and time and money saved. Sacker says: 'Within power generation, thermal cameras can be used for detecting – from a distance – overloaded components, such as insulators and connections.'
Sacker adds: 'Another example is on the floor of a newspaper plant that could be churning out millions of copies in one day. It is impossible to put a camera on every single conveyor, because of the sheer scale of the plant, but a thermal camera can be used to detect, from a distance, whether one of the parts of the plant is overheating.'
Petrochemical plants are also using thermal imaging to hunt for potential problems, as Sacker says: 'There are also a variety of applications within petrochemical plants, such as detecting if there are problems within the insulation of pipework – the materials need to be kept flowing and hot and any breaks in insulation will require more energy to be put into the system to keep everything flowing, leading to energy being wasted.'
Sacker adds: 'Thermal cameras can also be used to monitor the leaking of hydrocarbon gases. Any leaks that appear show up on a thermal camera as a black cloud, but appear "invisible" to the naked eye as the gasses absorb in the IR region, but not in the visible region. This has both an environmental and health and safety benefit, as well as an economic value.'
Research and development departments are also using thermal imaging technology more and more, to help developers in the early stages of product design cycles. And as more companies start using thermal imaging technology, the first steps into volume production can be made, which is something the military might well encourage according to Sacker, who says: 'The military wants cheaper products so they put thermal technologies in the market to bring down the costs, as they are then produced in bulk.'
That said, thermal imaging cameras are still an expensive tool, costing up to €15,000 – €20,000 each and seen by many consumers as an exotic technology rather than an everyday item. But the times are changing, with some thermal imaging camera costs starting at €2,500, as Sacker explains: 'There are cross-overs in the military and nonmilitary uses of surveillance technology, with car makers keen to push the added safety of a car which might use something like collision avoidance.' He adds: 'It is a two-way street though, with some technologies appearing in military applications after being developed for commercial markets – for example, with collision avoidance in cars.'
BMW is using thermal imaging in its cars to improve safety when driving at night or in adverse weather conditions to, for example, spot pedestrians and bikes, which might be easily missed in the dark. The 'BMW Night Vision' systems comprise of a thermal imaging camera that can detect people about 300m away.
The night vision system is available in the manufacturer's 7, 6 and 5-series models and is installed in the front bumper, to the left. Only two additional hardware components are needed to make the system work – the camera and the control unit – and the camera has a built-in heater to defrost its protective window and cleaner jet that can be activated with the windscreen washer system.
The system is turned on and off using a switch next to the light switch and a 320 x 240 pixel image is displayed on the on-board monitor in the dashboard. It is not in the direct sight of the driver, but the human eye can easily and quickly detect moving things in its peripheral view. Once a moving object is detected, the driver can have a quick glance at the screen to see what is happening.
Night vision enhancement is not just important to drivers; ship captains need to navigate at night too. Thermal imaging cameras can be used to help sea farers see channel markers, shipping lane traffic, outcroppings of land, bridge pilings, exposed rocks, other vessels and any other potentially hazardous floating objects. A thermal imager can also help to save lives by, for example, finding a person who has fallen overboard as quickly as possible.
Luxury yacht builders Ferretti installed thermal cameras on its boats, to help with both security and navigation when sailing at night. And there are other possibilities within the maritime thermal imaging camera arena, as Norberto Ferretti, chairman of the Ferretti Group, says: 'It would be very interesting to have a small camera on tender boats. Big boats are well illuminated, but smaller ones mostly are not. When going around with the tender in the harbour, accidents can easily happen. Tender boats can hit the anchor chains, other objects and boats in total darkness. With a small thermal imaging camera all this can be avoided.'
Ferretti adds: 'And there are more maritime applications. Think about all the water taxis in Venice. Radar is totally useless in Venice since it shows too many blips. A thermal imaging camera would help to avoid accidents.'
Away from transport, the building industry is turning to thermal imaging technology too, as Sacker explains: 'Here, thermal cameras can be used for a host of applications, such as checking materials have dried after a flood, detecting missing insulation within a building and checking windows have been fitted correctly and that the double glazing is still intact.' He adds: 'The building industry is using thermal technology more and more, in light of the move towards more energy efficient homes. This is a big growth area that is developing fast and we are seeing widespread adoption.'
Flying high
Copenhagen airport has installed thermal cameras to improve safety, Frank Christensen, department head of the Department of the Copenhagen Airport Security Operations Center, explains: 'Although we are meticulously monitoring the entire airport, we are especially concentrating on the Critical part of the Security Restricted Area (CSRA).'
The joystick to control the Flir Systems thermal imaging camera and the LCD display on which the thermal images are displayed are aesthetically integrated in the bridge of the Ziacanaia yacht. Image courtesy of Flir Commercial Vision Systems.
This area comprises of all the buildings that are accessible to passengers, the areas used for boarding and unboarding passengers and the plane's parking area. Christensen adds: 'We have 108 airplane stands so it is a huge area to monitor. Everyone going into the CSRA, needs to be thoroughly security checked before they can enter. Nothing can enter or leave the area without the Security Operations Center knowing about it.'
So the airport decided to opt for thermal imaging cameras, as Christensen explains: 'Monitoring and following objects with a camera is easy during daytime. But during night time we could not see anything with our daylight cameras. It is impossible to light up the entire CSRA, since we cannot put lighting poles everywhere. This would obstruct the airplane traffic from and to the runways. However, if an alarm is triggered, we want to be able to see what has caused the alarm before we send out security guards to check the situation. In order to solve the problem we thought of thermal imaging.'
The cameras can detect objects from more than 1.5km away and provide other perks for the airport, as Christensen explains: 'Another advantage is that the cameras contain an uncooled infrared detector. This reduces downtime to an absolute minimum. We need to be sure that the cameras are working 24 hours per day, 365 days per year.'
The thermal imaging cameras can also be installed in the planes as a landing aid to complement the existing technology and give the plane's captain a clear image of the runway.
Future tech
Like the military invented technologies that have come before, thermal imaging technology will move more into the mainstream as it becomes more compact, image quality increases and more functionality is put into the kit. Christiaan Maras, marketing manager at Flir, says: 'As volumes go up and prices come down, more and more manufacturers of a wide variety of products are considering integrating thermal imaging in their products. Maybe it is not too far away that thermal imaging will go the same way as, for example, GPS: from the happy few to real mass market.'
Where this will lead, nobody knows. Thermal imaging will continue to strike a chord with the transport world though, as Sacker adds: 'Over the next five to ten years, night vision will be more available to drivers and there is also a move towards marine night vision, where boats are using the technology for security and navigation.'
But a world where every police officer, firefighter, security guard or vehicle has personalised Predator-style thermal imaging devices currently seems confined to the world of science fiction, rather than science fact, until costs are brought down and the technology is entirely necessary. Sacker concludes: 'The product has got to fit an application – with some users wanting technology that can be used for a range of applications. Whether it is necessary to customise such kit is a difficult question.'
TAKING THE STRAIN ON HIGH-SPEED TRAINS
The new Hitachi train travels along the Channel Tunnel Rail Link at speeds of up to 140mph, cutting the journey time from Ashford to St Pancras station to just 37 minutes. Making sure the vehicle is in tip-top condition is a difficult job, and one that relies on thermal imaging technology.
The 29 Channel Tunnel trains are based on the Shinkansen (aka bullet train) design and non-intrusive condition monitoring is an important element of the maintenance work. For example, at the company's engineering depot at Ashford an MRX system has been installed that will automatically measure wheel profiles and shoe gear thickness. Thermography was another must have for the maintenance team and as a result Hitachi Rail Maintenance has recently taken delivery of a Flir Systems' ThermaCAM T400.
Hitachi Rail: The 'bullet' trains. Image courtesy of Flir Systems thermography division.
A typical job for the thermal imaging camera is to check the integrity of the cable fixings on high-voltage jumper cables. These inter-vehicle cables from the secondary windings of the transformer terminate in sealed and watertight junction boxes. Dan Barrett, the Hitachi Rail maintenance engineering manager, says: 'Having to undo those boxes just to check the fixings are torqued to the correct value is time-consuming and often faultinducing. Without thermography there is no alternative as, if a bad termination isn't rectified, the contact will burn out and that will incur significant parts and labour cost. Using the ThermaCAM T400 this job will take seconds. All we need do is look at the thermographic image of cable for tell-tale signs of a loose connection – it's such an effective technology.'
Another application for the camera is the inspection of high-voltage connectors. Traditionally, contactor tips would be replaced every six months, regardless of their condition. 'It's an arbitrary task,' Barratt continues. 'Using thermography, we can actually see if the replacement is necessary and we don't need to disturb a system if it's working fine.'
Other planned applications include checking for loose connections and intermittent faults on relay panels and terminal bars; monitoring motor temperatures – specifically around bearings casings on blowers and HVAC fans; and checking high-resistance contacts on third rail shoe gear cabling to prevent burn-up.