LMI Technologies has quickly established itself as a 'system in a box' supplier of vision solutions, as John Murphy discovers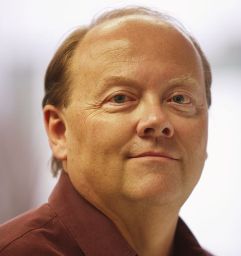 To many people in manufacturing, the idea of machine vision is extremely scary. It's the sort of thing that white-coat scientists create in a lab and really has no place on the production line.
Len Metcalfe believes that the very term 'machine vision' should only be used in private meetings of specialists. Bandying the term around is doing nothing for sales.
His company makes sensors, but they can see. In fact, the brand name is Sensors That See. The customer does not need to know anything about what happens inside the box. It does a job and everything needed for that job is in the package.
This approach has proved very successful in a lot of industries where technology is regarded with suspicion. LMI Technologies makes a 'system in a box' for applications in specific industries, which has everything, including the right lighting, in one package. The guys who install Metcalfe's machines call themselves 'electricians'.
As much as he would like to, it would be extremely difficult to make a system for every industry; it would also be very boring as there are always different ways of doing things that have pros and cons in each case. People who know a lot about particular fields often build PC-based solutions or even embedded solutions, but there is a problem that they can come up against. When a PC costs $3,000 and a camera costs $5,000, you can charge a similar sum for integrating them into a system that works – but the cost of the hardware has come down so much that integrators really need some short-cuts. LMI has started selling its components, allowing integrators or OEMs to build bespoke systems from standard tried and tested hardware.
This could be seen as a gamble, because it's possible that his customers will come back and compete. But, on the other hand, reducing the cost of ownership is historically the most effective way of increasing the total size of the market. There should be enough cake for everyone.
LMI has its roots in process control and the logging industry, clearly a big deal in its home state of British Columbia, Canada, and the initials stand for Laser Measurement International. Early in the company's history the most important market was logging. Today, this is still a very significant business and, in many ways, it is the spiritual home of the philosophy of hiding the complexity from the customer. LMI makes systems that perform 'yield management'; studying trees in three dimensions and telling the sawmill how to cut them in the most profitable way. This is an extremely complex process and the equipment needs to work in very large sawmills, which can be very hostile environments in terms of noise, radio frequency (RF) interference, temperature, humidity and dust.
In 1998 Dynamic Control Systems, also known as DynaVision, merged with three other laser-based measurement and control companies – Selcom, Sami and Sensors-95 – and became LMI Technologies. Len Metcalfe, the co-founder of Dynamic Control Systems, became chairman and CEO. Selcom was strong in the tyre and rubber industry, as well as road surface inspection. Being based in Sweden gave the company a European base, along with Sensors-95 located in Maastricht, The Netherlands. SAMI (Sensor Adaptive Machines Inc.) was based in Windsor, Ontario and was strong in the type of process control systems used in the automotive industry. The DynaVision brand is still used in logging systems and the Selcom brand can be found in road inspection, metal foundry, and tyre and rubber systems.
Metcalfe says: 'We started selling to the lumber industry and we did not call it machine vision. It's a very primitive industry and only has electricians, not machine vision experts, so we call them sensors. We now have a product line called "Sensors That See", which are niche products aimed at a specific industry. They don't care whether it is machine vision or not; they just have a problem that they need to solve. They don't want to get involved in issues of lighting and optics, they just want something that they can switch on and it works. Inside there is something intelligent with lighting, cameras and sensors, with software included that is designed to do a specific job for a particular industry – like road inspection, or molten metal processing.
'I look at barcode readers as sensors that see in a very basic form; we just apply the same principle to other types of applications. We are in fields that require measurement, such as optimising yield, and the companies that we acquired were all experts in measurement within particular industries. The companies that we acquired were those that owned the intellectual property for metrology in those industries.'
For most of its 10-year history, LMI has built specialised sensors that have everything in a single box. They were subsequently sold to machine builders and some system integrators, who made them into larger systems that did robot welding or runway inspections at airports. Along the way LMI developed a lot of very useful technology, particularly for integrating very large systems in factories or other extensive locations where events like strobe lighting had to be synchronised with other parts of the process. It also developed an extensive range of software components for machine vision applications as well as the technology to interface with a lot of other products. It made a lot of sense to start selling these directly to OEMs for them to build systems in applications they knew well, but where LMI was not already dealing.
Metcalfe continues: 'We learned a lot over the past 30 years and we used that knowledge to develop a set of tools that other people can easily use for their own applications. All the expertise that we use to make our Sensors that See has been unbundled and documented. OEMs can take these products and build their own embedded systems.
'People will compete with us, but there are a lot of engineers out there who want to protect their own intellectual property and have their own solution. They can take our tools and build their own Sensors that See for their application. The development will take a lot less time using these tools, rather than developing everything from scratch. There are also issues around manufacturing – if you design something unique you still have to get someone to manufacture it for you. We have had companies ask us to manufacture for them. A lot of companies like to have their own touch on a product and don't want someone else to have designed it all for them. We let them do that with our FireSync products.
'A lot of machine vision is done with PC-based systems, especially now that interfacing the cameras has become easier, thanks to GigE. Customers used to pay $25,000 for their machine vision system and then pay $25,000 to integrate it. These days people are paying $5,000 for the machine vision system, based on a PC with a GigE camera, so they are not willing to pay $25,000 to integrate it. We started looking at a set of tools that would reduce the cost of that integration. We have now created a set of tools for PC applications, centred on the Maestro product line, which can quickly integrate cameras and PCs into a single system – without all the complicated cabling and worrying about synchronisation, how you drive your lights, and so on. That means the customer can do more, get the job done faster, and reduce the selling price.'
As well as hardware, LMI is also selling the HexSight vision software package, which it licensed from the robot company Adept in August 2007. Its core tool is geometric pattern matching. To make this even easier for integrators, it has been built into a hardware package that can be quickly integrated with a GigE camera.
Metcalfe says the company has always been focused on what customers want, and what they are prepared to pay. LMI builds its hardware from the sensor up, because it knows that any camera bought in from another supplier will inevitably have features that are not needed.
The Maestro Developer Kit includes: P800 controller, C12 camera and light triggering module, dual-CAT5e cable, 48 DVC power supply and cord, international power outlet converter, and user software.
Metcalfe says: 'For the Sensors That See embedded systems, we have always built our own hardware, because we have never found a third party that can supply something better for the price. We are a metrology company; we build devices that measure things and need to remain temperature-stable over the range that you find in a sawmill. If you just buy a camera you have to buy these pieces separately, and it's your problem getting them to work together and to be stable.'
The FireSync platform is a development of hardware and software that was created to build very large systems, synchronising up to 80 cameras. Originally the technology used was FireWire, but LMI discovered that, with very large numbers of cameras, there were instabilities. Metcalfe says the engineering team liked FireWire because of its synchronisation, but it did not suit the large installations.
He says: 'We were spending all our time overcoming problems with FireWire and, at that time, GigE was starting to become more prominent. FireSync was a software protocol layered on top of FireWire and so we layered it on top of GigE and went from a daisy chain to a star configuration. Even when we went to 10GigE the system was really stable.'
The FireSync hardware is based around a GigE switch and dual Cat5e cable, but while one pair is carrying the data, the other wires are carrying 48V power, synchronisation and laser safety cut out. All these things can be distributed over 100 metres – extremely useful in a factory set-up.
Metcalfe says: 'You get a totally programmable environment scaling from one or two cameras up to 30 or 40, and you can synchronise to your light sources. You don't get the noise problems that you get with FireWire, because it is isolated.'
The latest product is called Maestro, which can orchestrate a very large machine vision system where a lot of pieces have to work together, including an encoder to interface with other instruments.
Metcalfe says: 'It makes the PC into a slave, with Maestro as the conductor. You can configure it from a web browser or integrate it with your vision software. It works with lots of cameras, including FireWire and CameraLink, but we believe that GigE is going to be the interface of the future. We are trying to simplify machine vision and make it as close as possible to plug-and-play.'
LMI is, of course, well known in its vertical markets and the sales channels for the Sensors that See product line are well established – this is still 90 per cent of what LMI does. The components business is, however, a new venture. Metcalfe believes the Maestro product line, in particular, is unlike any other type of product on the market. It will require a different channel strategy and the recruitment of many distributors around the world. He is hoping that the distributors will be able to identify new people to become integrators, because the component approach makes it easier to integrate and grow the market along the way.
Metcalfe says: 'Maestro, HexSight and FireSync are distribution businesses. We have distributors in Germany, Netherlands, China and Japan, but we are just starting up. We are looking for several distributors, because we see Maestro as a very general product for many sectors. We are building up our distribution plans at the moment, so people who are interested should get in touch. We think that there is nothing out there that competes at the moment.
'There are a lot of small integrators out there that make machine vision work and we want to help make their lives easier.'