Framos is celebrating 30 years as a vision distributor, as Warren Clark discovers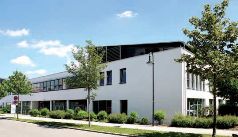 Framos, the European distributor of vision products, is celebrating its 30-year anniversary in 2011. However, when Bernd Franz started the company with his wife in 1981, the idea of becoming a vision specialist had not entered his mind. He originally worked for Siemens, and then later for a distributor of high-tech products. While in the latter role, he decided he could make a go of a similar venture himself, and so began Framos as a distributor of generic high-tech products across Europe.
'But he didn't just want to sell products,' says Andreas Franz, Bernd's son, now chief executive officer. 'He believed that it was important to offer support alongside sales. It's not easy to sell high-tech products if you don't offer good support too.'
A year later, Bernd had talks with Sony, which was developing an image sensor and wanted to explore whether there was a market for such products in Europe. Framos became Sony's first European distributor of image sensor products – and remains its key partner to this day.
'Sony obviously had the expertise in the sensors,' says Franz. 'We helped deliver those sensors to the emerging machine vision sector, which my father had identified as a prospective market, because the German engineering sector was very strong even then. Although the vision market was relatively small as far as Sony was concerned, they liked it, because they saw a growing and profitable business.
'Very quickly, my father helped create a community around the imaging market by starting a CCD forum,' says Franz. 'It used to run over a couple of days, featuring talks, seminars and also lots of networking time (much like the EMVA conference today). It is a concept that ran for more than 20 years, and is something we are looking at reintroducing in some form or other next year. It proved to be a very useful meeting point for the industry, at which there were a lot of discussions on camera development. With just technical people, rather than sales people, there were real discussions on problem-solving with camera technology.
'We also started another initiative, called "Kamerastammstisch" whereby interested individuals would meet once a month in a restaurant for a meal and a beer, just to keep in touch on camera developments. That tradition still continues here in the Munich area. So, right from the start, we have been heavily involved in developing a camera development community.'
The company built up during the 80s, firstly supported by its origins as a distributor of high tech products, but over time the image sensors became an increasing proportion of its revenue. Volume sales of image sensor products picked up considerably in the 90s, and at the turn of the millennium, Framos expanded its product range to meet customer demands. 'We realised that customers demanded many more things, such as cables, software, lenses and so on – but always based around our core image sensor products and associated development skills.'
Franz emphasises that the company is much more than just a supplier of products. 'We are always keen to develop partnerships – and not just between ourselves and a customer,' he says. 'Even back in the early 90s, we were bringing people together, and coordinated deals between customers, as we could see that they would be a good fit.'
For Framos, it has always been about the ability to offer a wide portfolio of products, and to be able to offer support to those products. Recently, there has been investment in offering development platforms – mixing hardware and software – 'so that the customer can focus on their core competencies', adds Franz.
Andreas Franz
When it comes to choosing which companies to represent, the starting point is always customer needs. 'We started by finding suppliers of complementary products to the Sony sensors,' says Franz. 'Importantly, we always look for a long-term relationship with our suppliers. Some companies want quick sales and then stop innovating, but we're not interested in representing those sorts of companies. It's not easy to sustain a long-term distribution relationship, since there is a risk that if you do it well, then the company you represent will end up wanting to handle those territories themselves.
Therefore you have to offer a clear benefit to your customers like good service and support, complementary products and engineering skills and on top of that try to provide a clear win-win situation to your suppliers.'
Framos tries to not have overlapping offerings in its portfolio if possible, and 'each company has its own role', says Franz. 'For example, we have one camera supplier who is purely focused on OEMs. Another is excellent for standard cameras, and so on. We are always very clear with our suppliers and offer complete transparency to them regarding where and how we will sell their products. We're always looking for new suppliers to offer the best service to our customers, and currently we are looking at expanding our range of 3D partners, for example.'
Franz himself joined Framos in 2007 – but it was not the inevitable handover from father to son that it may seem. 'I'd spent several years doing other things before joining the "family business", and it was by no means certain that I would always do that,' explains Franz. 'I had my own software business, which still exists, and then I worked for McKinsey. I made a decision that I wanted to be an entrepreneur, but I didn't necessarily know in which field. I looked at many different industries before I made the choice to take over at Framos – mainly because I saw it was an interesting industry and one with a lot of potential.'
Since taking over the day-to-day running of the business (his father Bernd remains as chairman, supporting Andreas whenever necessary, but no longer full time), Franz has established a professional management team 'so, in the future, we become more family-independent'.
Framos has offices in Germany, the UK, France and Italy, with plans for a further operation in Russia. It employs 57 people worldwide, most of whom are in its headquarters near Munich. 'We have a much flatter hierarchy than is traditionally found in most German companies,' says Franz. 'We are keen that every employee has a say in company strategy, when it comes to tackling new markets or adding new products. This helps improve the decision-making process.'
So, why should customers come to Framos? 'I would go to Framos if I needed a partner that could take care of the things that I knew I couldn't do in a vision application,' says Franz. 'We offer good support and service, and we help our customers solve problems with their customers where we can. We are also an ideal OEM partner. We have a range of different suppliers, so we'll always choose the right combination of suppliers for the OEM application.
'We see the market from a broad perspective. We're not just about cameras and peripherals; we can make everything work together.'