Jeff Burnstein, president, AIA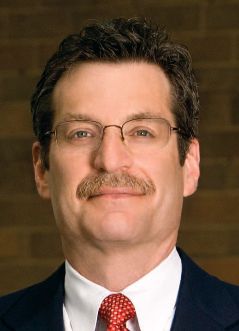 How did you come to be part of the imaging/machine vision industry?
In 1981, I went to work for the Society of Manufacturing Engineers (SME). I was assigned to doing PR and attendance promotion for their trade shows and conferences. At the time they had an individual member group on robotics (RI/SME) and one on machine vision (MVA/SME), and they managed the robotics trade association, RIA, as well as the Robots Show (which I worked on).
In 1983, RIA split from SME and became fully independent, and shortly thereafter they asked me to come work for them. In 1984, RIA created a new trade group, the Automated Vision Association (AVA) – the precursor of AIA. Looking back, the decision to leave the 300-or-so-employee SME to work at the five-person RIA was the best business decision I ever made!
How do you convince companies to get involved in an industry body like the AIA?
In the early days of AIA (then known as AVA), we tried to convince people to join the association because it would be a good way to help the industry. That approach wasn't very successful, as the association had a tough time attracting members. Then, the board hit on the solution: we have to provide more tangible benefits so that joining AIA would be a good way to help their company. That approach led to new initiatives such as the AIA Business Conference, The Vision Show, the annual AIA Machine Vision Directory, Vision Online, and the development of industry standards such as Camera Link and Camera Link HS, GigE Vision and USB3 Vision. As a result, AIA grew from about 20 members to more than 325 today from 31 countries. 
What role does North America have in the development of machine vision? 
North America plays a very important role in the development of machine vision. Firstly, we conduct a tremendous amount of research here which helps lead to advances in technology. Secondly, we're a leader in developing new applications inside the factory environment as well as beyond. And, thirdly, North America is home to many innovative machine companies and system integrators that have become global leaders. 
What do you see as the major growth sectors? 
Traditionally, the electronics and semiconductor industries were the largest users of vision. Automotive is also a major user. Today, however, we're seeing more vision and imaging technology used in areas like food and beverage, life sciences and lab automation, security, medical and pharmaceutical, robotics – these are all great growth sectors. And, when you get outside of the factory, vision is playing a role in areas like retail loss control, intelligent transportation, and even police work, such as the imaging system used in the capture of one of the suspects in the Boston marathon bombing case. 
What are the most important commercial trends in machine vision? 
There are several important trends that I see today. One is smaller and less costly systems, which allows more small and medium-sized companies to use vision. Another is easier-to-use vision systems, which is very important as companies have cut back on their engineering teams. A third is the importance of global vision industry standards, which again, make it easier for user companies to apply vision technology. And, as I mentioned before, the growing application of vision to markets outside the factory. Some of our members estimate that this represents 50 per cent or more of their current sales and is growing quickly. Finally, the growth of vision in Asia, especially China, represents a huge opportunity for suppliers and system integrators. It's an exciting time to be involved in machine vision, and the AIA staff looks forward to helping its members take advantage of the growing global opportunities.