Almost 10 years ago, in 2007, Matt Pinter and Bobby Segraves built the first LED lighting products for what would become Smart Vision Lights (SVL). The lights were made in the basement of Pinter's home in Michigan, USA, and really were the result of the established lighting firms being unable to offer custom design services for low volume orders.
Before setting up Smart Vision Lights, Pinter was an applications engineer for a machine vision distributor. In one of his projects he needed a custom light for a large application, but only required a handful of units. As Smart Vision Light's president, Dave Spaulding, recalled: 'He [Pinter] contacted one of the illumination companies around at the time and asked them if they would be willing to custom-build one of these lights. They asked him if he needed 1,000 units; he said no, I need one, which they couldn't supply. He ended up building his own light for the application. After having to do that several times, he decided he should start his own company to build lights, and that's how Smart Vision Lights came about.'
Pinter, Segraves and Spaulding all worked in the machine vision industry prior to setting up Smart Vision Lights. Pinter has a degree in electrical engineering and has been working with lighting since his college days; he is currently the director of engineering at SVL. Segraves was a regional sales manager for camera company DVT, later acquired by Cognex, before founding SVL. He retired from the company in June 2016.
In 2008, SVL moved to a small facility funded through a Grand Valley State University incubator programme. The scheme offered inexpensive floor space and some administrative support. Around five years ago, the company moved to its current location in Muskegon, Michigan. 'Sales have grown and we're currently at around 75 per cent capacity in the current facility, so we're starting to consider next steps here,' Spaulding remarked. The company does have the option of expanding at its site, if necessary.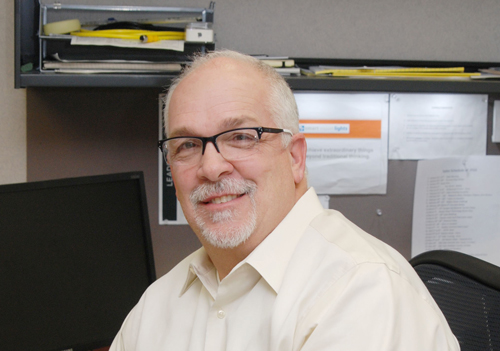 Dave Spaulding, company president of Smart Vision Lights
The majority of Smart Vision Lights' sales are into factory automation in the USA, but it also sells into many other areas, including traffic, face recognition for the US government, medical devices and the life sciences. In a recent project, its SP30 LED pattern projector was integrated into a 3D scanning system for manufacturing prosthetics. The scanner was designed by Canadian firm Vorum and uses SVL's LED projector and a camera to capture a 3D image of a patient, which is then interpreted by computer-aided design software to produce the prosthetic. The scanner was made to be handheld, so the light source had to be small enough to fit into the housing, while also having a bright enough output to give accurate 3D measurements. Health professionals using the scanner can eliminate the need for plaster casts when making prosthetics for patients.
Spaulding commented: 'Everyone wants higher light intensity, and they want the devices to be easier to use and integrate. One of the things that our company did from the get-go was to put the driver inside the light rather than selling them separately. This simplified setup and reduced the cost of the system.
'Over the years, we've found ways to get greater intensity through the LEDs themselves,' he added. SVL has a patent pending on a component on the PCB to allow a silicone lens to be attached. Optical-grade silicone has a lot of benefits over plastic moulded lenses for LEDs, in that the material: doesn't age or yellow with time; is impervious to temperature changes between -115°C and 200°C; is capable of holding fine structured patterns; offers high transmission across a broad spectrum from 365nm to 2,000nm; and complex, multi-part optics can be made inexpensively. The company uses a range of optics for its lights, depending on the illumination task, but has recently been working more with silicone. Some of this is still in a prototype stage, but SVL also has assisted with a patent pending on an illuminator using silicone.
SVL's range of lighting drivers includes the MultiDrive, where the user can choose whether the illuminator runs in strobe mode or continuously, as well as being able to overdrive the strobe if necessary. This is makes the products more user-friendly and customer-configurable. SVL's latest employee, Tony Carpenter, who joined the company in October as business development manager for Europe and Asia, observed that SVL thinks about how its products are going to be used in the field, including how the lights are going to be mounted.
Spaulding said: 'I look at Smart Vision Lights as a design company that happens to make lighting. We're constantly thinking about designing the product better – improving the mounting, improving anything and everything that will make it easier for the customer to use.'
With the appointment of Carpenter, along with a new distributor in Asia, JM Vistec, SVL is starting to target Asian markets. In Europe the company works with several distributors, including Stemmer Imaging.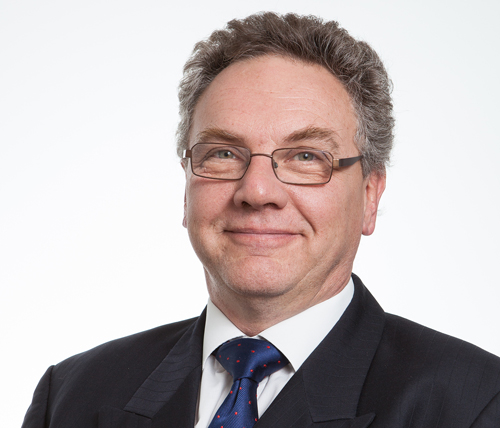 Tony Carpenter, business development manager for Europe and Asia
'Our distributors typically bring us a lot of projects, and many need custom lighting,' explained Spaulding. 'We'll help solve the application in our labs, and in a lot of cases it might require something custom, and that's how a lot of our products are born – from someone calling us and saying they need something a little bit different. We have the capacity in engineering to design most custom lighting for specific applications.'
Spaulding continued: 'The machine vision market is still growing, so that's one area we believe we'll continue to do well in.' He noted life sciences and traffic as other sales growth areas. SVL has supplied lighting for systems to monitor and enforce speed limits at traffic intersections. 'Really from there it's customer-driven, everything up to smart cities, which involves lots of different disciplines,' he said.