From humble beginnings in a garage in Boca Raton, Imperx has gone from strength to strength, as Beth Harlen discovers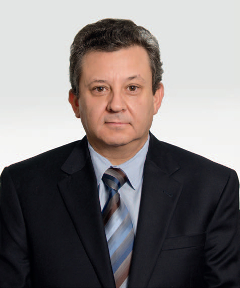 The story of Imperx, a leading designer and manufacturer of high performance digital cameras and frame grabbers, can be traced back to a small garage in Florida's Boca Raton, USA, where in 2001 its founder and president, Petko Dinev, set about developing the world's first frame grabbers for laptops. Holding a MSc degree in Applied Physics from Sofia University in Bulgaria, Dinev's fascination with cameras began when researching his thesis on how to implement cameras and ground-based telescopes. Leaving behind a career spanning both academia and industry, Dinev and his family moved to the United States in the early 1990s, where he began working for Nasa to develop portable ultrasonic equipment capable of being deployed on a space shuttle.
At that time, ultrasonic equipment was the size of a refrigerator, making it logistically unsuitable for use on a shuttle. The challenging task ahead was to reduce the equipment in size such that it would fit inside a standard briefcase. Dinev was in the midst of completing his doctoral dissertation on 'Ultrasound Brain Imaging' as part of his PhD in Electrical Engineering, and he proposed that an ultrasonic device meeting Nasa's specifications would require a video digitising card that could capture the video information and transmit that raw data to a laptop – and such a card didn't exist. Dinev's dissertation was awarded with the prestigious Merrill Lynch Forum Innovation Grants Competition in 1998, and his proposed card was developed and later became known as a 'frame grabber for laptops'. In 2001, Imperx was born and its first product was the world's first laptop frame grabber for standard video.
Dinev explained that launching Imperx was quite a daunting experience as the company began shortly after two consecutive stock market crashes. Finding money from investors was close to impossible, and so Imperx began in Dinev's garage, funded by his credit cards. 'I wanted to make cameras – that really was the driving force – and when you start a company the way I did, there really is no chance of failure,' he commented. 'You have to be committed to the point that "failure" is not a word that could even enter your vocabulary. You have to do everything possible to survive.'
That determination paid off and Imperx's first contract was to provide a police force with frame grabbers and cameras for recording traffic violations directly to laptops. Given that portable imaging devices were a core focus of the company, a perfect market for Imperx also proved to be the medical industry. Ultrasonic equipment was still generally very bulky and generated standard video signals. Imperx's technology enabled scanning kits to be portable, with users simply plugging a card into their laptops. For this reason, it also attracted attention from the military and veterinarians – it's far easier to take a scanner to a horse, for example, than it is to transport the animal to the scanner.
Today, Imperx is home to 65 members of staff, and operates in many diverse markets including aviation and consumer electronics. Applications within these markets include the deployment of cameras on satellites, planes and drones; systems for inspecting solar cells within solar panels; and flat panel inspection – something that Imperx has been heavily involved in since 2004. 'We have a very strong presence in Asia, and our cameras are used to inspect anything with a flat screen, from LCD TVs to tablets and mobile phones,' explained Dinev. 'When we first entered that market more than 10 years ago, area scan cameras – which can quickly image a defined, stationary area – were rarely used given the speed offered by line scan cameras, which use a single row of pixels to capture images of objects as they move quickly past the camera. But when you have a 2D structure on a piece of glass, manufacturers soon found that it's far easier to do an area scan as it's not dependent on the velocity of the panel during inspection.'
According to Dinev, the usual rule of thumb for inspecting one panel pixel is to have 8 to 12 camera pixels. With VGA displays, this is relatively easy. With 8 megapixel displays (4K resolution), however, a single camera would need around 100 million pixels – and that camera doesn't exist. 'To get around this problem, flat panel makers began integrating multiple cameras,' Dinev explained. 'Back in 2006, our biggest camera was 11 megapixels so we used eight cameras to get the image resolution and level of detail the manufacturers needed. Ever since then, we have concentrated our efforts on large megapixel cameras, and we are currently developing a 47 megapixel camera.' He added that the price of cameras has dropped significantly in this market during the past 10 years; first because of the level of competition, and second because the price of the flat panel devices themselves have fallen.
Cameras with CMOS image sensors, said Dinev, are becoming a strong contender in the inspection market due to their availability and combination of high resolutions and high speeds. A standard 25 megapixel camera, for example, can capture images at between 70 and 80 frames per second, and as Dinev explained: 'Speed is at an absolute premium. The faster a camera can do an inspection, the faster manufacturers can run their production lines.' He noted that the variety of cameras with high resolutions and fast frame rates has been limited. Now, however, an increasing number of companies are entering the machine vision market. 'There is competition for Imperx out there, but we try to present ourselves a little differently,' said Dinev. 'We've delivered some very unique customisations over the years, not to mention the fact that there are eight of our cameras on every rocket launched from Nasa's Cape Canaveral launching pad! All these things have gained us our reputation as being a trusted company that can deliver – sometimes under very difficult circumstances.'
Not one to rest on its laurels, Imperx continues to explore other avenues of development, as Dinev explained: 'One of our larger clients in the US inspired us to develop something very unusual for us; self-powered light sources that in turn power the cameras. Due to the common connection, users can set the light source parameters via the camera.' The client in question was having difficulty finding a reliable light source that could do precisely what they wanted, so they turned to Imperx. Dinev continued: 'Despite the fact there were at least 10 different companies making lights at the time, none of them seemed satisfactory and so the client came to us for a bespoke machine vision inspection system that would monitor the flow of the production line. Since then, we have been seeing a small but steady growth in the demand for smart lights.' Being able to bridge the gap between offering single components, such as grabbers and cameras, and provide complete solutions has become another area of focus for the company. In 2014, Imperx introduced a system that has been installed on many production lines in US and Europe, and is beginning to make headway in Asia.
The company is continuing to invest in its camera technology, with a new line set to launch in the next few months. 'This is actually perfect timing for us because Sony has recently announced that it will discontinue its line of CCD sensors and cameras,' said Dinev. 'That news prompted us to focus on our CMOS camera line and target more direct applications.' As the market leader in CCDs, Sony's withdrawal is expected to leave a vacuum – one that Imperx intends to fill. 'Cameras will need to be replaced and we are able to offer real substitutions that are identical in every essential way to Sony's, such as the interface and mount,' continued Dinev. 'From the client's perspective, it really doesn't matter if the camera they're using is based on Sony technology or not; just that it does what they need it to.
'There are, of course, some very unique situations where we won't have a direct replacement, but that's why we're putting so much effort into progressing our CMOS line,' he added. When this latest line of cameras is launched, it will continue an Imperx naming tradition that began with Lynx, the company's original camera, and was followed by Bobcat, a line of extremely programmable, high quality, low noise, CCD cameras with a high density FPGA. This tradition has continued with Cheetah, Imperx's first high-performance CMOS product line intended not only for machine vision, but also surveillance, reconnaissance, aerospace and intelligent traffic systems. When the new cameras hit the market, in addition to boasting some impressive features, one thing is for sure – they'll be named after an imposing large cat.