Cliff Cheng, senior director of automotive marketing at OmniVision Technologies, details its latest global shutter sensor for industrial and automotive imaging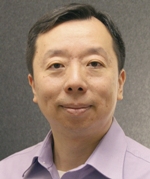 OmniVision Technologies has for years been developing CMOS image sensors with global shutter operation for a wide variety of markets, including surveillance, industrial machine vision applications, and more recently automotive-grade machine vision and viewing applications.
The OV2311 image sensor is among OmniVision's latest offerings for advanced driver assistance system (ADAS) applications like driver monitoring. It features the OmniPixel3-GS global shutter technology with 3µm pixel pitch, and comes in a compact, 7.219mm x 6.157mm automotive chip-scale package that is Automotive Safety Integrity Level (ASIL) B and AEC-Q100 qualified.
The sensor can operate at a maximum resolution of 2 megapixels, providing 1,600 x 1,300 at 60fps, 1,280 x 720 at 90fps or 640 x 480 at 180fps, depending on the configuration. The OV2311 also has a PWM output for control and synchronisation with an external IR LED, which enables in-cabin monitoring in dark operating conditions. Additionally, this image sensor is equipped with many safety features, such as Watch Dog pulse and a calibrated temperature sensor.
Cameras that operate using a global shutter sensor do not suffer from motion distortion – as can be the case when capturing live video of moving objects using rolling shutter sensors – because all of the pixels for the entire image frame are exposed at the same time.
Rolling shutter artefacts result from the nature of rolling shutter operation, where each line of a frame is exposed sequentially at a different time, causing a temporal shift between lines. For many applications that require distortion-free images, in terms of shape and pattern, the highly noticeable distortion in moving rolling shutter images is unacceptable and unusable. For example, machine vision applications such as barcode scanning, package inspection, face recognition for automotive driver monitoring systems, and augmented and virtual reality devices, to name a few, all have zero tolerance for motion distortion artefacts.