Dr Oliver Vietze, CEO and chairman, Baumer Group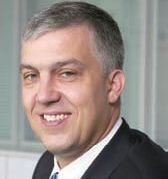 How did you come to be part of the imaging/machine vision industry?
I completed my doctorate in CMOS imager design and was one of the founders of Baumer Optronic, a leading international sensor company with around 2,000 employees worldwide. Our vision competence centre, Baumer Optronic, was formally founded in 1997, but the core development team had been developing digital imaging solutions for OEM customers for applications in the field of life science and industry since the early 90s. We were one of the first companies worldwide to specialise in digital camera technology.
How do you convince customers that they need machine vision?
Nowadays, machine vision is part and parcel of many fields of industry. In general, there is no need to convince our customers of the usefulness of vision systems. Our strength is our extensive know-how, not only about cameras but in all fields from illumination, via optics and cameras up to the picture on the PC and the corresponding image processing algorithms. We offer our customers a comprehensive consulting service and develop complete solutions from one source.
What role does Europe have in the development of machine vision?
Europe, especially Germany, has a lot of high-performance production machinery where quality plays an increasingly important role. For these companies, machine vision is a key technology and this concept was recognised early in education. Machine vision has been introduced as a core subject at many universities in Germany since the late 80s and, in accordance with this, there are many well-trained engineers. Therefore, in the future, Europe will play a driving role for new applications in the field of vision technology. Nevertheless, most companies have a worldwide network these days.
What do you see as the major growth sector?
Certainly in the past, the semiconductor industry was one of the driving industries at the beginning of the 'vision era'. However, we see much more potential in classic mechanical engineering for the production of 'old economy products' as well as in the life science and safety sectors.
What do you see as the most important technology challenges facing the industry?
Over the past few years, many companies saw the development of new interfaces as innovation. With GigE we have an interface that satisfies most customer requirements. Now the main issues are the reduction of the system's complexity, together with cost reduction and process stability by consistent integration. At the same time, many applications will become possible that have, so far, not been viable due to cost constraints. This outcome can only be reached by close cooperation with our customers. For this purpose, Baumer offers an extremely flexible and efficient hardware and software platform with highly integrated IP picture processors. There are also more than 100 engineers in the field of optoelectronics and vision technology within the company.
What do you see as being the most significant commercial change in the industry during the years ahead?
The pressure of competition and therefore the pricing pressure will definitely increase considerably because of the preceding standardisation. With its modular system design and the lean six sigma production optimised for one piece flow, Baumer is best-prepared to meet the demands for flexibility and short delivery times, guaranteeing high quality and competitive prices at the same time. On the other hand, application-specific branch solutions often offer significant performance and cost advantages to the customer. In these instances, it is of great importance for a manufacturer to be able to realise the projects quickly and professionally with a highly productive team of engineers.