Coaxpress gains fibre and 3D support
Chris Beynon, Active Silicon's CTO and technical chair of the Coaxpress committee, updates on the Coaxpress standard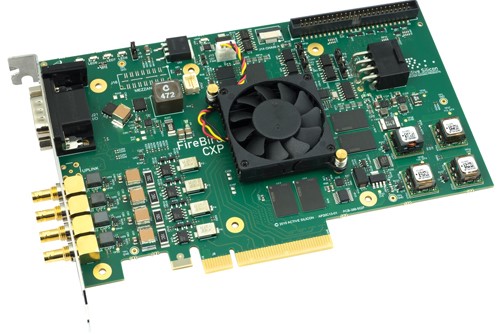 Active Silicon's 4xCXP-12 FireBird Coaxpress frame grabber (PCIe Gen3 x8)
The big update for Coaxpress was 2019's v2.0. It added several new features such as event packets, but the headline change was the doubling of uplink and downlink speeds, with 12.5Gb/s now supported on each cable. Image sensors are getting larger and faster, so this allows Coaxpress to continue to support the very fastest cameras on the market. A typical four-cable product now operates at 50Gb/s.
In February, the Japan Industrial Imaging Association (JIIA) released Coaxpress v2.1. The main addition here is support for the new GenDC standard, which makes Coaxpress the first of the machine vision standards to adopt it.
GenDC – Generic Data Container – is a GenICam module that defines how image data is represented, transmitted or received independent of its format. It can describe a simple rectangular 2D image, but it can also describe metadata attached to the image, or much more complex formats such as 3D data.
It's the description of complex formats that is the main benefit for Coaxpress. It would be a lot of work for Coaxpress, and all the other imaging standards, to each define how to represent 3D data, as an example. So everyone worked together to define GenDC, which does all the heavy lifting of how to describe such data.
Now, with GenDC support in v2.1, Coaxpress immediately has full 3D support. In addition, when a new image format comes along in the future, there will be no need to up-issue Coaxpress to support it – as soon as GenDC defines the format, then Coaxpress can use it.
Coaxpress-over-fibre
JIIA has just released a guideline document to support the use of optical media with the Coaxpress protocol. This means manufacturers of Coaxpress products can maintain the investment they've made in Coaxpress IP, and to offer customers real-time, deterministic behaviour they're familiar with from Coaxpress.
For many applications the copper coax at up to 12.5Gb/s per cable continues to work very well, and gives a good balance for machine vision of camera speed, size, heat dissipation, cost and cable length. Most Coaxpress cameras, including those running at CXP-12, are too small to fit a typical QSFP optical connector, and the available small fibre optic solutions are generally very expensive.
Having said that, some applications benefit from fibre optic cables, for instance if very long cables are needed – many tens or hundreds of metres – or if electrical isolation is required between the camera and the PC.
Additionally, as speeds increase further, such as 25Gb/s operation per cable, it's inevitable that optical will win over copper. Therefore, it's very important that Coaxpress has fibre support, so it can leverage the investment going into high-speed fibre for Ethernet, while simultaneously maintaining the proven real-time Coaxpress protocol.
Both the addition of GenDC and the fibre protocol are still very new, so it's a bit early to say much about products. In terms of GenDC, it's probable that 3D cameras will be the first to take advantage of this. The higher speeds of CXP v2 have already allowed equipment providers to upgrade their products to use faster sensors. GenDC clearly allows the 3D camera vendors to make much faster cameras than the typical gigabit Ethernet products currently on the market. So, watch this space!
Euresys featured product - sponsored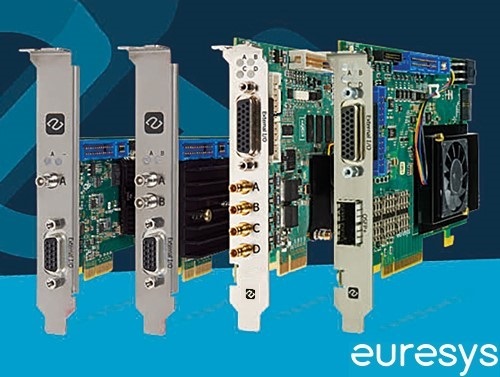 Ultimate in performance with superior value, Euresys' Coaxlink series of frame grabbers matches your application in speed, distance, size, functionality and modularity without compromising on connectivity's reliability. From one to eight connections per board, Euresys CoaXPress cards match speed and distances to suit most applications, e.g. 40m at CXP-12 speed (4x 12.5 Gbps) up to 100m at CXP-3 speed (4x 3 Gbps) on conventional coaxial cable (also offering Power over CoaXPress delivery). The latest CoaXPress-over-Fiber Coaxlink QSFP+ extends that functionality even further to 150m/40km multi-/single-mode on fibre optics for extra distance and immunity, and paves the way for future 4x 25 Gbps and 4x 50 Gbps connectivity. More boards and connections can be equally synchronised thanks to the C2C-Link functionality.
Further reducing the receiving CPU workload, the on-board functionalities (CustomLogic FPGA customisation, versatile line/area-scan triggering capabilities, general purpose I/Os, …) allow de-centralised functionalities and fast throughput.
Speeding up the development, integration and monitoring of the installation, Euresys' CoaXPress offers development tools (Memento event logging tool, eGrabber Recorder, eGrabber Studio, …).
www.euresys.com/en/Products/Frame-Grabbers/Coaxlink-series
Optronis featured product: 65MPixel camera with fast 50Gbps image data transmission - sponsored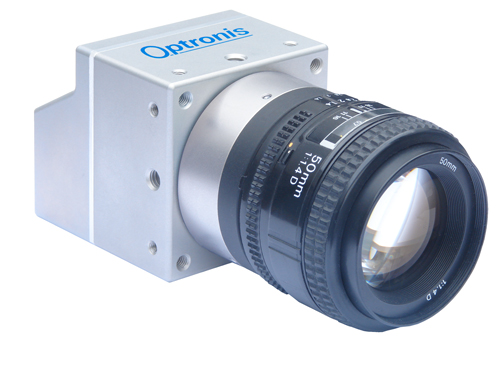 Industrial inspection often requires high resolution combined with high frame rate. Interface technology has to deal with the resulting requirement of high bandwidth. CoaXPress interface version 2.0 and version 2.1 revised 2021 allows 12.5Gbps per channel. More demanding machine vision applications can be addressed by combining four channels to transmit at 50Gbps.
The Cyclone-65-70 camera with CoaXPress 2.0 interface integrates a large 65 MPixel image sensor with 9,344 x 7,000 pixel. Full resolution images are transmitted at up to 71fps. Reduced resolution images are possible to increase frame rate beyond 12,000fps. The sensor has high light sensitivity, excellent image quality and low noise.
Small camera housing with different lens mounts open applications in factory automation and quality assurance. Flexible cooling options, either with active and passive cooling, are available to deal with harsh environments.
BitFlow featured product: BitFlow's latest in CoaXPress: the Claxon-CXP - sponsored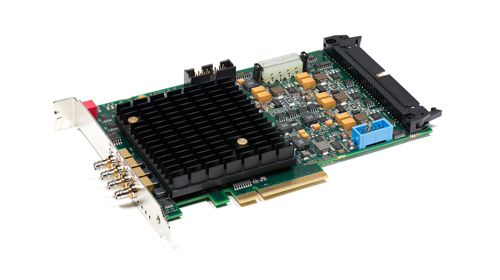 CXP-12 is the latest CXP standard, now transmitting video at 12.5Gb/S. While the speed of data through the frame grabber has doubled, the overall architecture has remained the same as the previous generation Cyton. This allows users to easily migrate to the newer cameras without major software changes. The Claxon-CXP4, is a quad CXP-12 PCIe Gen 3 frame grabber. It supports multi-link CXP-12 cameras of up to 4 links. Also available is the Claxon CXP1, a single link CXP-12 PCIe Gen 2 frame grabber.
www.bitflow.com/products/coaxpress/claxon-cxp4/
Basler featured product: Basler boost: CXP Cameras with 20, 32 and 45MP resolution - sponsored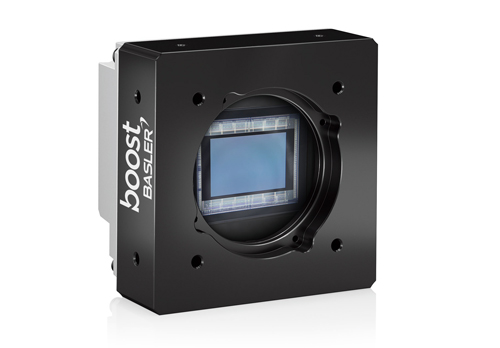 Basler AG is expanding its boost camera series with CoaXPress 2.0 (CXP 2.0) interface by six new models with sensors from ON Semiconductor's XGS series for applications requiring high accuracy. The new boost cameras offer resolutions of 20, 32 and 45 megapixels (8k) and complement the boost series, which of course continues to be available with the proven Sony Pregius sensors IMX255 (9MP) and IMX253 (12MP).
The new models incorporate high-performance CMOS sensors with state-of-the-art global shutter technology and deliver frame rates of up to 45fps. As a perfect replacement for older CCD sensors, the high-resolution XGS sensors offer outstanding image quality at higher frame rates and lower costs.
Thanks to their CXP 2.0 interface, Basler boost cameras are ideally suited for applications with image transmission distances of up to 40m where high data rates and resolutions are required. These can be applications in the semiconductor industry, photovoltaics, display inspection, the printing and packaging industry, and medical technology.
The new models are available as a bundle with the Basler CXP-12 Interface Card 1C. In addition, Basler offers further high-end components for the use of the cameras from a single source, such as high-resolution F-mount lenses and CoaXPress cables – with all the advantages of the CXP 2.0 standard.
www.baslerweb.com/en/products/cameras/area-scan-cameras/boost/
Other commercial products
Along with products from the likes of Euresys, Basler, BitFlow and Optronis (see the featured products) – Euresys has also introduced a Coaxpress-over-fibre bridge IP core – new on the market are frame grabbers from Matrox Imaging and cameras from Adimec and SVS-Vistek.
The Matrox Rapixo CXP Quad Data Forwarding, the latest in the Matrox Rapixo CXP series of frame grabbers, combines Coaxpress 2.0 connectivity with a data-forwarding option to distribute image processing across multiple computers. Available for either CXP-6 or CXP-12, these boards minimise system latency, re-transmitting all image data prior to storing it in the onboard memory.
The Matrox Rapixo CXP series also includes single, dual and quad boards without data forwarding capabilities. The whole series pairs readily with Matrox Imaging vision software which, following updates early this year, will include two new utilities: Matrox Capture Works, a configuration and test tool for GenICam-based interface standards, simplifying the setup and configuration of Coaxpress cameras; and Matrox Gecho, a command-line tool used for probing video capture with a small memory footprint. Matrox Gecho logs numerous acquisition-related events for post-analysis of performance issues if these occur.
Active Silicon's 4xCXP-12 FireBird range of acquisition cards also supports Coaxpress 2.0. Based on a Gen3 PCI Express interface, the frame grabber uses the ActiveDMA Risc-based engine to give zero CPU intervention, providing high-speed and low-latency image data transfers.
New from Adimec is the high-speed Quartz Q-21A230 for electronics and semiconductor inspection, and the Diamond D-65A30-T and D-65A09 developed for display inspection, all Coaxpress cameras.
The Quartz Q-21A230 is designed for real-time metrology tasks. It uses a Gpixel Gsprint 4521 21-megapixel global shutter sensor, with a 4.5µm pixel and 230fps. The camera operates in different performance modes, including maximum dynamic range, high full well and maximum sensitivity.
The Diamond D-65A30-T is optimised for ultra high resolution in-line OLED, LED and MicroLED display module inspection. It uses the Gpixel Gmax3265 sensor, offering 9,344 x 7,000-pixel resolution with 3.2µm pixels. For de-Mura and display pixel calibration, where multiple, uniform images are required, the D-65A30-T combines 65 megapixels running at up to 30fps with a linear response. For Mura dark inspection, the camera has superb sensitivity in combination with low noise at long exposure times. The controlled sensor temperature eliminates the effect of ambient temperature fluctuations on the camera performance.
For systems that don't require the full frame rate of the Gmax3265 sensor – and those that are more cost-sensitive – the Diamond D-65A09 delivers 9,344 x 7,000-pixel resolution at 9fps.
Adimec also supplies the Coaxpress Sapphire S-65A70, also based on the Gmax3265 sensor. The camera has a low read noise, good thermal design for passive cooling, and a dynamic range of 66dB.
Finally, SVS-Vistek has introduced the FXO camera series, combining the advantages of Sony's Pregius S sensors and the Coaxpress-12 interface. A transmission rate of 12.5Gb/s per line means the entire bandwidth of Pregius S sensors can be sent over one cable. In addition, an upload speed of 41.6Mb/s allows precise camera control via software trigger, with a trigger frequency of almost 600kHz in single trigger message mode.
The efficiency of the interface means little heat is generated inside the camera, which results in low noise and excellent image quality.
The FXO series comprises five models with the Coaxpress-12 interface, with resolutions from 5 to 24.5 megapixels and frame rates of up to 123fps. All cameras in this series have industrial features, such as C-mount, multi-channel 24V I/Os with logic module, sequencer and an integrated multi-channel strobe controller up to 3A. Dynamic range is approximately 70dB.