Bringing embedded expertise to the vision market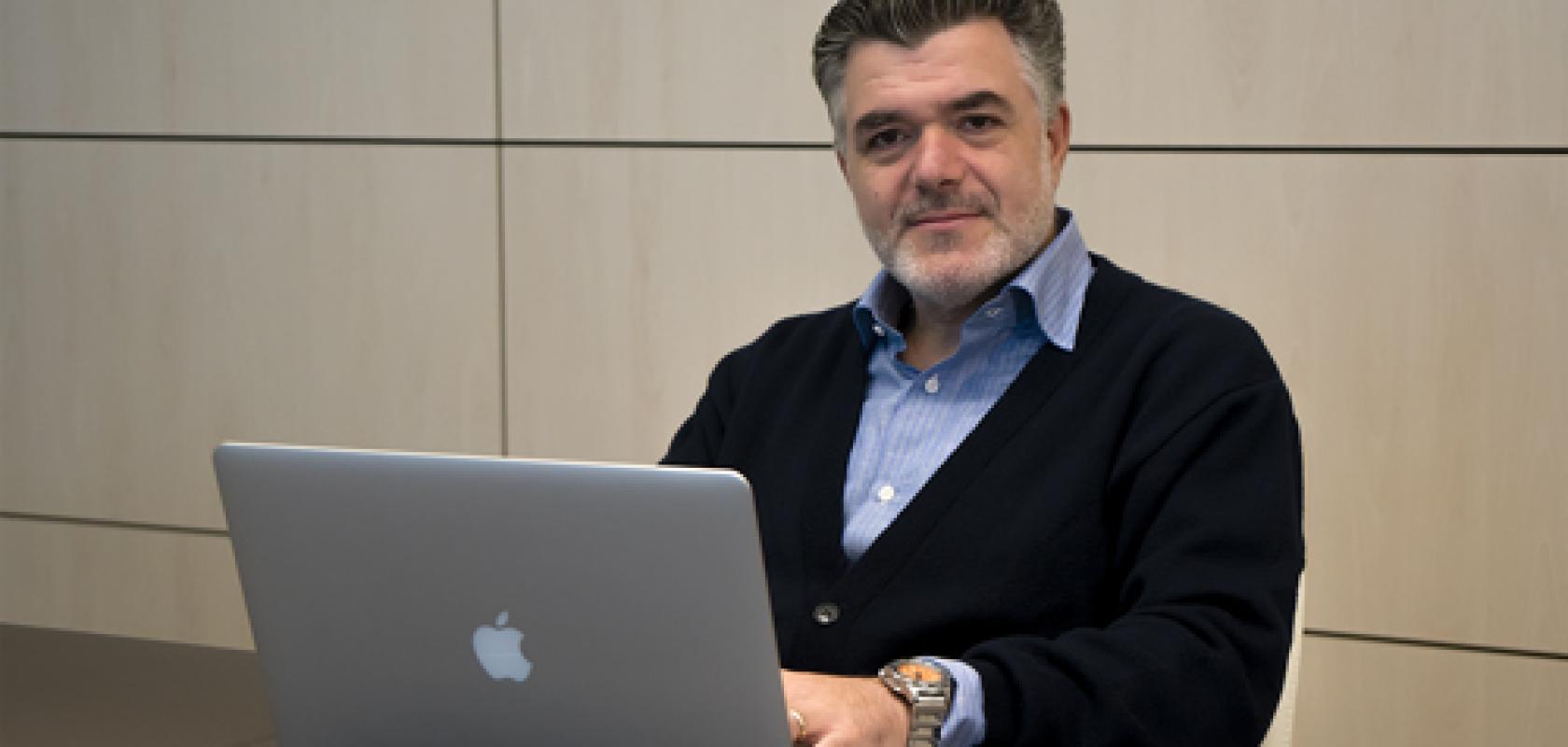 Orazio Sottile, general manager and one of the founders of Alkeria
Alkeria might be a new name to most in the machine vision industry, and that's in part because they are new as a recognised brand, but the company has more than 10 years' experience in camera technology working on custom projects for large OEMs. In the last two years, however, the Italian firm with headquarters in Navacchio, near Pisa has been developing a standard camera product range, including a high performance line scan model and a fast dual-USB3 area scan that it hopes will bring the company to the attention of the wider machine vision community.
Alkeria began in 2004, born from a consulting firm that focused on data acquisition and high-speed parallel computing solutions, mainly for Italian small- and medium-sized enterprises. The company had expertise in FPGA programming, as well as low-voltage and low-noise computing design.
A couple of years prior to establishing Alkeria, one of its historical customers commissioned the company to build a camera. 'They were involved in microscopy and were looking for a less expensive and higher performance camera than they were currently using,' recalled Orazio Sottile, general manager and one of the founders of Alkeria.
In response, the company built a two megapixel CCD camera, called Firma. It sold around 500, mainly for microscopy and embedded medical diagnostic systems. 'We realised that building cameras was a good business, and we had expertise not easily found in this market,' Sottile continued. 'We decided to focus on OEM applications where we could add value to a simple camera with onboard computation for pattern recognition. We also had expertise in motion control.'
The company's tag line is 'ImaginAction', with the idea being that the imaging aspect is nothing without motion control. Most of Alkeria's embedded devices involve some motion, such as controlling a stepper or brushless motors, where the camera itself is able to move the target and inspect it from different points of view.
'Our expertise lies in embedded computing, onboard FPGA processing, and motion control of brushless motors and steppers, as well as lighting, and synchronisation of all that in a deeply embedded system,' Sottile summarised.
The firm is founded on custom development, but there's now a push to grow the business by manufacturing simpler, standard products. 'We want to put our expertise into something that's more scalable and easier to sell than highly customised systems,' explained Sottile, adding that this is in addition to working on custom projects.
Alkeria is developing standard cameras with some unique features. Its Necta family of USB3 line scan models, for instance, is one of the few USB3 line scan series on the market with a colour version. The company is also now prototyping and demonstrating its Celera series, a dual-USB3 camera that is able to exploit fully the frame rate of the Cmosis CMV2000 and 4000 sensors through a USB3 connection. Camera Link is typically needed to make full use of CMV sensors. 'We chose to make a dual-USB3 interface to offer customers a simpler interface without needing a frame grabber, cheaper cables, and more user-friendly connectors,' Sottile said.
'Celera is a more cost-effective solution for matching the performance of Camera Link cameras,' added Lorenzo Gaudenzi, responsible for sales and marketing at Alkeria. The area scan camera is targeted at the inspection market, and its advanced triggering and sequencing modules make it ideal for high-speed food and pharmaceutical inspection machines.
'We're not leaving the custom side; we're just adding a new branch,' Gaudenzi said. The standard camera lines make the business more scalable and open new areas of revenue for the company outside of the custom work, which has traditionally been mainly – although not exclusively – within Italy.
He added: 'We strongly believe in our standard cameras, because we arrived at them from our custom work. We realised that we could make cameras matching – and sometimes exceeding – the performance offered by the market.'
The Necta line scan family is being applied in food sorting and web inspection for textiles, paper, and metal sheets. The Lira and Dua area scan board cameras are also being used in medical equipment.

Alkeria's headquarters in Navacchio, near Pisa
Sottile remarked that the firm is considering whether to add embedded computing capabilities to its standard products. 'It's challenging to make the interface as simple as possible to allow the customer to program an FPGA effectively,' he said. Alkeria will usually include some soft customisation for small- or medium-scale production – a couple of hundred pieces – on request. For example, it has a customer that wants to implement its own filter over the images, which Alkeria will apply according to the customer's needs in an FPGA. 'It is the kind of soft customisation that we would be happy to provide for standard products. We will always try to reserve some room in our FPGA and our camera for this kind of soft customisation, because we know that often clients require something more than the standard product. This is in our DNA, so we will always be ready to support these kinds of customer,' Sottile affirmed.
Looking ahead, Alkeria aims to extend its range of products to cater for the medium performance segment, something more affordable that would be purchased in larger volumes. Both the Necta and Celera families are high-end products.
Another goal is to build a series of pre-set customisations that are open to modification, so that the company can offer some progressive steps for customising its standard products.
In the long term, Sottile commented that there is interest from the market in embedded computing and neural detection, a way of writing algorithms based on artificial neural networks. 'Neural networks are probably the next frontier,' he said. 'I don't know if we are ready to approach this kind of market. Our typical integrators are still a long way from using neural networks, so it will take some time before these techniques are accepted.'
Gaudenzi added that cameras are already considered a commodity in a lot of markets. 'Line scan cameras are more complex, so they still need some added value, which is why Necta is such a success,' he said. However, in the medium term, Gaudenzi feels that one potential additional route for the company is to move to more vertical integration, providing full solutions for medical equipment or sorting systems as added capabilities. 'We could do that with our expertise. It's not our goal – we want to focus on cameras – but we could probably add some vertical applications to our business model in the future.
'In most of the applications for which we supply cameras, we find image acquisition is the only truly complex part,' Gaudenzi continued. 'Sometimes we have customers that contact us to buy the camera, but then also require the full solution, including lighting, triggering and software. We often address it with our partners and provide a complete solution, but the overall cost may become too high, especially for emerging customers. So then the customer sources its own lens or light or cabling, but the camera remains what the system is firmly based on. We therefore think we have the key for vertical integration, so we are considering ways to develop modular vertical solutions as a competitive offer. That would be a good opportunity for Alkeria in the medium- to long-term future.'