EVENT/ SHOW PREVIEW
SPIE Defence and Commercial Sensing
09 April 2017
to
13 April 2017
A global technical conference and exhibition on sensing, imaging, and photonics technologies for defence, security, healthcare, and the environment.
Exhibitors: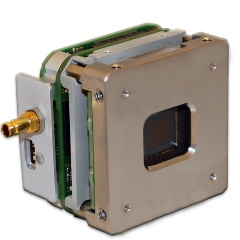 Adimec will be displaying its TMX55 camera, part of the company's TMX series of rugged daylight HD cameras with second generation CMOS global shutter technology. The series provides excellent imaging from low to high light scenes with optimal contrast reproduction. The cameras are designed for operational use in environmentally challenged systems with focus on small size, low weight and low power.
The TMX55 camera extends the operational envelope of situational awareness systems into a resolution of 4,096 x 2,160 pixels, even in light-starved conditions. The CoaXPress interface ensures easy system upgrade to new resolutions and sensor technologies. At full resolution, the TMX55 can maintain a maximum frame rate of 30fps at a maximum of 1 frame latency. In the TMX cameras, the implementations of auto exposure control, automatic white balance and auto contrast enhancement secure reliable true scene observation under changing outdoor conditions.
Exhibiting capability across a wide range of applications in lidar and spectroscopy, Laser Components will present the IG22 series of 256-element InGaAs linear array sensors, as well as the new SAH1L12 series, 12-element silicon avalanche photodiode (APD) arrays.
The SAH1L12 series of APD arrays has been designed for time-of-flight applications. The combination of high speed and low noise make these 12-element devices perfect for demanding applications in range finding and lidar. Crosstalk is low and responsivity is optimised for 850nm, ideal for use with 850nm or 905nm pulsed laser diodes.
Designed for in-process control, infrared spectroscopy and biomedical analysis, the IG22 series boasts several innovative features including eight selectable gains, high linearity, built-in antialias filtering and correlated double sampling on the output. Pixels exhibit a 50μm pitch for high resolution and responsivities of 0.90A/W are readily achievable at 1,500nm.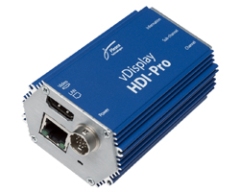 Pleora Technologies will be demonstrating its video networking expertise for situational awareness applications. Leading military manufacturers have designed Pleora's video interface products into analogue-to-digital retrofit upgrades and new systems networking multiple cameras, image sources, and displays for closed hatch driving applications. At the show, Pleora will exhibit the iPort vDisplay HDI-Pro external frame grabber. The solid-state device is a compact, low-power replacement for PCs and display monitors where size, weight, power, or reliability are critical considerations. The HDI-Pro can be pre-configured to receive video from any of 32 cameras via unicast or multicast transmission, and can autonomously control up to eight cameras.