Robots for smart production, digital transformation of manufacturing, artificial intelligence, human-robot collaboration, and Industry 4.0, will all be talking points at this year's Automatica when it takes place from 19 to 22 June in Munich, Germany.
The Automatica forum will have presentations from BMW, Volkswagen, Daimler, and Continental Automotive, as well as MTU Aero Engines, IBM, DHL, Deutsche Telekom, the Karlsruhe Institute of Technology, and Leibniz Universität Hannover. The International Symposium on Robotics will run alongside the exhibition on 20 and 21 June, with a panel discussion on the future of robotics scheduled for the end of the 20 June.
In addition, the automobile production congress will take place on 18 to 19 June, while the OPC Foundation will host its one-day OPC Day Europe conference within the framework of IT2Industry on 21 June.
Messe München will be showcasing IT2Industry as a new integrated topic area at the event. More than 50 exhibitors both from the classical IT fields and specialist providers from industry will present products for the smart factory, industrial IT security via cloud computing, big data through to virtual reality, industry-specific software, and systems and predictive maintenance.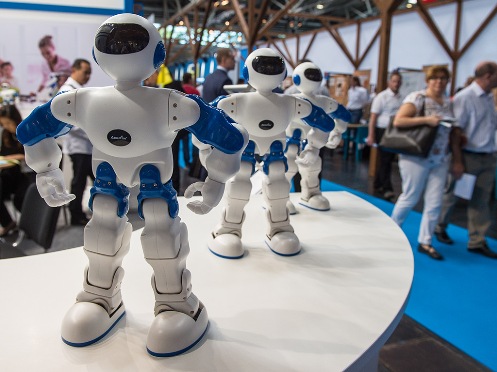 The Service Robotics Demopark is a joint exhibition platform that showcases the wide range of applications for professional service robotics. Twelve exhibitors will present their service robots for transport, smart manipulation and the public sector every hour.
These include the electronic exoskeleton by RB3D for road construction, which can be worn and tried out, and the Kinova robot arm Jaco, which will learn what visitors teach it. Other highlights include the Kuka lightweight robot for rehab applications by BEC, and the Care-O-bot 4 by Mojin Robotics, which will accompany interested visitors to their product of choice through speech interaction.
Messe München will also host the Makeathon, targeted at young professionals and students from the fields of software engineering, mechatronics and mechanical engineering. Teams of young engineers will have 30 hours to develop software and hardware prototypes within the areas of robotics, Internet of Things, and automation.