Laser World of Photonics: AI and automation are the future for robotic surgery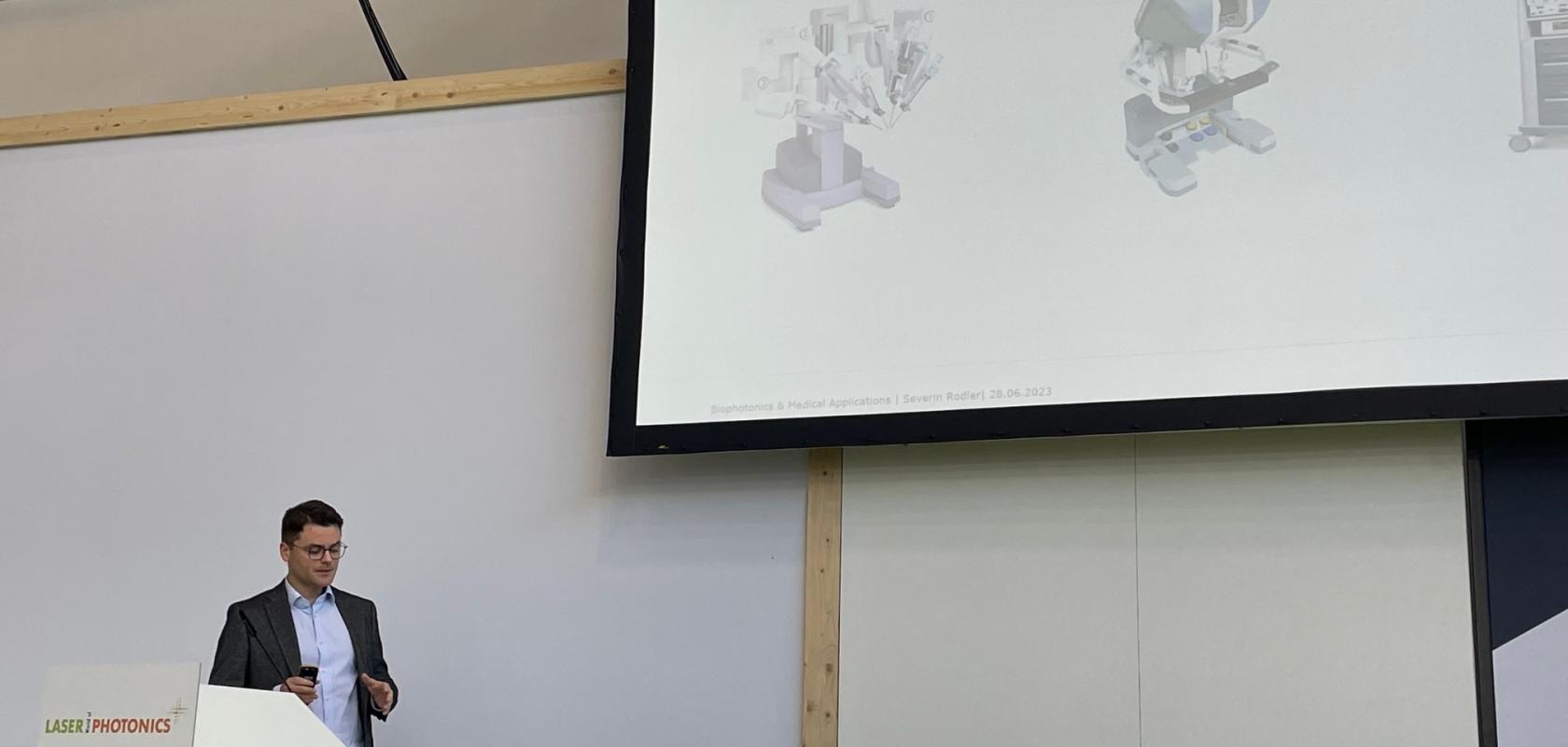 Autonomous vehicles have been big news in the last few years, but according to one medical expert speaking at Laser World of Photonics, robotic surgery could be moving in the same direction. Using prostate surgery as a specific example, Dr Severin Rodler, Resident at the Urological Clinic at the University of Munich stated: "Robotics and optical systems will be the future for us surgeons, to drive medical treatment for patients."
Rodler revealed how he and his team have been using robotics for urology research. "We have three components, firstly the robotic arms that are placed on top of the patient to insert the instrument. Secondly, we have a console, where the surgeon sits and directs the instruments to the patient. It's like a car: you have a wheel, you have pedals and you have blinkers to guide your surgical treatment. The third thing is the connection between the other two things where all the integration has been done, where the images are generated."
It is this, says Rodler, that is the future of robotic surgery. "What is important right now is that none of this is automated. Everything is still done by the surgeon himself." But this is likely to change in the future. 
Rodler likens the transition to that of the aforementioned autonomous vehicle, but with a difference: "Instead of autonomous driving, we are going to use the term 'assisted driving,' so we're going to do assisted surgery.  The surgeon will be there but he will be enhanced by these technologies. Currently surgical robots are completely controlled by surgeons, which is the paradigm that will be challenged in the future, as robots can enhance the physical capabilities of surgeons and improve certain patient outcomes."
For an automated surgical future, there are some challenges that must be overcome. The first being trust. Rodler explained: "The underlying question that always comes to us as physicians when we talk to our patients is that they trust the human physician that treats them, but do we trust the machine? When it comes to robotics, it's all about trust." In fact, Rodler highlighted that, globally, Germany in particular had fewer adoptions of robotics for surgery than other nations.
The other issue is how it will be scaled, continued Rodler: "To come from this non-automated surgery towards at least half of surgeries being automated for patients, another limiting factor right now is costs." However, Rodler believes that these challenges will be overcome, with the help of photonic technology. He said: "In the future, optics and especially imaging applications are going to help us to move this field forward." 
Nominate your colleagues for 2024's Photonics100!
The search is on for 100 new photonics champions – the CTOs, heads of research and development, senior engineers, research leaders, entrepreneurs and others who have helped shape the industry over the past 12 months. 
Come to our stand and submit your nominations for The Photonics100, which is back for its second year after an overwhelmingly successful debut. 
For more information, visit www.electrooptics.com/thephotonics100.