Vision 2010 sees record visitor numbers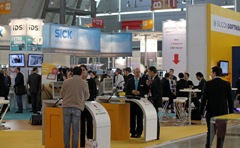 A total of 6,752 visitors from more than 50 countries attended this year's Vision trade fair, which took place in Stuttgart, Germany from 9-11 November, an increase even on 2008's record numbers of 6,200. Exhibitor numbers were also up at 323.
The high turnout is further evidence of the recovery occurring in the marketplace. According to the VDMA Machine Vision, machine vision turnover in Germany for 2010 is expected to increase by 18 per cent on 2009's figures, reaching €1.1bn.
However, the VDMA is predicting a moderate 5 per cent increase in German vision turnover for 2011, as international economic growth is thought to be slowing down. 'Despite the impressive growth we are experiencing now, the fact that our industry has not yet returned to the turnover levels of 2008 should not be overlooked,' Dr Olaf Munkelt, chairman of VDMA Machine Vision, commented at the show. 'If we have predicted the situation correctly, it will be 2012 at the earliest before we are back on top.'
Dietmar Ley, CEO of Basler Vision Technologies, also advocated caution for the coming year, suggesting that growth will be stable in 2011, but slowing down from that experienced in 2010. Speaking at the Automated Imaging Association's (AIA) networking event at the trade fair, he said: '2011 is looking more like a consolidation year than another boom year.'
Ley also noted that while there are currently 'no earth-shattering trends' taking place in the industry, standard technologies, such as GigE Vision, Camera Link and the like, will continue to gain market share. A special standards show at the trade fair, jointly organised by the AIA, European Machine Vision Association (EMVA) and Japan Industrial Imaging Association (JIIA), provided visitors with an overview of the current standards and their benefits, including two new standardisation initiatives, CoaXPress and HSLink.
Another trend that Ley and also Jørgen Andersen, president of JAI, identified was the switch from analogue to digital technology. Ley felt that, for the first time, there were digital products at the show that were getting close to matching the price of analogue technology. Andersen commented: 'We see digital technology dominating the year ahead.'
Andersen identified the shift from monochrome to colour and the use of higher resolution imaging as two areas he expects to increase in the future. 3D technologies are another growth area in machine vision and the winner of the Vision Award, sponsored by Imaging and Machine Vision Europe, was a camera system from Sick combining 3D and colour imaging. The camera reduces cost and solution complexity for applications requiring both 3D and colour data.
Visitors to the show came from diverse manufacturing industries, including mechanical engineering, electro-technology/electronics, precision engineering and optics, medical technology, automotive, as well as their supplier industries, but also machine vision itself.
Other emerging markets in non-industrial machine vision represented at the show included security, transport, medicine and sport.
Commenting on the impact of the trade fair, Roman Vracko, product marketing manager, sensor/vision at Omron, said: 'Many users are looking for complete solutions and discussed feasibility and integration with us. This figure was not so high in the past. There was also a substantial increase in the number of foreign visitors. We attained our target regarding the desired number of customer contacts and are looking forward to good business after the event.'
'The concept of Vision [trade fair], to increasingly address the end user, has succeeded,' stated Thomas Walter, manager of the competence area, industry and technology at Messe Stuttgart. 'Special shows such as the Vision Application Park and the Integration Area were a major contributor in this regard.' The Application Park demonstrated how machine vision systems, combined with handling, automation, packaging, and labelling technology, can interact to provide quality assurance.
Vision 2011 will take place from 8-10 November 2011 at the new Stuttgart Trade Fair Centre.