Supercomputing Systems scoops Vision Award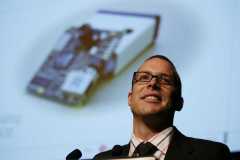 This year's prestigious Vision Award, announced at the international trade fair for machine vision and identification technologies, Vision 2008, has been given to Swiss company Supercomputing Systems (SCS) for its LeanXcam intelligent camera. The €5,000 prize money was presented to Reto Bättig, department head of Supercomputing Systems, by Dr Tom Wilkie, chairman of Europa Science, publishers of Imaging and Machine Vision Europe and sponsors of the award, at a ceremony held on 4 November.
SCS, based in Zurich, supplies services in the areas of vision and sensors, embedded systems, high-performance computing, and business supporting software. Its LeanXcam is an intelligent camera, which comprises a CMOS image sensor and onboard computer containing a digital signal processor and a uClinux operating system.
The technology that makes up LeanXcam is not particularly innovative, but it is the business model that excels and the potential for providing machine vision to areas that, until now, would not be able to afford industrial cameras. 'This is not new from a technical perspective,' said Bättig. 'The innovation is getting it to people very cheaply.'
The cost of the camera was optimised both in terms of the hardware and software, and the entire basic platform is available without a licence on an open source basis. A full development environment, an adapted uClinux operating system and a user-friendly software framework are now freely available. Even the scheme, layout and material list of the hardware can be purchased free of charge and used additionally. The open source licence models were chosen specifically so that a company can protect its own algorithms and software components.
The project has been 18 months in development and is suited to equipment produced in unit numbers of a few hundred to a few thousand per annum, and that are subject to strong price pressures. Bättig cites packaging newspapers as an example, where there is potential for machine vision, but where there is a problem with cost. Students from different universities, including the Swiss Federal Institute of Technology (ETH) in Zurich and the University of Applied Sciences (ZHAW) in Winterthur, Switzerland, are using LeanXcam.
The 15 entrants were judged by an independent jury consisting of Roland Beyer of Daimler Chrysler, Don Braggins of Machine Vision System Consultancy, Holger Hofmann of Isra Vision, and Martin Wäny of Awaiba.