Sick crowned Vision Award winner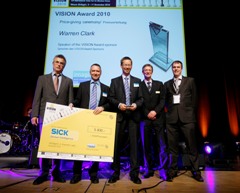 A multi-imaging solution from German company Sick has won the prestigious Vision Award, presented each year at the Vision show in Stuttgart (9-11 November). The Sick ColorRanger E combines colour and 3D capabilities in one high-speed camera, therefore reducing overall solution cost and complexity by replacing the need for several different cameras for an imaging task.
Speaking to Imaging and Machine Vision Europe, which sponsors the award, Fredrik Nilsson, product manager at Sick, commented: 'There is a clear trend in the vision industry toward 3D imaging. There is also a trend toward colour imaging and we wanted to combine these two aspects in one camera.'
ColorRanger E provides simultaneous 3D and RGB colour data at more than 11kHz, with up to 3,072 pixels per channel colour data and 1,536 pixels for 3D information on the same sensor. With Sick's MultiScan technology, the camera can be configured to provide several measurements at the same time, including 3D shape, laser scatter, colour, and monochrome according to the requirements of the application. The image quality of each measurement in a MultiScan setup can be tuned individually with its own set of parameters.
'Colour and 3D imaging has, in the past, been separate entities,' Nilsson said. He added: 'If you are using a 3D camera, based on laser triangulation, it's a small step to add a white light source for colour imaging. By the same extent, it's easy to add a laser line to get 3D data on a production conveyor using colour line scan cameras. However, these have traditionally been separate approaches.
'This system is not a revolution, but an evolution,' Nilsson continued. 'It has narrowed the gap between colour and 3D imaging techniques.'
Grading fruits and vegetables, for instance, often requires both 3D and colour information. Baked goods need to be consistent in height, shape and volume, as well as how well cooked they are, which is provided by the colour information. Other potential applications that use both 3D and colour imaging, include board grading in wood processing, quality assurance of electronic assemblies, and fill and colour verification in cosmetic and pharmaceutical production.
Nilsson commented that winning the award has given Sick the acknowledgement that its R&D efforts are focused in the right direction and it motivates the company to continue innovating in these areas. With the €5,000 prize money, Nilsson said the company plans to reinvest in the further development of the concept.