Multisensor systems and 3D scanning on display at Control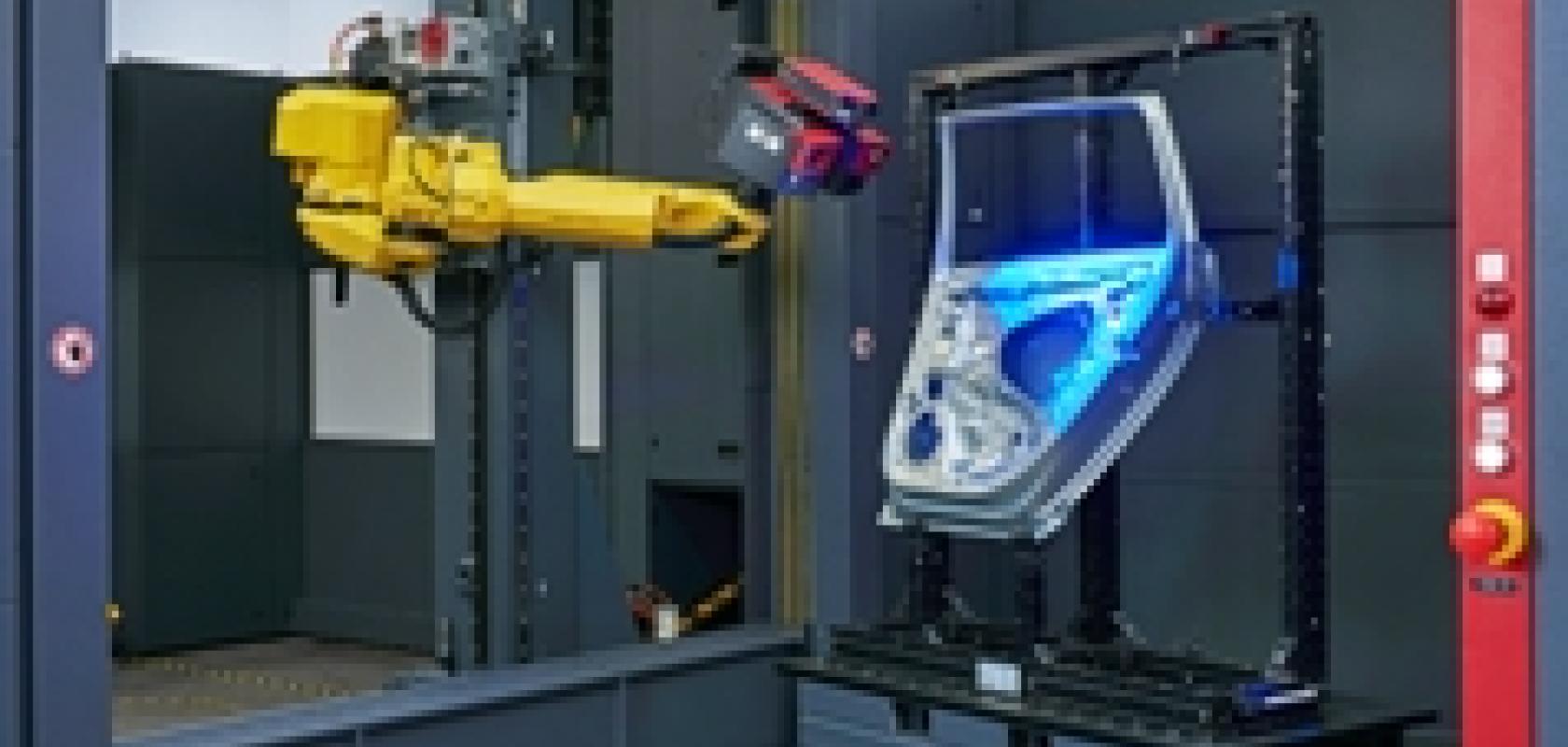 Greg Blackman reports from the Control trade fair in Stuttgart, Germany, where multisensor inspection systems and 3D scanners, all using vision technology, were on display
Multisensor solutions, combining tactile and vision sensors in one measurement system, were on display at the quality assurance trade fair, Control, in Stuttgart, Germany. The show runs from 26 to 29 April.
Werth Messtechnik and Mitutoyo were among the companies exhibiting multisensor systems at the trade fair, as was Renishaw, which was demonstrating its Revo-2 scanning system for coordinate measuring machines (CMMs). The system was set up to inspect part of a jet engine, switching between probes automatically to acquire different measurement data.
The Revo-2 has tactile probes, surface roughness measurement probes and vision sensors for different types of inspection. The imaging capability is for looking at small features and delicate or flexible parts that can't be measured by tactile scanning.
Jet turbines contain millions of cooling holes to keep air flowing over the part and prevent the metal from melting at the kinds of temperatures jet engines operate at. The holes are drilled in specific shapes to aid cooling, which can be inspected with the vision sensors on the Revo-2 machine.
A spokesperson at Renishaw at the trade fair said that not only the diameter of each hole can be measured with vision, but the system can also image through the hole and measure the exit profile, which he said was interesting for aerospace manufacturers.
The combination of multiple types of measurement technique means a large part like a jet turbine can be inspected fully. The Revo-2's measurement arm can pick up different probes automatically and move each around the part to make the inspection. The Revo-2 is based on Renishaw's Renscan5 five axis scanning technology.
The vision sensor has a resolution of 20µm with the narrow field of view lens, and 40µm using a lens that gives a field of view of 50 x 40mm.
Werth Messtechnik was exhibiting its ScopeCheck series of measuring machines, which combines image processing with a scanning probe, while Mitutoyo was showing its Quick Vision Apex/Hyper systems with both imaging and contact measurement capability.
Scanning in 3D
Systems for scanning large parts like car doors or chassis were on show from various manufacturers, including Gom, Faro, Creaform, and Aicon 3D Systems, now part of Hexagon.
Paul Joss, Americas general manager at Aicon, commented at the show that there is a trend to integrate measurement data much more into the factory environment, so that instead of just inspecting for faults, the metrology data is used to assemble components as well.
In addition, manufacturers are now using the data to conduct statistics on long-term variability in the parts produced and the manufacturing process in general. Ekkehard Fluck at Otto Vision Technology said at Control that the company's 2D inspection stations might record 40 to 100 measurement points per part, looking for flaws in the material or flaws in the moulds, all of which goes into data analytics to get an overall picture of how well the production plant is running.
Otto Vision Technology was displaying test stations for punched metal, where the vision system operates at 180Hz to keep pace with the punching machine. The company was also showing 3D inspection stations, generating 3D image data based on structured light scanning. Fluck commented that 3D is starting to come online for inspection during production, but that at the moment the measurement time for 3D vision is too long meaning it is mainly used offline.
The 3D inspection solutions from Gom on display at Control included the Atos Scanbox series 7 and 8 for inspecting large sheet metal parts such as side panels or complete car bodies. The Atos measuring head, which generates 3D image data by fringe projection, is attached to an eight-axis robot arm to measure components from any perspective.
Also on show from Gom was its Aramis 3D camera, which combines point-based and full-field deformation measurements.
Creaform was demonstrating its handheld coordinate measuring machine, the HandyProbe Next, which includes a 3D camera-based version to produce accurate scans of parts on the factory floor. Faro was also demonstrating a portable inspection unit, the Factory Robo-Imager Mobile, that the engineer could wheel around and inspect different parts with the 3D scanner.
Related articles:
Made to measure - Greg Blackman on the growing use of vision technology in production machines for quality control inspection
Further information: