3D innovations at Vision Stuttgart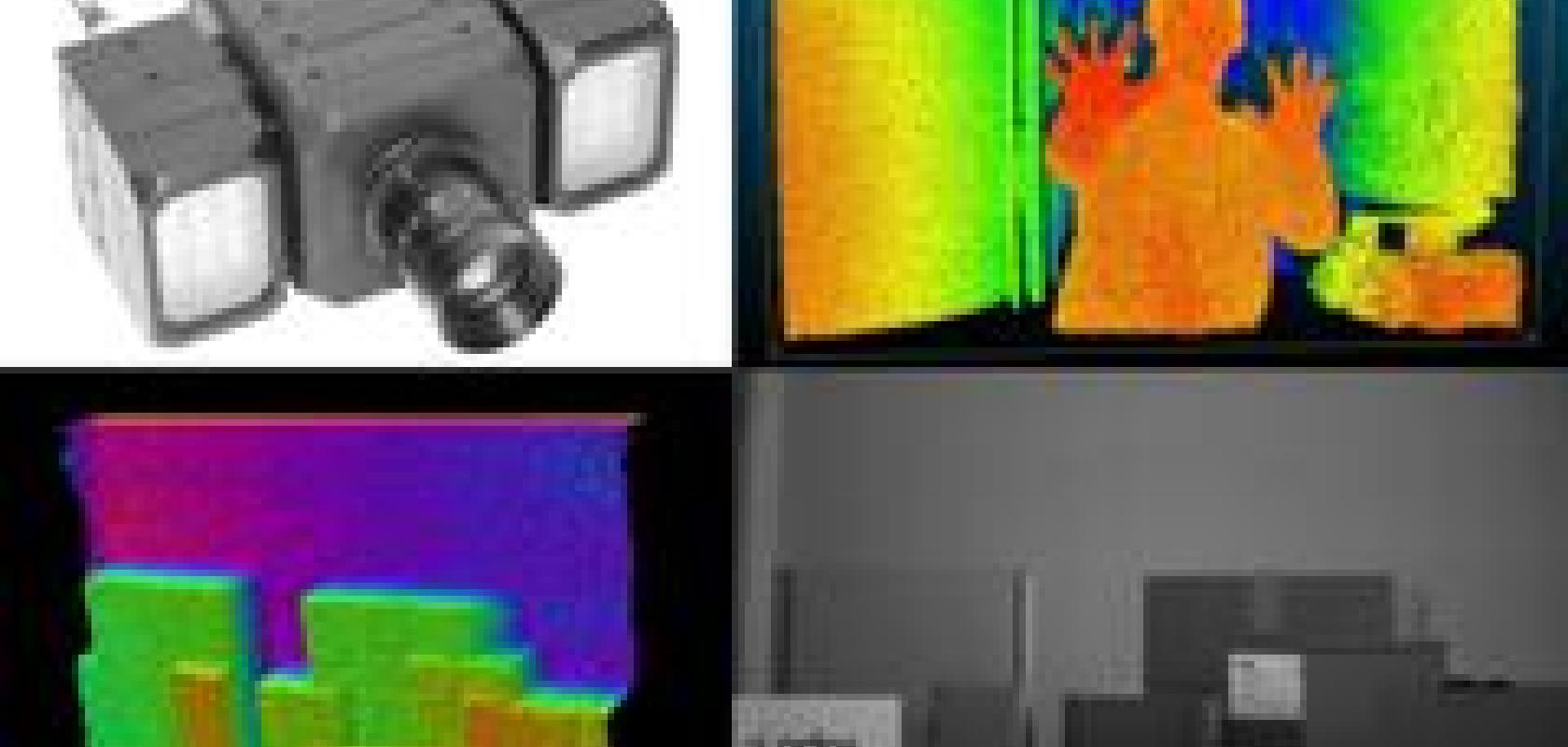 Following Odos Imaging winning the Vision Award, Greg Blackman, in the second part of his report from the Vision trade fair in Stuttgart, examines the 3D imaging technology on display
This year's Vision Award at the Vision trade fair was won by Odos Imaging for its time-of-flight (ToF) imager. The Real.iZ 3D camera offers megapixel resolution (1.3 megapixels in the current model, with a 4.2 megapixel version to follow in 2015), which puts time-of-flight into the realm of machine vision.
Odos Imaging exhibited for the first time at Vision in 2012 when time-of-flight was considered less suitable for machine vision and less was known about the technique's capabilities. Now, two years on, there were a number of ToF products on display at the show, and while the technique still can't offer measurements at millimetre accuracy, the 3D imagers have potential for certain areas of automation.
Camera company, Basler, was displaying a prototype time-of-flight camera, diversifying from its standard camera product portfolio (the company also introduced a range of machine vision lenses, outside of its typical remit). The Basler ToF camera is targeted at cost-sensitive applications in logistics, for measuring sizes of boxes for instance, in robotics for bin picking, as well as driver assistance and autonomous vehicle navigation. It is based on a ToF Panasonic CCD sensor, has a working range of 50cm to 5 metres and a depth accuracy of ±1cm. The resolution ranges from VGA to 1,280 x 1,024 pixels and the camera has a GigE interface.
The operating principle of time-of-flight involves measuring the time taken for a pulse of light to return from an object in the scene, thereby giving depth information. Both the Odos Imaging and Basler products capture an intensity image as well as depth information for each pixel, so that each image combines 2D and 3D data.
Bluetechnix was another time-of-flight company exhibiting at the trade fair. Its Argos3D-P320 device combines a smart depth sensor IC with a 1,080p CMOS sensor for 2D imaging. The camera is suitable for robot and automation application or for counting people.
While 3D imaging was well represented at the show, with stereovision, laser triangulation, pattern generation and other variants all on display, the technology still has some way to go until it's widespread in industry. Dr Wolfgang Eckstein, a managing director of MVTec, commented at the show that, in his opinion, 3D vision is big area of innovation, but it is not a big market yet.
MVTec released version 12 of its Halcon machine vision software at the trade fair, with 3D image processing one of the highlighted toolkits. The company demonstrated the power of Halcon with a robotic system that scanned the surface of a banana in 3D and then punched patterns into the skin based on the surface contours.
The data processing requirements for 3D vision are reasonably intense, and this is one area where making use of FPGAs or additional processing power can be needed – Odos Imaging's Real.iZ ToF camera incorporates FPGA cores. Embedded vision, discussed in the first of these reports, is an area that 3D camera companies are also making use.
Related stories:
Further information: