Mood buoyant at Vision 2009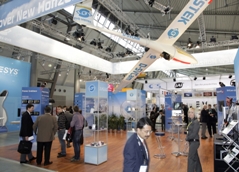 Despite the economy the mood was far from despondent at this year's Vision event in Stuttgart. 'Vision 2009 was still popular, featured technical innovations and provided the market with growth impetus for 2010,' said Dr Olaf Munkelt, chairman of the executive committee of the VDMA Machine Vision Group. 'There was little sign of a mood of crisis and the large number of discussions during the trade fair focused on new projects.'
The trade fair attracted 5,701 visitors, only nine per cent fewer than 2008 exceeding expectations of the 292 exhibitors. This against the backdrop of a tough year for the vision industry – Europe is estimated to see a drop in turnover of 22 per cent for 2009, according to the European Machine Vision Association (EMVA) statistics; North America is looking at a 35 per cent reduction based on data collected by the Automated Imaging Association (AIA) from the first half of the year; while the Japanese Industrial Imaging Association (JIIA) calculates a 35 per cent drop in turnover for 2009 in Japan.
According to predictions from the International Monetary Fund, the global economy is set for significant growth again in 2010. This positive outlook is also confirmed by the current VDMA survey. Munkelt said: 'More than 70 per cent of those machine vision companies asked expect turnover to increase again in 2010; 20 per cent even anticipate an increase of more than 10 per cent.' In view of this, VDMA Machine Vision is predicting a five per cent increase in turnover in 2010 to reach approximately €890m for Germany.
Signs of recovery were also apparent on the show floor, with a number of exhibitors indicating a rise in order numbers in October. However, no one is expecting a dramatic increase in turnover and Paul Kellett, AIA's director of market analysis, suggested that recovery would be steady over the coming months.
While visitor numbers were down on last year, a number of companies expressed that the quality of leads remained high. According to the official figures, 85 per cent of visitors came to the show with investment and purchase intentions and 60 per cent of these visitors were planning new investments. Alexander Berg, head of sales at Kappa opto-electronics, Gleichen commented: 'During the run-up to Vision, we had agreed more meetings with visitors than in the previous year. The number of leads was about the same as in 2008. Although the visitor groups from individual companies were smaller, visitors came with very specific inquiries regarding our products. We also met a conspicuously large number of research institutes with clearly defined projects and interest in our cameras. We noticed that more visitors than normal had the power to make purchasing decisions. We even concluded some direct business transactions during the trade fair for the first time ever. We are therefore expecting good business after the event.'
Innovation undertaken during 2009, a number of new application fields and an increase in standardisation, exemplified by the cooperative agreement between the AIA, EMVA and JIIA for standards development, will all aid recovery in the industry.
Vision 2009 saw visitors from a wide range of industries coming from all over the world. The proportion of visitors from abroad increased from 28 per cent in 2008 to 33 per cent this year. 'The further increase in the number of foreign visitors underlines the importance of Vision as the world's leading trade fair which, especially in times of economic uncertainty, provide important momentum for the industry,' commented Thomas Walter, head of the Industrial Solutions Business Division of Messe Stuttgart.
The number of visitors with a direct influence on investment and purchase decisions in their company rose from 76 per cent in 2008 to 86 per cent this year. There was also a pronounced increase in the proportion of visitors from the mechanical engineering industry, from 18 to 22 per cent, and from medical technology, from 6 to 13 per cent over 2008 figures.
Vision 2010 will be held 9-11 November 2010 at the New Stuttgart Trade Fair Centre.