European vision industry gathers for EMVA conference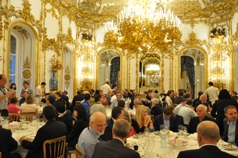 Warren Clark reports from the EMVA business conference in Vienna, where driverless cars, bioinspired colour imaging, and market data were among the topics discussed
Taking place in the heart of a rain-drenched Vienna, the 12th European Machine Vision Association (EMVA) business conference attracted more than 100 delegates from 20 countries to hear presentations on economics, business strategy, enterprise security, and, of course, machine vision.
Alongside European delegates at the show, which ran 15-17 May, were representatives from other machine vision organisations from around the world, including the US, Japan and South Korea.
The opening keynote provided a useful insight into the European economy. Jan Meister, founder of Meritum Capital Managers (Germany) suggested that the recent 'turnaround' was not yet secure, but that Europe could look to a period of 'steady improvement'. He pointed to the US as an economy that appeared to be on a sustainable road to recovery, thanks to increased bank lending, low unemployment, improved consumer spending and an upturn in manufacturing.
The second morning session began with an update on the machine vision market in Austria, provided by Andreas Vrabl of the Austrian Institute of Technology. In the week of the Eurovision Song Contest, Vrabl joked that as well as mountains, Wiener schnitzel and historic buildings, Austria was also now famous for Conchita Wurst – but not necessarily machine vision! He described Austria as being a net exporter – a fact mirrored by the machine vision sector, where common applications include quality inspection, automation engineering and traffic systems. Vrabl characterised the Austrian MV market as one that lacks a dominant broad components supplier, but that has a handful of system integrators.
Ivo Bolsens of Xilinx (USA) gave a technical presentation on the theme of embedded vision. He explained that as pixel processing rates were rising exponentially, FPGAs were the most appropriate platform to deal with this. However, historically FPGAs have been difficult to program, requiring specialist knowledge. Hence, Xilinx has developed a software environment that effectively simplifies this process. Bolsens concluded by saying that 'the FPGA is not a grandfather technology – it is time to revisit it as a targeted platform for smart vision applications'.
The morning session concluded with a fascinating piece of research by Carlos Calleja Jorge of Foundation Tecnalia, a Spanish applied research centre. The project – a 'bioinspired system for colour image processing' – seeks to apply lessons learned from neuroscience to develop new algorithms that will improve the quality of colour information through image processing.
EMVA board member Toni Ventura of Datapixel (Spain) spoke about the concept of the 'digital part' – a concept that is enabled by 3D vision. His theory was that the development process begins with a CAD design, then moves to CAM manufacture, with the 'digital part' forming a new, third step. The digital part is created via 3D vision analysis of the manufactured part, turning it back into a digital file, which can be shared, analysed, compared and so on.
Concluding the afternoon's opening session was a glimpse into a future of driverless cars, provided by Dr Alberto Broggi of the University of Parma (Italy). His project was looking at vision-based alternatives to the already-existing (but hugely expensive) laser-based system. It is at an advanced stage, having completed a cross-continental 13,000km journey in 2010, and more recently, an urban environment test, featuring many more 'hot points', such as pedestrian crossings. While the tests have been largely successful, Broggi concluded that the laser-based system produced better results at the moment, but that as his work continues, they aim to catch up and provide a cost-effective end product.
The conference gala dinner took place at the magnificent Palais Liechtenstein, one of several historic buildings in Vienna. It is one of two palaces in the city still privately owned by the Liechenstein royal family.
Day two began with an update on statistics from the EMVA's Thomas Lübkemeier and Andreas Breyer. Speaking about Austria, Switzerland and Liechtenstein, Breyer noted that there were a surprisingly high number of 'true vision' players in Switzerland (almost 90), and that there was a high density of MV research in Austria. The latter also has a relatively high proportion of non-industrial competence.
Next, Arun Chhabra of 8tree (Germany/US) spoke about how his company had revisited the process of 3D optical measurement, concentrating on ease and speed of use. Among the changes implemented was the introduction of an augmented reality overlay to improve useability. The process uses the white light fringe projection method, but here, the projector of the white light is also used to project the analysis results directly onto the target. It then uses gesture control to enable the operator to interact with those results.
The final significant business of the conference involved the presentation of the EMVA Young Professional Award, won by Jakob Engel of the Technical University of Munich for his work on semi-dense visual odometry for a monocular camera. 
Jean Caron from Euresys and Michel Ollivier from Tiama were both elected onto the EMVA board of directors. It was also announced that next year's conference will be held in Athens, Greece.