Centre for electronic imaging opens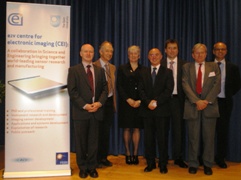 The e2v Centre for Electronic Imaging (CEI), formed through collaboration between The Open University and e2v, has been officially opened at the University's Milton Keynes campus in a ceremony on 16 November. The centre is dedicated to the research and development of advanced technologies for electronic image sensing and provides knowledge exchange between the UK technology industry and the academic world.
The collaboration will see The Open University and e2v investing £3m over five years in new research activities within the e2v CEI. The centre's focus will be on technology surrounding semiconductor imaging, in particular space and science imaging. Speaking with Imaging and Machine Vision Europe, Professor Andrew Holland, director of the e2v CEI, commented: 'A lot of the research goals that we [The Open University's Planetary and Space Sciences Research Institute] have, such as how to engineer a [semiconductor imaging CCD or CMOS] device suited to use in space, are very much in common with e2v's work; there is a good fit.'
Professor Holland's research group supports a number of European Space Agency (ESA) programmes, one of which is Gaia, a spacecraft due to be launched in 2012 carrying 112 large-area CCD sensors, making it the largest civilian focal plane array ever built. In addition, the CEI will look at generic CCD and CMOS imaging technology to contribute towards the fundamental understanding of these devices in hostile radiation environments, such as that of space.
The other aim of the CEI, according to Professor Holland, is to train engineers and scientists in the field of imaging technology and applications. The centre will support up to a dozen PhD students at any one time and it will maintain ties with industry, which Professor Holland feels, produces employable and skilled graduates.
Dr Trevor Cross, group chief technology officer for e2v, said: 'We are excited to be working with the Open University and Professor Holland, strengthening and evolving the e2v CEI. The CEI helps e2v deliver world-class innovation in imaging technology for space science missions such as XMM, Envisat and Gaia for ESA, and the Hubble Space Telescope for NASA. As the CEI team grows we hope to include imaging research outside the current space focus... We have been very impressed by the research base at the OU and look forward to a long relationship.'
Professor Holland concluded: 'This leading academic centre really benefits from association with an acknowledged world class imaging business like e2v through access to latest new product technologies and facilities. We are particularly pleased that research student numbers are increasing, and we can announce that we are now recruiting for two further five-year research fellowships to start early in 2010, to expand the core capabilities of the research centre.'