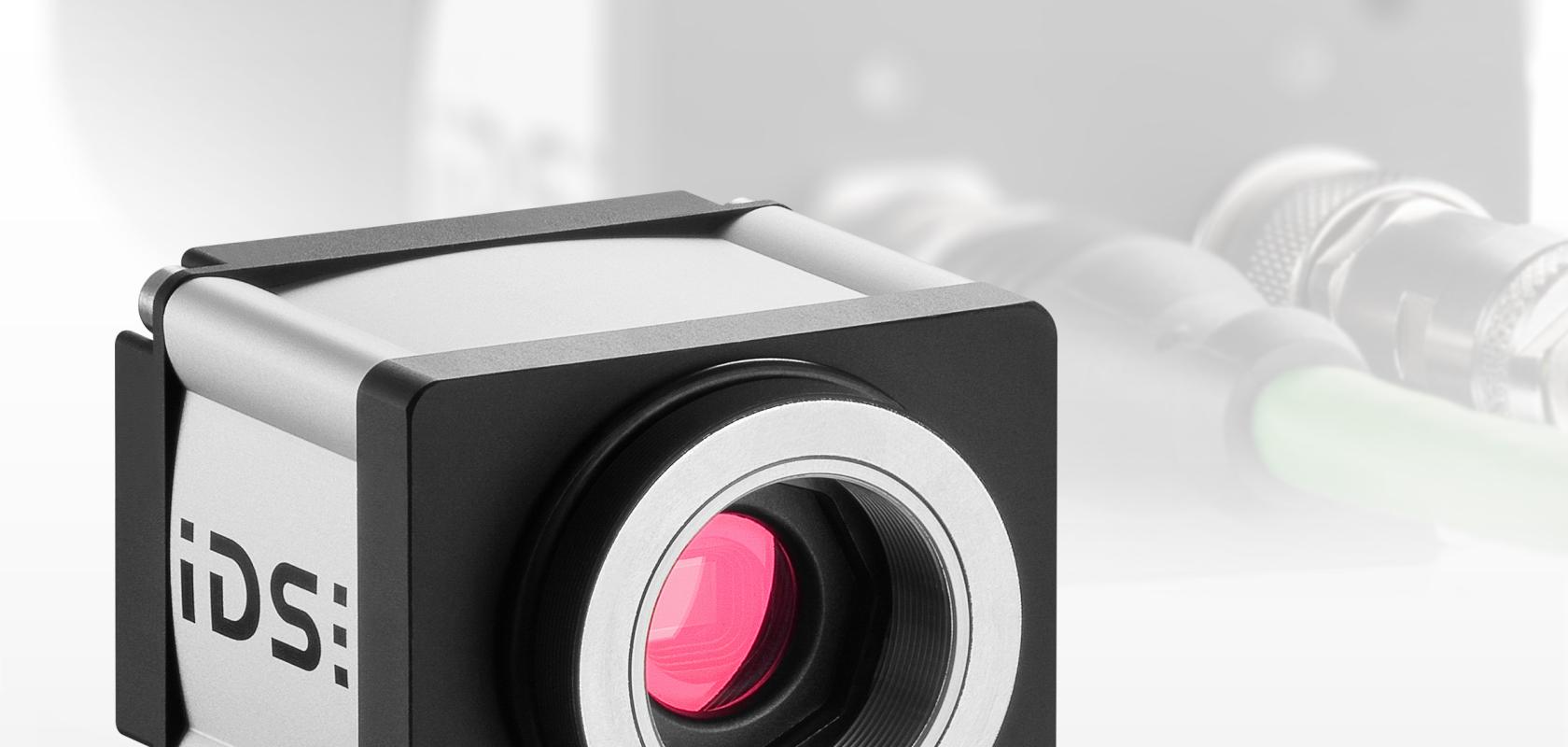 The first industrial cameras from the new GigE uEye FA series from IDS are now available – the UI-5260FA and UI-5280FA models.
The cameras are equipped with the 2.3 MP IMX249 CMOS sensor and 5 MP IMX264 CMOS sensor from Sony. The GigE industrial cameras with PoE are consistently designed for factory automation, which means that they are extremely tough. The housing, connectors, lens barrels and cables all meet the requirements for protection class IP65/67 and protect your camera from dirt, dust, water splashes or cleaning agents as well as accidental shifting of the optics. Other features include screw-in connections and Power over Ethernet for single cable operation up to 100 meters. The cameras are available with a choice of the established IDS Software Suite or, in future, GigE Vision firmware.
The UI-5260FA model with Sony IMX249 2.35 megapixel CMOS sensor provides the standard image formats 4:3 and 16:9. At full resolution of 1936 x 1216 pixels, it delivers 47 frames per second, fully utilizing the GigE bandwidth. With its exceptionally high dynamic range and outstanding signal/noise ratio, it ensures high-contrast and practically noise-free images, which are impressive even in weak or fluctuating lighting conditions. 
With its 2/3" Global Shutter IMX264 CMOS sensor (5 megapixels), the UI-5280FA meets the very toughest requirements in terms of light sensitivity and dynamics, while simultaneously achieving very low dark noise. The high NIR sensitivity makes the invisible visible to the human eye and renders a special NIR sensor version obsolete. It delivers images in 4:3 format with a frame rate of 23 fps. 
In May 2017, IDS will be launching two more camera models with Global Shutter CMOS sensors from Sony: the UI-5270FA with IMX265 sensor (2045 x 1542 pixels, 36 fps) – currently the best CMOS image sensor in the 3 megapixel class – and the UI-5290FA with IMX267 sensor offering a resolution of 8.9 megapixels (4112 x 2176 pixels); this camera performs particularly impressively in slower machine vision applications that require a large field of view.
All new models in the GigE uEye FA industrial camera series will be supplied with the IDS Software Suite and, in future, also with GigE Vision firmware. This means that users will be able to choose which specific benefits are most important. IDS's proprietary driver package provides optimum support for the features of the CMOS sensors and includes numerous special functions to further extend the range of applications in factory automation. These include long exposures up to 30 seconds, a sequencer mode for changing camera parameters in real time, and a line scan mode, which turns the camera into a cost-effective alternative to specialist line-scan cameras.