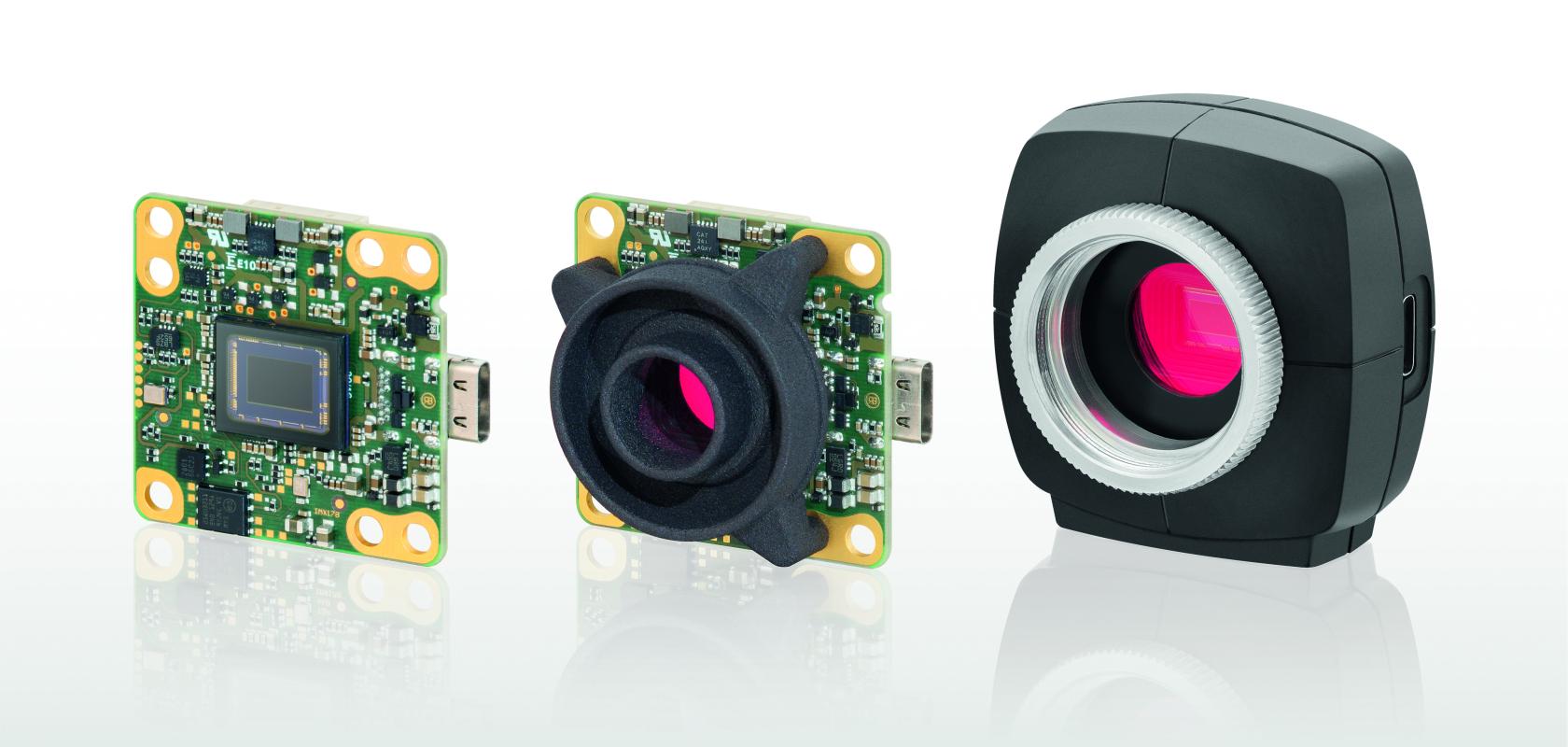 The industrial camera manufacturer IDS Imaging Development Systems GmbH is adding two more models with the future-proof USB Type-C connector to its uEye LE USB 3.1 Gen 1 camera series. In addition to the versions with the rolling shutter IMX290 and IMX178 sensors from Sony, models with the extremely cost-effective global shutter SVGA PYTHON 480 sensor from ON Semiconductor and the 3.2 megapixel IMX265 sensor from Sony are now also available. The USB 3.1 Gen 1 project camera is available both as a single board camera without a lens holder, as a single board camera with an S mount or CS/C mount, or as a housing version with a C/CS mount. It also supports USB Power Delivery (PD) when used in conjunction with version 4.82 of IDS Software Suite.
With the UI-3130LE model, IDS is the first manufacturer to offer an industrial camera with the PYTHON 480 sensor. The global shutter sensor with SVGA resolution (1/3.6", 4.8 µm, 135 fps) is especially affordable and is recommended in particular for price-sensitive OEM projects. The UI-3270LE camera model with the 3.2 megapixel IMX265 sensor from Sony targets users who demand the highest standards when it comes to image quality and is currently one of the best global shutter sensors on the market.
The uEye LE USB 3.1 Gen 1 range is an industrial camera series that has been stripped down to the bare essentials. With its miniature dimensions – the single board solution measures just 36 x 36 mm – it can be integrated in the tightest of spaces. Its variety of applications is equally flexible, ranging from the classic machine vision environment, to instrument manufacturing and microscopy, through to compact embedded vision systems. To adapt to all kinds of installation situations, the board-level camera can also be ordered with a horizontal or vertical USB Type-C connector. A 10-pin I/O SMD connector with a 5 V power supply, trigger and flash, as well as two GPIOs further highlights the camera's great flexibility. When used in conjunction with USB Power Delivery, the camera can use this connector to power an LED light, for example, by requesting the necessary power for itself and the light from the host PC via the USB Type-C cable in its role as PD consumer. 
IDS Software Suite, which is included with the camera, provides the best possible support for all functions of the USB PD-capable camera and the sensors. The software package includes drivers for Windows, Linux, and Linux Embedded, as well as many other useful tools that make the camera easy to manage and configure. It is identical for all IDS cameras, regardless of whether they have a USB 2.0, USB 3.0, USB 3.1, or GigE connection, which greatly facilitates the interchangeability of the individual models if the application requirements change.