Orca-Flash2.8 with scientific CMOS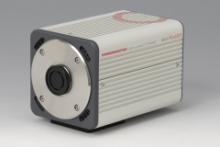 Hamamatsu Photonics has introduced its new Orca-Flash2.8 camera, the first high-sensitivity digital camera based on the company's next-generation scientific CMOS image sensor. The camera combines high resolution and high sensitivity at a competitive price/performance ratio. The cameras incorporate a 2.8Mpixel scientific CMOS sensor.
The combination of high speed, low noise, and ease of interface with external peripheral equipment makes the device suitable for a wide variety of applications, such as life-science microscopy, industrial imaging and sensitive analytical measurement.
45 frames per second are output in full resolution, making it ideal for fast, low-intensity imaging. The camera can achieve a maximum speed of 1,273 frames per second in sub-array mode. The cooled FL-280 sensor's design keeps readout noise minimal at three electrons, even with fast readout speeds. The camera's 12-bit output interfaces with a PC via a standard CameraLink base framegrabber.