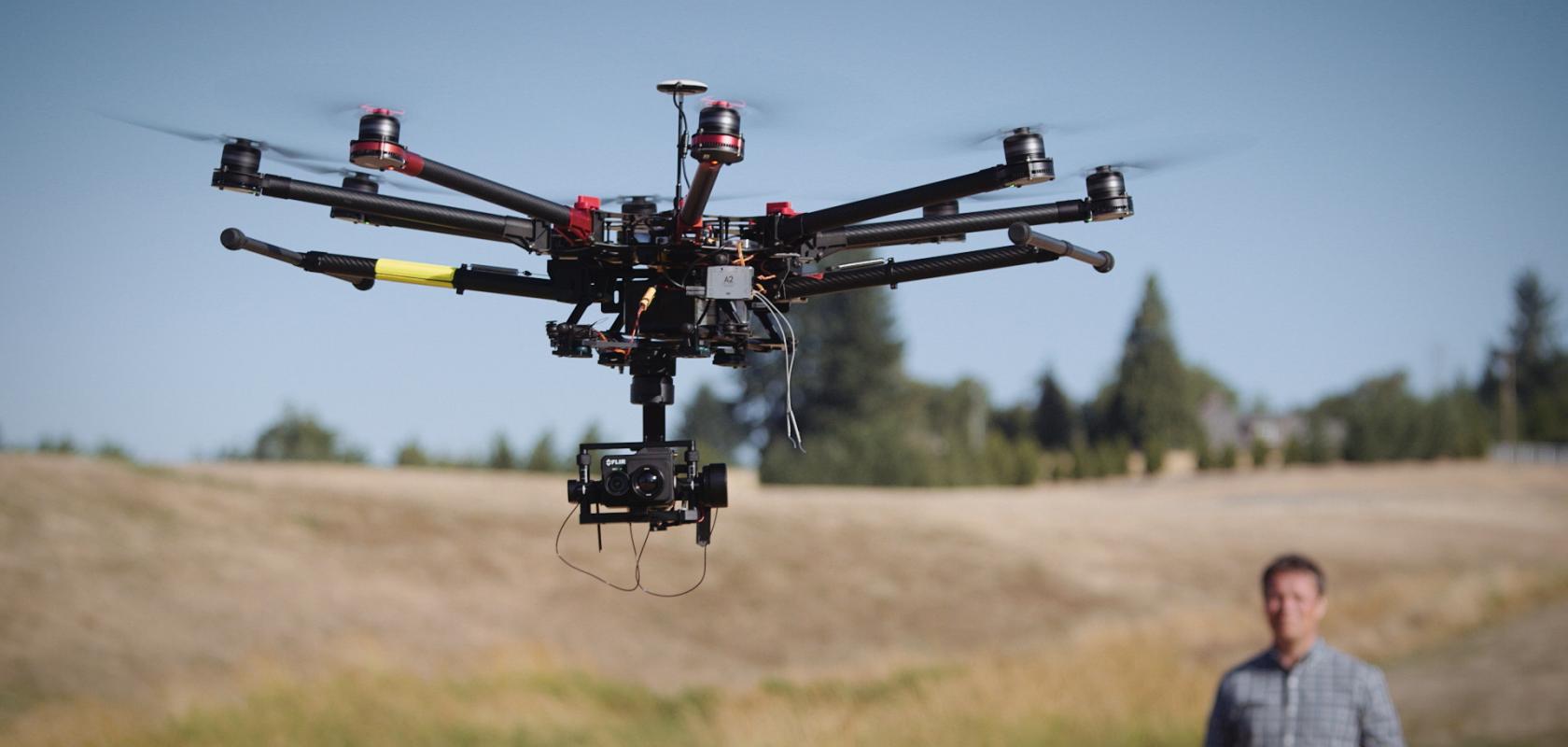 FLIR announces the FLIR Duo™ Pro R dual sensor thermal imaging and mapping system for commercial drones. Featuring a thermal sensor with radiometry, the FLIR Duo Pro R gives professional drone operators the range and image detail needed to capture actionable thermal and visible data in a single flight. The FLIR Duo Pro R ushers in a new era of imaging capability for a wide range of high-performance commercial, industrial, and public safety drone applications.
The FLIR Duo Pro R allows operators to switch between thermal and video cameras in flight. With the option of a 336×256 or 640×512 thermal resolution sensor and a high-definition 4K color video camera, the FLIR Duo Pro R uses FLIR's patented multispectral dynamic imaging, MSX®, technology to emboss high-fidelity, visible-light details onto the thermal imagery to improve image quality. Equipped with thermal, visible, and picture-in-picture mode, the Duo Pro R records raw video and stills to two dedicated microSD cards and allows for live digital video output over micro-HDMI and analog video out for easier integration.
The FLIR Duo Pro R dual sensors create a self-contained airborne mapping package. The fully integrated GPS receiver, Inertial Measuring Unit (IMU), temperature, humidity, and altitude sensors provide an onboard source for high-fidelity, reliable geo-tagging data required to create accurate maps and 3D models from an airborne platform.
"The FLIR Duo Pro R offers class-leading imaging performance and will save drone operators time and effort with the highest quality thermal and visible cameras combined in a single system," said Jeff Frank, Senior Vice President, Global Product Strategy. "With the ability to select either a thermal or visible camera image in flight, or watch video streams of both simultaneously in picture-in-picture mode, we're making it easier for drone operators to capture imagery and thermal data from the air."
See the FLIR Duo Pro R either at InterDrone Conference in Las Vegas from September 6-8. The FLIR Duo Pro R will be available for purchase starting at $5,199 from authorized FLIR dealers in Q4 2017. To pre-order or to learn more about FLIR Duo Pro R, visit www.flir.com/duopro