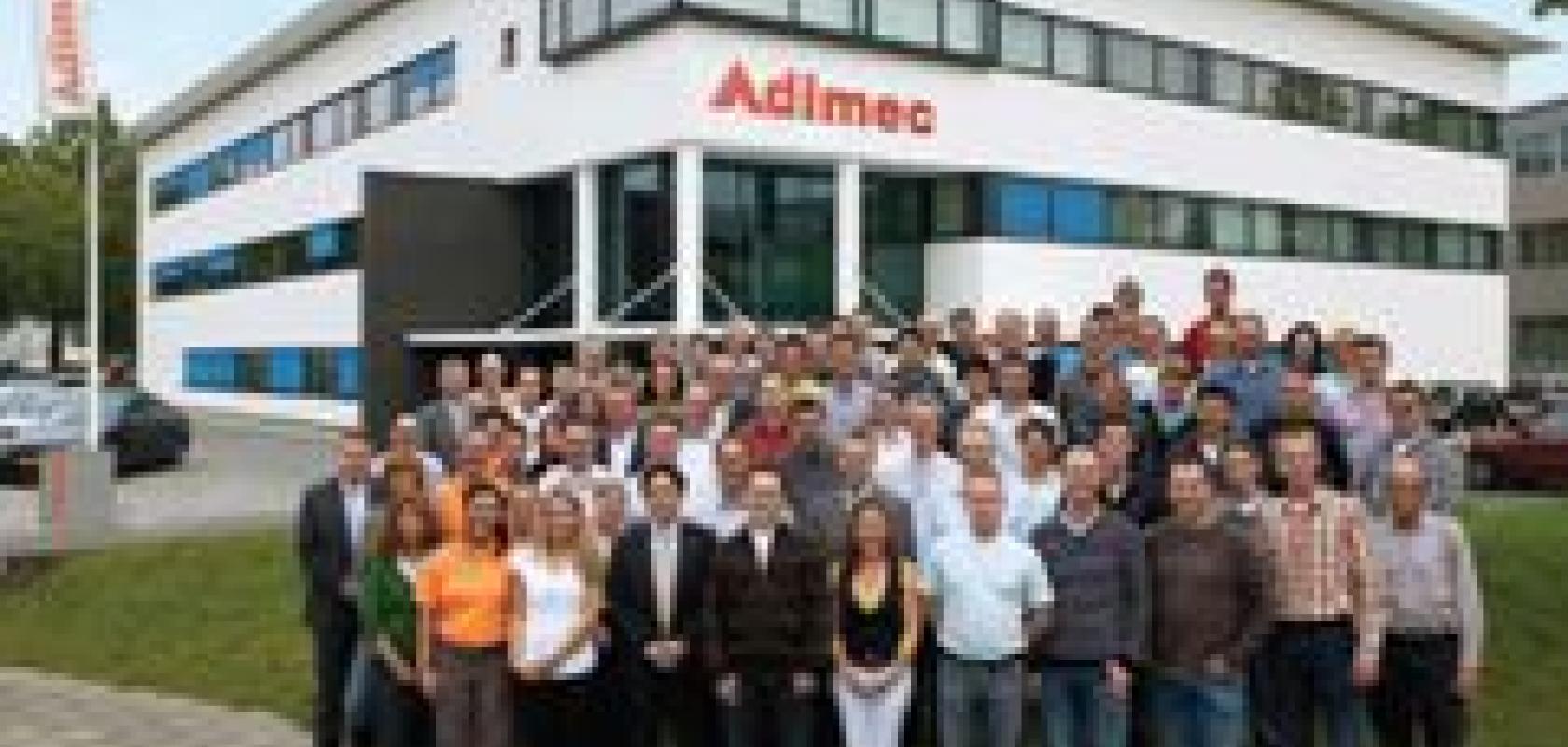 Adimec, fresh from leading the collaborative effort that picked up the Vision Award in November for CoaXPress, is transforming itself into a company that blends technical innovation with a new marketing approach.
Based in Eindhoven, The Netherlands, Adimec's roots can be traced back to the town's dominant employer, Philips. The latter's involvement in all aspects of technology would inevitably include the vision industry at some point, and so it was that Philips was among those companies leading the research into camera sensors during the 1980s. With so much talent being drawn into the area, it is no surprise that a number of technology companies have sprung up in the Eindhoven region. Indeed, it was a former Philips employee, Mr Havas, who began laying the foundations for what has now become Adimec.
Havas moved to work for a company called HTH, which became HCS, during which time he developed vision technology specifically aimed at OEMs, and for the most part in the industrial field. At the turn of the 90s, HCS – a publicly-listed company with diverse business interests – came very close to bankruptcy, and three employees who were working on this vision technology saw an opportunity to stride out on their own.
Just Smit, now sales and marketing director, is one of three founders of Adimec, alongside Jochem Herrmann and Bas Heijn, all of whom still own and work in the business. They shared common ground in terms of their expertise, and set up the company to exploit niches within the vision industry. 'Specifically,' says Smit, 'we set out to always ensure that technology was optimised for the customer application. That has always been a key driver of the business, and remains so to this day. We felt we could contribute to the market with our technology, particularly serving those OEMs looking for high image-quality cameras.'
Adimec's first customers were in the military arena where it developed its ruggedising skills, with a small part of the business in machine vision. It was also that time that Megapixel technology was just becoming available, and the company was one of the first to spot this emerging trend and capitalise on it.
'This HD technology was suited to medical X-ray in particular,' says Smit, 'where high image quality is essential. The work we carried out at this time drove the competencies of our business, and helped to discriminate us from other players in the market.'
With the help of some funding from the Dutch government, Adimec developed a complete imaging chain for the medical X-ray market. 'From these core technology skills, we moved into machine vision and did grow in other industries, such as defence,' says Smit.
Indeed, one of the more unusual enquiries came from a British company, which wanted help developing an imaging solution to work with its submarine periscopes. 'At first, we didn't feel the technology was available that would allow them to achieve what they wanted,' adds Smit, 'which was colour HD images. They went away to see if they could find the technology elsewhere, but came back to us. In the end, we developed a solution for them, based on the 7μm Kodak sensor available at the time. This provided us with a breakthrough in interline CCD technology, and this in turn gave us a real boost in the market.'
There was particular interest from OEMs, who wanted to use these new advanced cameras as measurement tools. Indeed, many of the characteristics of those cameras are exactly the same today, which means that the cameras have enjoyed very long lifetimes.
Today, Adimec is shifting its approach to make it a better business. 'In the past, we have been so focused on technology that we weren't really able to benefit to the full extent from a business perspective,' says Smit. 'To address this, we have recently appointed a managing director, Andries Hofman, to take care of the day-to-day business, and I have moved into a sales and marketing role, specifically to position our products well from a marketing perspective, and to enable us to compete in a very crowded market.'
Just Smit, sales and marketing director at Adimec.
The process of changing a technology company into a market-driven company is taking time – it's been almost three years since the transition started, but it has been a worthwhile journey, particularly given the success of the CoaXPress interface.
'CoaXPress is a solution driven by requirements in the market,' says Smit. 'We feel that as this technology matures, it will have a huge impact – not just for Adimec, but for the whole of machine vision. In Japan, for example, a lot of the installed base uses coax, so CoaXPress represents a major value-add to such projects, as it removes the need to relay cables.
'Now, thanks to our shift in focus, we ask: "What are the functions that the market requires? What are the solutions required to carry out these functions? And how can we contribute these solutions in a better way than our competitors?"'
Although Adimec's primary products are cameras, Smit is keen to point out that the cameras are part of a much larger solution. 'In order for us to provide the correct camera and set up,' he says, 'we need to understand what the OEM wants, and what are the technology building blocks required in order for us to help them improve their competitiveness.
'We are always aiming to deliver an image, at the quality required, and where it is needed – i.e. the whole chain. We partner with other technology companies to ensure our image ends up in the "PC" in the best possible way.'
One technology trend that Smit observes is that for embedded processing. 'Processing now is distributed across the camera, frame grabber and PC, with the proportions depending on the system architecture,' he says.
Adimec is a relatively small company competing against much larger camera suppliers, so it concentrates on niches it feels it can exploit. 'We target those OEMs with requirements for cameras with characteristics that we can offer, such as excellent image quality. Anyone can get hold of a high quality image sensor, but it is the way in which we integrate it into a camera with all the technology that surrounds it that helps us differentiate ourselves from our competitors. Some companies will offer a portfolio of products, and insist the customer selects the closest match to their needs. We listen to the customer and come up with solutions that meet their needs exactly. Some of these solutions may end up as more generic product solutions in our own portfolio.'
Smit considers Adimec to be very much an international company. As well as its headquarters in Eindhoven, there are offices in Singapore, Tokyo and Boston, which allows in-depth support to its demanding OEM customer base.
Reflecting on the tough financial conditions of the past year, Smit believes that Adimec has survived largely thanks to its diversity. 'We operate in three main markets,' he says, 'machine vision, medical and defence. Machine vision died in the second half of 2008 and began to revive in Q3 of this year. But because the other two sectors were more stable, they have provided us with steady revenue.
'Importantly, we have not stopped innovating throughout this time. Indeed, we are excited about the range of innovations and design-ins we expect to bring to market in 2010 – it could be a turning point for the future success of Adimec.'
In the near future, Smit says his focus will be in three main areas, all of which are application specific. 'For machine vision, we are looking at being the best at offering high accuracy and high throughput. In the medical field, we are looking at camera lens assemblies, including optics designed by us. In defence, we want to develop a complete portfolio that covers the ever-growing needs of the military market.'