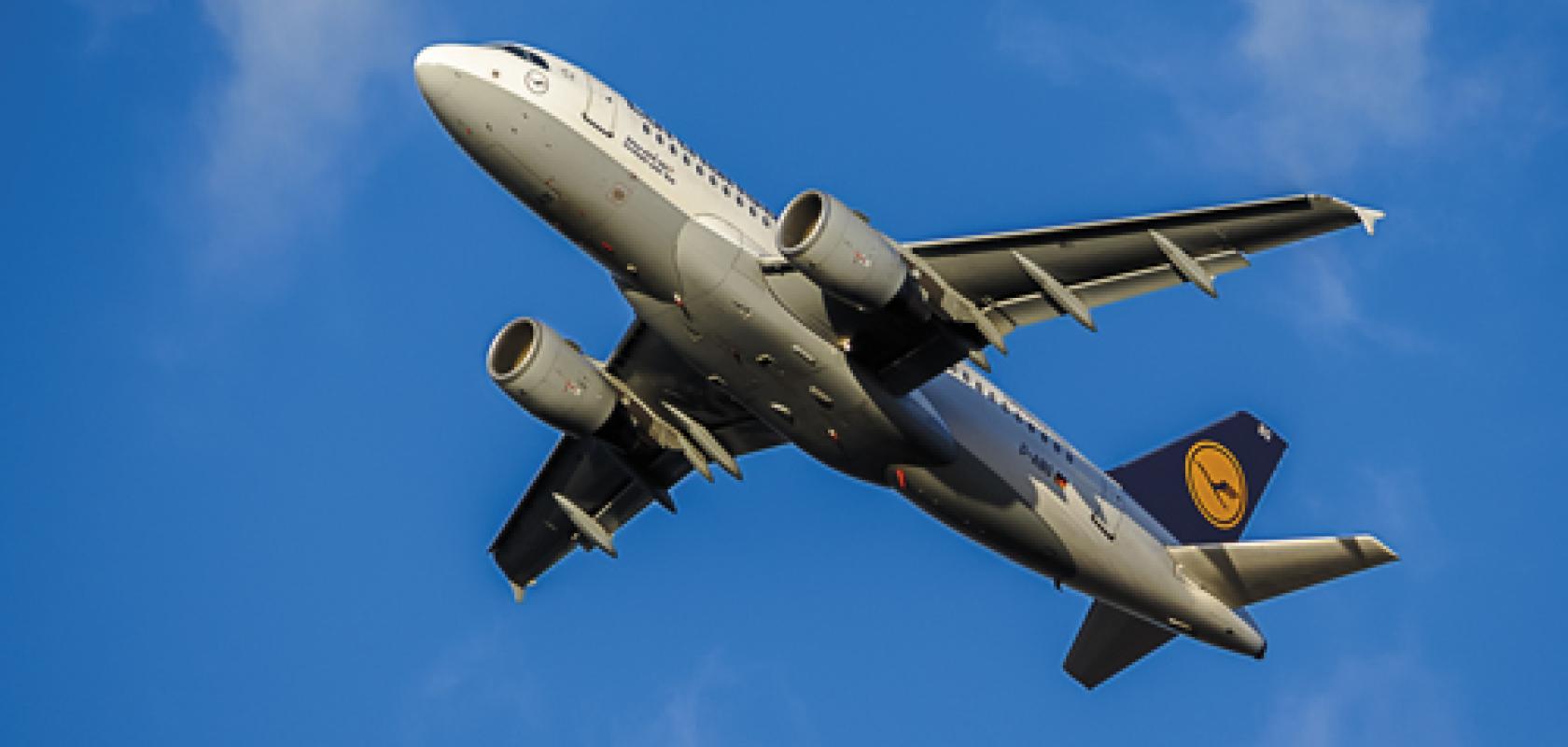 The aviation industry demands a high-quality surface finish of body panels and other parts, not just for aesthetics, but also for a number of technical reasons. Examples include how rivet heads are flush to the surface to keep rivet indentations in the outer skin of an aircraft as small as possible. Although inspectors are often able to see a large proportion of surface defects, such visual evaluation is often subjective and depends heavily on individual capability.
In an effort to tackle this challenge, several companies have created imaging-based equipment to help aerospace companies pinpoint the location of defects in aircraft bodies. One interesting example is German company INB Vision, which has carried out test measurements for various customers in the aviation industry for a variety of different applications. As Jörg Schulze, sales engineer at INB Vision, explained, the aim of surface inspection with the INB Vision technology is to achieve an objective and reproducible evaluation of the deviations in order to make decisions with regard to component tolerances.
To meet this goal, the company has developed a number of different methods that systematically recognise relevant deviations from the surfaces and objectively evaluate them. A notable example is the SurfaceControl product line, designed specifically to inspect diffusely reflecting surfaces – for example, electroplated metallic surfaces – as well as plastics and ceramics. The product operates based on the fringe projection principle; it scans the surface generating a 3D point cloud and is able to measure areas of a few square centimetres up to 0.25m². The 3D sensors comprise at least two cameras and one projector, with the cameras calibrated using a calibration target.
'The structured light from the projector enables identical points to be found in both cameras using the Gray code and the phase shift method. Triangulation then enables the calculation of the x, y and z coordinates of the surface that are stored in a 3D point cloud. The 3D point cloud is then evaluated with special methods to detect 3D surface defects,' explained Schulze.
At present, Schulze said that there are several different application areas in the aviation industry for such imaging equipment. SurfaceControl has proven suitable for testing the outer skin of an aircraft fuselage before painting. Here, the system detects the smallest of dents and bumps caused during fuselage mounting, which Schulze said can only be recognised after the painting process and often led to complaints in customer acceptance tests.
'Furthermore, flush rivet heads and the smallest possible rivet indentations in the outer skin of an aircraft are technically and aesthetically critical. We have already successfully measured these characteristics with our technology,' he said.
In addition to versatile applications on the outer skin of an aircraft, the interior also offers different fields of application: for example, the inspection of flaps on hand luggage compartments, armrests and wall coverings. SurfaceControl also offers an automated surface inspection process. The sensor can be guided by a robot to inspect large components.
Over the next few years, Schulze predicts that the trend in the development of optical sensors will be towards miniaturisation, on the one hand, and the speed of data acquisition and evaluation on the other.
'High-precision measurement in motion will also become an important innovation in the coming years,' he added.
Accurate measurements
Another interesting example is German software company 8tree, which has built its DentCheck tool specifically for the aviation maintenance sector. The tool consists of a high-speed, high-resolution optical 3D scanner dedicated to the resolution of a single well-defined and chronic problem – surface deformation analysis.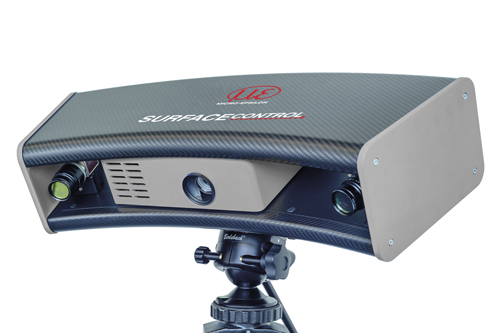 INB Vision's SurfaceControl scanner is designed to inspect diffusely reflecting surfaces
As Arun Chhabra, CEO at 8tree, explained, this design approach makes the tool usable by any skill level of employee, since it operates with just one button, with no programming, post-processing or advanced machine vision skills required.
'DentCheck is a vision system that operates on the principle of structured light illumination using multi-spectral solid-state LEDs. Actionable answers are visually superimposed in real-time on the surface of the aircraft using augmented reality methods that are integrated into the design of the DentCheck tool,' he explained.
According to Chhabra, the company first began defining and testing the product five years ago with input from leading airlines and maintenance, repair and overhaul (MROs) organisations. It has since been awarded multiple OEM certifications, and is increasingly being adopted by aviation maintenance organisations for damage mapping.
As a result of its popularity among airlines, Chhabra said that some aerospace OEMs are now also beginning to integrate DentCheck into their final assembly line operations, prior to delivering aircraft to airlines. In this way, he said, it becomes a surface quality check during the final stages of manufacturing, while continuing to serve a critical need during ongoing inspection of aircraft-in-service.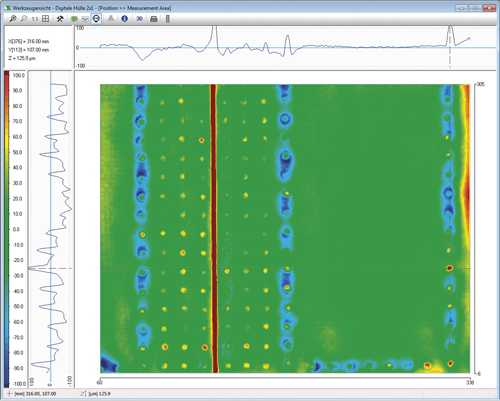 A map of the defects found on an aircraft fuselage. Credit: INB Vision
'Beyond aerospace and aviation, we are in the early stages of solving problems for a variety of other industry sectors, including surface uniformity of wind turbine blades and automotive hail damage,' he added.
In Chhabra's view, there are a number of key advantages to using the DentCheck tool, including the delivery of 'consistently accurate measurements and instant analysis that expedites disposition of damage and defects'.
'Both of these factors improve manufacturing and maintenance efficiency across OEMs, airlines and MROs. As an example, EasyJet and Tap-M&E have published case studies that demonstrate efficiency gains greater than 80 per cent and 90 per cent respectively, as a direct result of using the tool,' he added.
Although he believes that 8tree's design approach empowers the user to obtain an instant answer, instead of struggling with millions of points of raw 3D data, Chhabra admitted that the new tools represent 'a novel departure from how 3D scanners have been used in the aerospace and aviation sector over the past couple of decades.' As such, he pointed out that, while the approach has been broadly welcomed by the industry, people generally need reassurance in the face of changing methods and tools, no matter the magnitude of efficiency gains they are bound to realise.
'Achieving coveted certifications from aerospace OEMs had been one of the biggest challenges for 8tree. Fortunately, we now have multiple approvals and certifications from aerospace OEMs that cater to the varied interests of both the manufacturing and maintenance sectors,' he said.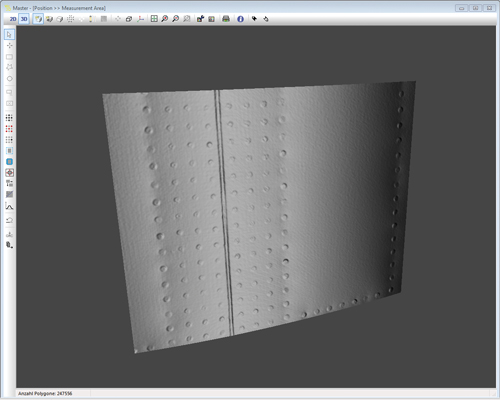 A 3D point cloud of an aircraft fuselage. Credit: INB Vision
'These OEM certifications have credibly and conclusively reassured customers about the value of embracing our vision-based inspection tools. Thus, by successfully tackling this multi-year certification challenge, we now face the opportunity of growing market demand for our products,' he added.
Looking ahead, Chhabra highlighted the fact that, for 8tree, the user experience is paramount and something that translates to usability and performance. For this reason, he reveals that the company remains focused on ensuring that all of its products incorporate the principles of Usability Engineering, so as to create tools that are usable by any skill level, while still delivering high fidelity measurements.
'We believe users are just waking up to this realisation – that the solution to an inspection problem should be an easy-to-use tool, instead of the status quo in which users are forced to invest in amassing the scientific theory of measurement technology in order to tackle their original inspection task,' he said.
'As a result, our outlook for the future is the increasing introduction of industrial technologies and innovations that will empower users to solve problems intuitively, similar to what is already commonplace in consumer electronics,' he added.
Continuing automation
Elsewhere, US company Radiant Vision Systems has created an automated visual inspection system for in-line assembly verification in the aerospace sector. As Davis Bowling, regional account manager for assembly at Radiant Vision Systems, explained, the Inspect.Assembly tool was developed to address some of the complex inspection problems the company's customers were experiencing in their manufacturing processes.
'Many were looking to automate, but continued to use human inspectors for difficult tasks such as detecting subtle, low-contrast defects, because typical machine vision solutions lack the visual acuity and judgment of their human counterparts,' he said.
The company's imaging technology – historically used for light and colour measurement – features high resolution CCD imagers with a broad dynamic range, making it suited to high precision assembly verification applications. Inspect.Assembly contains the company's ProMetric imaging photometer, with resolution up to 29 megapixels and dynamic range up to 73.4dB; bright field lighting; and programmable inspection software.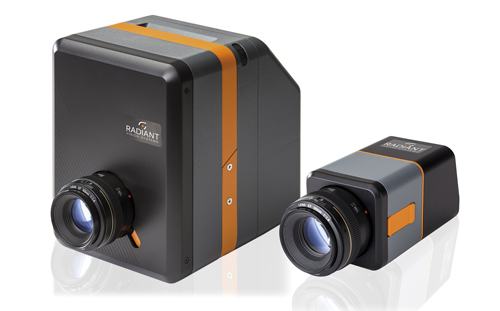 ProMetric cameras can be used to measure luminance and chromaticity in cockpit displays. Credit: Radiant Vision Systems
'The broad dynamic range of the camera's CCD sensor enables the system to detect hairline variations on part surfaces. This, combined with the camera's high resolution, enable the Inspect.Assembly tool to image and classify defects with extreme precision while maintaining processing speed and low noise – reduced by interline thermal cooling of the ProMetric CCDs,' he said.
Bowling noted that Radiant's Inspect machine vision software draws from light measurement techniques, and that software tools for detecting just-noticeable differences (JND) in visible light uniformity in illuminated components can be used to detect anomalous contrast variations on non-lit components. This capability allows the Inspect.Assembly system to identify defects, just like a human inspector. But, unlike human inspectors, it can also assign values to each defect and quantify exact tolerances for acceptable severity, scope or proliferation of the defect. In light of the fact the Radiant system contains a relatively high number of illuminated components, Bowling argued that the aerospace sector is a natural fit for the company's light and colour measurement systems.
'A calibrated ProMetric imaging colorimeter or photometer with analysis software is commonly used to measure luminance and chromaticity in cockpit displays and backlit symbols, evaluate interior and exterior lighting, and test illuminated signage,' he said.
Another emerging application Bowling said the company is seeing a lot of is the measurement of head-up displays (HUDs), where the projected display must be clear in a variety of environmental conditions.
'Our systems have been applied in different testing environments to measure see-through display technologies including LED, OLED and waveguide using different projection methods. Our cameras also feature electronically controlled lenses to locate illuminated objects projected on an infinite plane, such as the symbols displayed in HUDs and augmented reality displays. They map points of interest to projected symbols and provide luminance and colour measurements, while recording object distance, size and scale,' he said.
For Bowling, the key advantages of the Radiant imaging technology for aerospace customers are its high accuracy and precision – and he stressed that manufacturers of aerospace technologies require absolute quality to ensure compliance with standards, and ensure safety and operability.
He also pointed out that the company's tools are calibrated for National Institute of Standards and Technology (NIST) traceable measurements; and cameras feature a tri-stimulus optical filter system that is scientifically engineered to simulate human visual sensitivity to brightness and colour. This enables quality evaluations of illuminated components that reflect an operator's or passenger's perception of the component, whether a display, character, sign, or ambient light distribution pattern.
Looking ahead, Bowling said that, in common with manufacturers across many sectors, the aerospace industry continues to automate, looking for improved efficiency and more data. 'We expect this trend to continue and imaging is a critical piece of that,' he concluded.