Sam Lopez, European sales manager, Matrox Imaging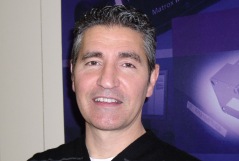 How did you come to be part of the imaging/machine vision industry?
I started working at Matrox in 1986 as a hardware design engineer. I worked on some of the earliest imaging boards for the PC. Those were exciting times – PC technology was new and we were pioneers. The PC-based systems started a revolution, and I wanted to be part of it. I moved to sales in 1990, and my experience with our products grew even more. Working with customers directly gave me a new level of exposure to our products and their application.
How do you convince customers that they need machine vision?
Typically, customers come to us only after they understand they need vision. By the time they come to us, they know they want to automate or improve some inspection system. They're looking to improve their returns. Choosing the right components for a particular system can be overwhelming because of the range of products, camera interfaces, and software tools. As a vendor, our job is to facilitate the selection process and develop the components that give clients the best system for the best price.
What role does Europe have in the development of machine vision?
Europe has always been at the forefront of industry. Several European countries have a strong reputation for innovation in the factory automation sphere. Integrating vision technology into those machines was a natural progression for those particular countries. Europeans are quick to embrace and promote new technologies.
What do you see as the major growth sectors?
The global economic slowdown is having a significant impact on our traditional machine vision business, so I don't think anyone is expecting growth from that sector in the short term. However, there are industries that are weathering the storm better than others. Some are still in their infancy, as far as their adoption of machine vision technologies is concerned, so demand for the technology is still increasing. As a result, we are focusing energy on those bright spots. Also, systems used in security/video surveillance applications still use a lot of analogue cameras and we continue to address those needs. But we see the number of applications for digital cameras (both IP and smart) and video analytics are on the rise, so that's good news for camera and software vendors. Medical/pharmaceutical/life sciences industries are also enjoying an expansion right now. The transition to HD is generating a demand for new products.
What do you see as the most important technological challenges facing the industry?
If we want to see real growth for the machine vision or imaging markets, vision technologies have to be adopted by industries outside our 'traditional' markets. This means vendors have to adapt the technology for those 'atypical' industries. The challenge lies in simplification. Manufacturers of vision equipment need to simplify component integration and develop software tools that are easier to use.
What do you see as being the most significant commercial change in the industry during the years ahead?
The speed at which new systems can be developed and released to market will increase beyond what we can even imagine today. We need to help customers improve their time-to-market without compromising capability or limiting performance. The role of suppliers/manufacturers is to anticipate what our customers need, and be ready to find solutions quickly. These are once again exciting times.