Keeping an eye on the ball
In a high-tech machine vision company a well-balanced mixture of skills and backgrounds is a significant competitive advantage, Mikrotron CEO Christian Pilzer tells Tim Gillett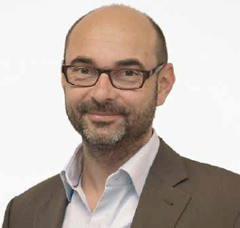 Mikrotron was founded nearly 40 years ago, in 1976, in the municipality of Eching, near Munich, in the south-German state of Bavaria, by Andreas Stockhausen and Bernhard Mindermann.
In the early days of the company, it was largely involved in developing electronic circuits and microprocessor programs – and, despite the successful development of an industrial image processing business, industrial electronics remains an important part of the business – which now has 35 employees – to this day.
The company became active in the field of machine vision just a few years after its foundation – and today it is a renowned manufacturer of small and especially robust high-speed cameras for the international industrial image processing market. The digital high-speed cameras are used for industrial and scientific applications – as well as in sports analysis, advertisements and documentaries.   
Christian Pilzer, the company's CEO, joined Mikrotron three years ago after studying economics at university and following stints in the audit sector at KPMG and at a subsidiary of the GPS company Garmin.
Pilzer freely admits that, as a finance specialist, he has limited expertise in machine vision – but insists that this is no bad thing: 'From my point of view a well-balanced mixture of skills and backgrounds is an advantage for the successful development of every company. After 35 years where Mikrotron has been predominantly engineering driven, we now have a better mix. For a company to be successful it's important for each initiative to be built on a strong business case and for each development to have its own product roadmap.
'Also, many employees have been here since the early days of the company and we are now going through a period of change. With new people coming on board values and practices are bound to change; I think it was a good time for me to come here.'
A key market for Mikrotron's product is in crash-testing, which it serves through third parties who specify the company's cameras; in the crash-test sector Mikrotron itself does not have a direct link to any automobile manufacturer (though in other areas of business it does deal directly with automobile companies such as BMW). As is the case in many of its business relationships, Mikrotron supplies its cameras to a reliable and stable network of selected high-tech companies, representing Mikrotron in more than 50 countries all over the globe.
Engineering sales
Pilzer explains: 'Our engineers work largely on the development of our products, but many of our salespeople are also highly qualified in engineering; this means they are able to work closely with companies on specific projects and to deliver turnkey systems. We can supply all the necessary components –  cameras, lenses, cables – so we are able to customise whole solutions for specific customers and projects.
Of course, Mikrotron operates in more than one market; within the memory camera sector a large proportion of customers are in scientific fields. This includes a large number of universities – but, increasingly, a range of manufacturing companies that want to troubleshoot their production processes. Pilzer continues: 'They might have a particular problem and want to set up a sequence to identify possible problems in their production processes.
'We also have customers in the pharmaceutical industry, as well as in the sports environment. One in particular is a golf professional, who uses our cameras to record and analyse his swing – he also uses them to educate others to improve their swing.'
Pilzer reports that 60 per cent of Mikrotron's customers are in Germany, with a further 15 per cent across the remainder of Europe and the rest distributed throughout the United States and Asia: 'We have well trained distributors in different countries who are capable of managing customers' projects. If we only look at the high-speed cameras, our international business is much stronger – the reason for the high percentage of revenue in Germany is that in some strong segments of Mikrotron, like Vision-PCs, we have no international business and did not go for it until now.
'With machine vision cameras, the typical sales process is quite slow,' he continues. 'In this case, where the cameras are meant to be designed-in to a complete system, we have a long period of evaluating, customising and programming. The result is that, once the MV-camera has been designed in the system we can sell hundreds more cameras per year without the need for further consultation. With memory cameras, we only sell on a piece-by-piece basis – normally after one demo and an additional day of training.'
Bright prospects
Pilzer is optimistic about the coming years for Mikrotron: 'We have more than doubled revenues over the last 10 years; this is, by any measure, pretty good growth and we have high hopes for the future.
'In terms of industrial image processing, there are so many factors that will create a demand for the services we provide. There are increasing quality demands in many industries – but also, crucially, from the customer's point of view. Everyone expects 100 per cent uniformity and reliability these days; this has been a clear trend over the last five to 10 years, and it will continue.
'Energy and raw materials are increasing in cost, so it's essential that production processes avoid waste as much as possible, to keep costs down. This is absolutely crucial in this day and age. Sporting media coverage is increasingly using machine vision – you only have to watch a World Cup match, or some tennis at Wimbledon, to see this. Viewers these days are increasingly interested in statistical information – where the winning shots were made, how much distance players covered – as well as in goal-line technology or the Hawk-Eye cameras in tennis. These things have almost come to be expected in sporting coverage and we can definitely see their use increasing.
'All this will help to drive our business, so we have good reason to be optimistic.'