Gemma Simpson previews some of the vision innovations at this year's IPOT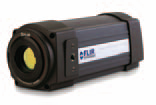 IPOT 2008, which focuses on the optical, photonics, vision and displays industries, is being staged at the Birmingham NEC on 13 and 14 February. The show will combine dozens of exhibitors and a complementary education programme for delegates.
Organised in conjunction with the UK Industrial Vision Association, the schedule of free sessions in the 'Industrial vision – advances and applications' programme will include updates on multi-core and multi-processor systems, infrared vision, accelerated machine vision using multi-threading, and monocular 3-D imaging.
Among the exhibitors is Alrad Imaging (www.alrad.co.uk), which will be showing the new e2v ELiiXA four-channel colour linescan with RGB and either monochrome or near infrared for the first time in the UK. This is in addition to the AVIIVA monochrome linescan range. Alrad will also be showing the Matrix Vision Blue Cougar GigE in both standard form with a PC and smart output directly to a monitor and introducing Sentech sTC-CLC83A XGA Cube camera interface to the EPIX EC1 Express Slot frame grabber in a notebook PC providing a complete portable system.
Craft data (www.craftdata.co.uk) will be showcasing a range of new products, including a range of energy efficient LED-based fluorescent tubes, and a pocket-size two-inch printer.
One new product line is a selection of LEDbased fluorescent tubes, which only use 20 per cent of the energy of a comparable fluorescent tube and last 10 times as long. Lengths of 600mm, 1,200mm and 1,500mm are available, which will all fit into the existing housings.
The pocket-size Porti-SB50 is the latest addition to the company's range of ultra-compact thermal printing products, and this two-inch printer weighs just 200g, excluding the batteries. Porti-SB50 uses a direct thermal line print mechanism, giving 42 characters per line (max) at 203dpi resolution. It offers silent printing, even at the top print speed of 50mm per second, and supports both text and graphics printing plus bitimage (logo) downloads.
Dalsa (www.dalsa.com) will showcase two new cameras for machine vision applications – the  Falcon 1.4M100 area scan camera and the new colour models of the Genie Series of GigE Visioncompliant digital cameras.
Dalsa's Falcon 1.4M100 is a 1.4-Megapixel area camera, which delivers 100fps at full resolution in an ultra-compact body. The Falcon 1.4M100  is suitable for applications in electronics manufacturing and semiconductor inspection, which both require fast inspection rates and superior inspection accuracy.
The GigE Vision-compliant Genie digital camera now has four new colour models designed for industrial imaging applications. These area scan cameras feature a Sony CCD colour sensor with resolutions ranging from VGA to 1,400 pixels and operate at up to 64fps in full resolution.
The Edmund Optics (www.edmundoptics.com) stand will feature a number of new products, including the BeamX family of laser beam expanders with a high performance optical design in a compact package, making them suitable for integration into new or existing systems.
Available in 3x, 5x, and 10x magnifications for common Nd:YAG and a variety of other laser sources, the diffraction-limited performance over the specified input beam diameter eliminates the need for critical  alignment. The focus adjustment can be used for divergence correction, collimation, and focusing.
Featuring damage thresholds of greater than 5J/cm2 these beam expanders are appropriate for many laser applications. The available options are broadband, 532nm, and 1064nm.
Also on the stand will be a selection of video lenses including Telecentric, Double Gauss and Modular magnification lenses, as well as a range of optical components featuring everything from singlets to filters.
Edmund Optics
A comprehensive range of cameras from line scan to the latest high speed area scan cameras will be shown by Firstsight Vision (www.firstsightvision.co.uk). Key new products on show will be the FireWire-compliant Stingray series from AVT and the JAI C3 range of GigE and Camera Link cameras.
Firstsight's 'camera tree' will show eight different camera types all simultaneously linked to a single computer via the Common Vision Box (CVB) hardware-independent imaging toolkit from Stemmer Imaging. This multi-camera connectivity allows simultaneous connection of cameras featuring different camera interface standards including USB, FireWire, Camera Link and GigE Vision. Also new to the stand will be infrared cameras from Opgal.
At IPOT 2008, Flir Systems (www.flir.com) will demonstrate how to integrate thermal imaging into design and production processes and put its top-of-the-range SC6000 through its paces.
Being shown for the first time in the UK, the ThermoVision A-Series is the first ever thermal camera to be GigE Vision and GenICam compatible and to feature a trigger/sychronisation capability, allowing the seamless integration of third-party hardware and software.
The Gigabit Ethernet interface ensures that even over long distances a high-speed frame rate is achieved – up to 60Hz of the full 16-bit image. This is an important factor as many applications call for advanced image analysis and manipulation.
All that is needed to receive high-quality, realtime radiometric images is to connect the ThermoVision A320G camera to a PC and install the compliance software.
Two versions are available, the A320G full frame rate and the A320G 9Hz. They have a built-in 25° motorised lens with auto focus, with other lenses optionally available. Both monitor what is invisible to the naked eye, providing quality assurance in an easy and quick way.
Hamamatsu (www.hamamatsu.com) has introduced its ImagEM Enhanced Camera, a back-thinned, electron multiplier (EM) CCD Camera and the latest addition to the C9100 series. It is a universal camera for low light fluorescence imaging, ultra-low light luminescence imaging and high dynamic range brightfield imaging in life sciences, materials research and industrial imaging.
The new C9100-13 has unique, active builtin EM gain protection and re-adjustment features, designed to prolong the life of the camera and direct EM gain control. The ImagEM Enhanced features a high-speed readout rate of 32fps at full spatial resolution, even at low light levels, 16-bit digitisation, a maximum QE over 90 per cent and cooling performance down to -90°C to minimise dark noise. It also features two selectable readout modes for applications such as real-time imaging of low-light fluorescence and ultra-low light luminescence detection.
To maintain performance and help reduce gain deterioration, or gain ageing from excessive light conditions, the C9100-13 has built-in EM gain protection which can be set to passively warn when the input light is too strong for the EM gain in use, or it can be configured to automatically stop imaging in order to protect the EM-CCD.
In partnership with Firstsight Vision, JAI (www.jai.com) will be exhibiting a range of CCD cameras in its new Core Camera Concept (C3) Suite. JAI's C3 Camera Suite consists of three product tiers: Advanced, Basic and Compact.
The AD-080CL will also be on display, which is a 2CCD multi-spectral progressive scan camera that simultaneously measures visible and nearinfrared (NIR) light spectrums through a single lens using two channels. Features include 1/3- inch progressive scan CCD, 1024 x 768 pixels, up to 30fps and continuous or triggered operation.
IPOT 2008 will see Schott Fibre Optics (www.schott.com/uk/english/) exhibiting a new LLS range of LED light sources for use with fibre optic lightlines and ring lights.
Designed for machine vision, LLS offers a long lifetime of 50,000 hours and therefore requires less scheduled maintenance than non-LED fibre optic light sources. LLS is available in a variety of wavelength bands including red, white, amber, green, blue and UV.
Schott will also introduce its Surface Mounted Display (SMD) high brightness LED light line for high-volume web scanning and diffuse surface inspection of paper, wood and other materials for quality and defects.
Standard lengths available range from 300mm to 3,000mm (in 150mm increments), and the new HB LED Light Line enables printers and manufacturers to use LED technology to generate focused and homogeneous lines of light with working distances of between 50 and 100mm. The unit's acrylic cylindrical lens is integrated into the housing, and can be adjusted to modify the working distance.
Schott Fibre Optics.
The UK Industrial Vision Association (UKIVA) (www.ukiva.org) will once again be running a series of free seminars under the theme of 'Industrial Vision: Advances and Applications'. UKIVA director Don Braggins said: 'Although some presentations are still to be confirmed, we know that our members Firstsight Vision, FLIR Systems, MVD Ltd and National Instruments will be giving seminars. Topics to be covered will include: Accelerating Machine Vision with CPUs, GPUs and FPGAs, Infrared in Vision applications – not just temperature measurement, Monocular 3D imaging using Matrox Imaging Library (MIL), and Multicore and Multi-Processor Systems: The latest technologies for accelerating vision applications.
'Full details of the seminar programme will be published on the UKIVA website (www.ukiva.org) as soon as they are confirmed by our participating members,' he continued. 'As usual, the seminars will take place on both days of the exhibition, and places can be booked in advance online, or by emailing jennie@ukiva.org. Booking in advance will also secure a CD containing PDF copies of all of the presentations.'
The association has also been invited to present a seminar at the co-located MEDTEC exhibition to highlight the use of industrial vision in the medical industry. This will also encourage visitors from this show to take a look round IPOT.
Vision Research (www.visionresearch.com) will be unveiling a new family of Phantom highspeed digital cameras – called the Miro range.
The Phantom Miro line is a compact, lightweight, rugged family of four cameras targeted at industrial applications, where events happen so quickly they cannot be seen by the human eye. These applications range from biometric research to automotive crash testing, and to highspeed packaging and labelling.
The new family of cameras capture digital images up to 65x faster than ordinary video cameras and 'see' the flaws in manufacturing processes, such as sticking, binding and snarling that create production defects, increase equipment downtime and cost millions.
Included are measurement tools that measure critical parameters such as angular rotation, rpm and displacement so that one stage of assembly can mesh flawlessly with the next stage, optimising overall line throughput.
All Miro cameras are based on Vision Research's own SR-CMOS sensor designs and offer an ISO rating of 4800 (monochrome, saturation-based ISO 12232). Cameras come in monochrome or colour versions. They all accept any standard one-inch C-mount lens.
Scorpion Vision Software (www.scorpionvision.co.uk) will showcase its 3D module of Scorpion 6.0, which has more than 30 new point and click tools to support 3D camera calibration, 3D stereo vision, 3D laser profiling and true 3D point cloud processing, analysis and manipulation. Everything is visualised with the integrated and complete set of 3D visualisation features.
Scorpion 6.0 can be used with Sony smart cameras, digital cameras with USB, FireWire and GigE interfaces and 3D image sensors.