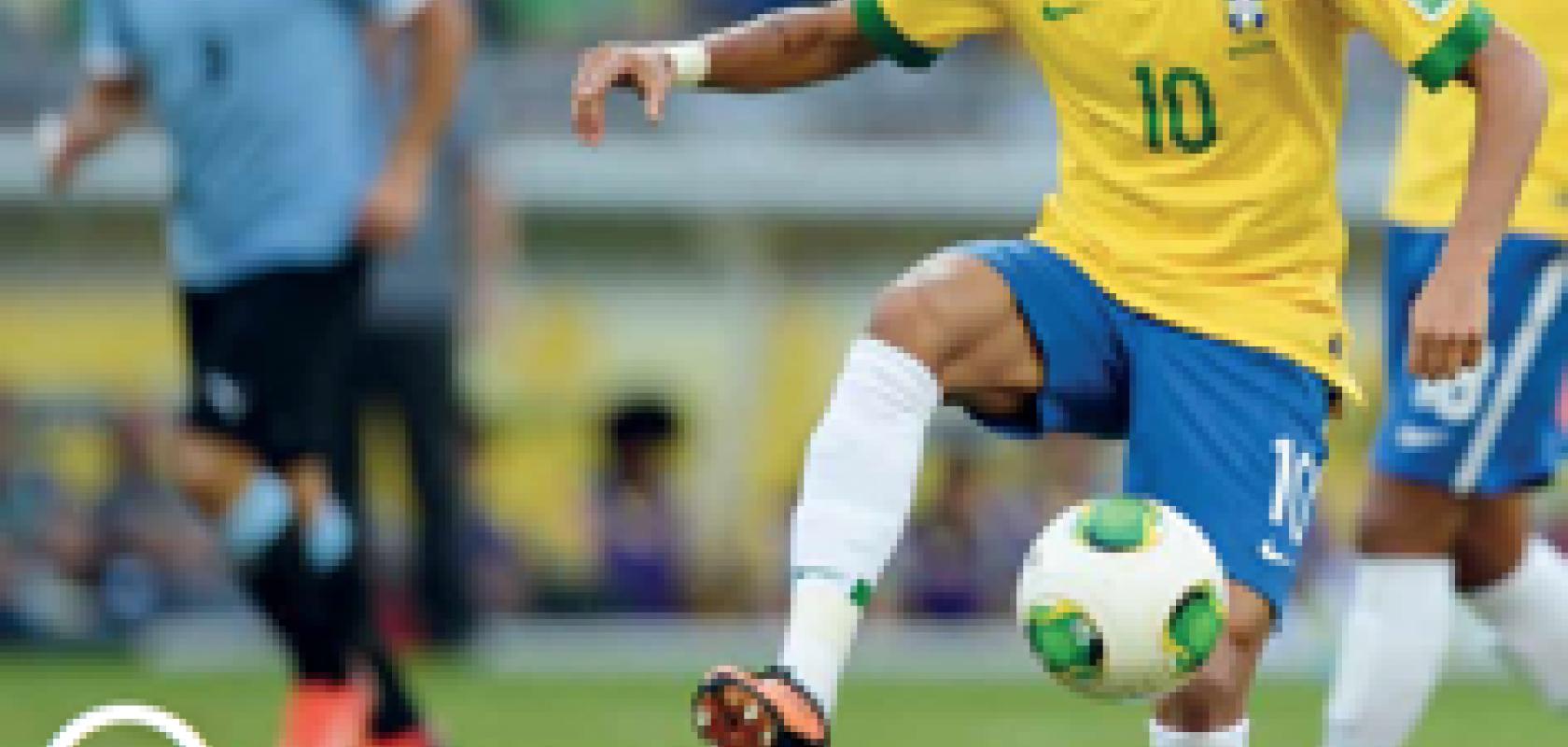 The 2014 World Cup starts on 12 June, with professional footballers from all over the globe  doing everything they can to make the cut for their national squad, striving to improve their technique. Equally, the countries' teams are doing their best to ensure key players don't suffer injury just weeks before one of the biggest sporting events in the world. Imaging is helping athletes go the extra mile.
Preparation is the key and practice makes perfect – as everyone who ever played sport to even the most basic level will have been told countless times – and to have that practice observed is a huge help to any athlete. Smaller, cheaper, higher-resolution, and more innovative uses of imaging technology, can now record the slightest movements of sportsmen and sportswomen as they take a match-winning free kick or, to take an example from a very different sport, as they land a golf ball on the green.
Dr Neal Smith, field leader for biomechanics and research at the University of Chichester, UK, has worked with some of the biggest names in sport. His laboratory-based work uses a mixture of high-speed cameras and motion-capture systems to slow down and analyse the physical mechanisms the human body uses to perform certain tasks. He said: 'A lot of our work is aimed at improving performance and refining technique, but another aspect is to make sure the techniques used can reduce the prevalence of injury.'
Biomechanics, as Smith explained, is the application of mechanical theories to biological structures; however, the movement of these body parts can be very small and the processes in which Smith is interested are often over very quickly. 'Anything that happens very quickly, which can be a quite complicated interaction of body sections, may not be able to be caught by the naked eye. We tend to use technologies like imaging and cameras to break down these complex skills into smaller phases so that they can be better understood. This means a lot of our work is based on high-speed imaging.'
Steve Hearn, UK sales director at IDS Imaging Development Systems, has noticed an increasing use of high-speed imaging within the sports industry. He puts this down to new interfaces allowing increased frame rates and a great number of features. Development of faster shutter speeds and overcoming the teething problems of USB 3.0 has helped open the sports industry for suppliers. He said: 'One of the big problems with USB 3.0 in the early days was the length of the cable, but this has been extended and now you can run fibre cables over several hundred metres.'
The most recent technological advance from IDS has been the process of multi-integration. Hearn explained that the idea is to turn the sensor off and on within the integration time in order to increase the number of frames produced per second. This means even inexpensive camera systems can have very high frame rates. He added that increasing use of area of interest (AOI) functions is also improving the frame rates of affordable devices.
Smith's equipment has been used for a variety of analytical purposes. He said: 'We are often involved in technical interventions; we measure the athlete before and after a change in technique is implemented to see if the alterations have helped make a difference to performance. We also do pre- and post-operation clinical checks, they may want to have their walking or running stride analysed.' He continued: 'We have also worked with the International Cricket Council to work out whether some of the players that have been accused of illegal bowling actions are throwing or bowling.'
When bowling a cricket ball you must keep your arm straight and are only allowed a maximum of 15° extension at the elbow. When a bowler is accused of foul play, they are referred to a laboratory where systems like Smith's are used to investigate the technique used.
Motion capture of the athlete provides a great deal of recorded data pertaining to the way in which the subject performs certain tasks.
Smith explained: 'We have an infrared system for motion capture which uses 10 Vicon cameras synced together. They use infrared strobes that surround the lenses, the light from which is reflected by body markers. These markers are placed on specific anatomical structures. The idea is that the 10 cameras will detect a location of the marker and from that we can get a position within 3D space as to where each of those markers is. We can hopefully get a 3D model of what that person is doing in that particular movement space.
'We are talking of an accuracy of less than a millimetre. We then can get an orientation of the body segments and a value of an angle, speed, and acceleration as the different body parts move.'
Getting your kit on
After extensive preparation, the athlete is then ready to compete and challenge other world class performers from around the world. Denise Bartels, CEO of 4DDynamics, which is involved in 3D scanning, explained that there is one last advantage that technology can offer the competitor. An Ex Pro system – built around a high speed Sony XCD H280 E camera and Optoma projectors – scans the athlete to give a measurable 3D data of the outer shell of an object or person. This can then be used for design, custom development, and 3D printing applications. Precisely tailored and modelled equipment can be made to reduce drag, be more comfortable, and even reduce the risk of injury.
The company was part of a team that designed the swim gear used by Michael Phelps for the London 2012 Olympics. Working with UK-based 4DMax and with the aim of reducing drag and ensuring the perfect fit, the equipment used by Phelps helped him win four gold medals and two silvers during the games.
Bartels said: 'Every split-second counts nowadays. Athletes are getting towards the physical limits of a human being, so all these small advantages can make the difference between a gold medal and sixth place. Of course, you still have to do a lot of training but the human body is being driven to the limit; technology makes a lot of sense to provide that little bit extra required to win.'
Bartels co-founded the company in 2000 which was initially aimed at providing 3D data for the film industry. However, in recent years Bartels said: 'It [the technology] is starting to move towards the end-consumer market, and as sports are becoming more and more high tech, they are using services like ours more and more.' She puts this down to an increasing demand for customisation and personalised equipment. The company is already talking to the likes of Nike and Adidas, who are looking to use the systems in-store, as well as for the professional sportsmen.

Not just the taking part that counts
While these kinds of test are performed in a laboratory setting, broadcasting is using more of the technology, once solely used in the lab, to provide statistics on a player's performance, even during the game. Smith predicted that, in the future: 'Technology will become more involved, and I think that depends on where the TV money goes. The media are always looking for new avenues to try and improve the broadcasting quality. If you take a look at the football shown now, there's far more interactive video used to play back different parts of the match; there's definitely more technology involved trying to get in-game statistics.'
In the February/March 2013 edition of Imaging and Machine Vision Europe, Greg Blackman noted one way in which these statistics are calculated. For the German Bundesliga, they come via the German company Impire and its Vis Track device. The system uses two cameras to track each player over the course of a match, as well as tracking the ball. Analytical information, such as the tactics of each team and the distance run by individual players during the game, can all be generated from the data. Impire sends this information on to the media outlets that report on the match. The teams themselves will also study the tracking data, for analysis of their own players' performances as well as for scouting purposes.
Smith explained that these stats can be used by coaches, who cannot be expected to remember what 11 players are doing when spread out on a football pitch for 90 minutes. Therefore, the technology allows an objective recording of events, so certain tactics can be tested more accurately. He added: 'All of this will increase, as these laboratory measures become increasingly mainstream.'
Smith explained that the trend towards greater use of imaging is, in part, due to improvements in the software. 'There has been more consideration of the ergonomic aspects, so that the usability side of things is definitely improving.' In addition to that he has seen the general, more typical, evolution of technology has aided the systems. Smaller, cheaper, or higher resolution products offer huge advantages for end users such as Smith.
From camera manufacturers, Smith said he requires reliability primarily, then accuracy and usability. 'There is going to be a lot of people using the equipment – and while you may need some specialist knowledge to set it up, the more usable the system the better, really.'
Thermal snapshot of F1 racing
Mercedes are currently dominating the early races in this season's Formula 1 championship, but it's still early days yet. Infiniti Red Bull Racing, winners of last season, is using thermal imaging cameras to give the team insights into the thermal characteristics of its cars' components and operations.
The 2014 season has seen the regulations for F1 cars change in a number of areas, not least the introduction of 1.6 litre V6 turbo engines which rev to a maximum of 15,000rpm. In addition, a larger proportion of the car's power comes from the energy recovery systems, all of which has presented significant cooling challenges for Formula 1 teams. Managing car temperatures effectively will be a key aspect of ensuring reliability, a factor which is expected to play a significant role in determining the outcome of this season.
Red Bull will work with Flir Systems to gather temperature data from its cars. Commenting on the collaboration with Flir in a statement, Christian Horner, team principal of Infiniti Red Bull Racing, said: 'This year sees the most fundamental changes to Formula 1 in well over a decade. The team which is most efficient in gathering the relevant data, learning effectively, and adapting accordingly will be the one which triumphs in this season of transition.'
'This partnership comes at an exciting time for Flir,' said Andy Teich, president and CEO of Flir. 'With the launch of our Lepton thermal micro-camera, we see numerous applications for thermal technology in the racing world.' Teich added that the relationship with Red Bull will increase the awareness of the capabilities of thermal imaging.