Greg Blackman looks back at what the UK vision industry was like 25 years ago, when the UK Industrial Vision Association was founded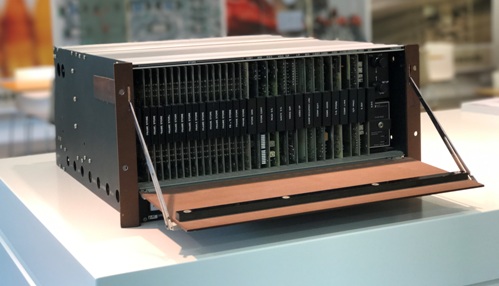 A rack-mount dedicated system from Stemmer Imaging from 1987. The system required a PDP 11 computer to grab one monochrome image at a time. over half the slots related to the system's memory of 256KB
The UK Industrial Vision Association (UKIVA) is 25 years old this year. Things have changed drastically over the last 25 years; greater processing power has opened up machine vision to a wider audience, while markets have become much more global.
'When I joined UKIVA it was nearly all bespoke vision systems,' recalled Mark Williamson, director of corporate market development at Stemmer Imaging and a past UKIVA chairman. Williamson joined UKIVA in 1997, five years after the association was established, with his company Pinnacle Vision, which was subsequently bought by Stemmer Imaging. He served for 12 years as UKIVA chairman, from 2003 until 2015, and is currently the chairman of the UK Processing and Packaging Machinery Association (PPMA), within which UKIVA forms a special interest group.
The PPMA was initially involved in setting up the UKIVA in 1992; David Humphries from Electronic Automation was the founding chairman. 'Most of the companies that started UKIVA were UK manufacturers, and I would think that nearly all of them have now gone,' Williamson said, commenting on how the association's membership has changed. It's not that the UK has lost vision suppliers – far from it – but that the way vision equipment is built and sold has changed.
'We have probably as many integration and machine vision providers in the UK as 25 years ago, but they are not manufacturing the hardware,' he continued. Now, most UKIVA members are distributors or integrators that build systems based on standard industrial vision hardware bought off-the-shelf, whereas, 25 years ago, even the camera would have been designed in-house. 'The market has split,' he said. 'Twenty-five years ago machine vision was too small a market; companies designed the hardware and sold the system as a solution. Now there are manufacturers making hardware and integrators that build solutions.'
This split Williamson puts largely down to globalisation, as 25 years ago companies were created to address their local market, and at the time that meant designing their own hardware. Now companies are not constrained to selling inside the UK. 'The UK is quite innovative,' he said. 'A lot of my customers are selling worldwide.'
The early UK vision firms that were successful often ended up being acquired by other companies. Cognex bought Image Industries which, at the time, according to Williamson, was one of the UK's most successful manufacturers of machine vision. The Cognex Checker product has its roots in technology developed by the team at Image Industries. Electronic Automation was sold to Marconi, and was shut down after a few years.
The UKIVA lists as its members 25 manufacturers of machine vision, eight integrators, and seven companies that produce equipment that uses machine vision, such as Mettler Toledo which makes labelling systems. Alrad Imaging is one of the oldest members, now operating as a distributor – Alrad's Geoff Smith, who is now retired, was chairman from 1997 to 1999.
Williamson first went to see Don Braggins, one of the original founders of UKIVA, when he set up Pinnacle Vision. Braggins had a vision consultancy company and was advising companies on how they could get involved in machine vision. 'He was very well known in the industry,' Williamson said. 'He was very much involved in running the association; we used to have all our committee meetings at his house. He was instrumental in making it happen.
'He was also instrumental in making sure that the association had a future,' Williamson added. 'When he was beginning to look at retiring, he approached the PPMA again to find an organisation that was going to continue it, because, at the time, if he'd stepped down I doubt it would have survived.'
When Williamson was establishing Pinnacle Vision in 1997, there were only basic websites, so it was practically pre-internet. UKIVA ran a lot of one-day seminars on specific subjects, and the association had a magazine. Braggins also produced a lot of supporting documents like the machine vision handbook, which gave information on how to get started in machine vision. 'The UKIVA was a lot smaller, it had a lot fewer members, but it was more important,' Williamson said. 'There wasn't really any association that supported vision in our industry at that time.'
Machine vision was complex and all bespoke systems 25 years ago. 'The biggest change has effectively been the move from custom hardware to PC-based systems, through to, you could argue, custom embedded smart cameras,' Williamson said. 'We've almost come full circle, except at the time [25 years ago] an embedded custom system wasn't a camera because they needed massive processing power, and also they were very basic in what they could do.'
The camera technology when UKIVA was established was low resolution, a maximum of 640 x 480 pixels, according to Williamson. There was no asynchronous reset or progressive scan, and systems used CCTV or broadcast cameras, or even tubebased cameras. 'There were no standards, so every camera and vision system had to have custom cables. There was no standard lighting company producing lights; it was very much [a case that] everything was made from scratch,' he remarked.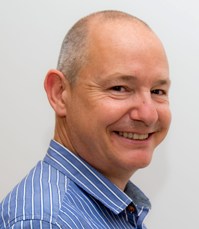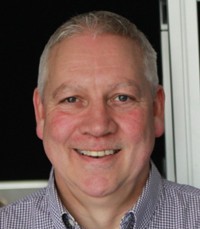 Mark Williamson (left), UKIvA chairman from 2003 until 2015, and current chairman Paul Wilson
Before starting Pinnacle Vision, Williamson worked for vision company Datacell, which wasn't a UKIVA member, and one of his projects was building a system for inspecting fuel pellets for nuclear power stations. Vision tended to be used where it had to be 25 years ago, such as for inspecting radioactive fuel cells, or for track and trace in pharmaceutical production, where putting the wrong pills in the wrong box could kill someone.
'At that time, a lot of vision got itself a bad name, because the processors were so limited that you couldn't use advanced algorithms that could deal with changes in illumination,' Williamson said. 'It was fixed threshold, binary processing. You still have to be careful about how you specify a vision system, but back then the clever bit was how to access the pixels in an efficient way, how to control the environment around the machine, because if you didn't get that right, the vision system would fail.'
To achieve the performance, the system had to read as few pixels as necessary, because the processors were so slow. Vision systems were also completely enclosed, so that lighting and the environment could be controlled. The hardware for a vision system would cost £20,000 to £40,000, Williamson said, whereas now a smart camera costs around £1,000. There was also no colour machine vision 25 years ago and 3D vision didn't exist either.
Now the market is changing once more – again, in part, because of greater processing power – this time to running vision on embedded processors. 'One of the big things that will happen in the future is closing the gap between embedded vision and machine vision,' Williamson stated.
'Embedded vision has been there for a long time, except the machine vision market never saw it,' he continued. 'Driver aids in cars is a good example; machine vision companies have never been involved in sign recognition or hazard recognition, or systems that recognise when a driver is falling asleep – that's all been done in a parallel universe. With the embedded ARM processors, we will start to see PCs becoming used less in a vision system.
'Twenty-five years ago, all the systems were embedded, but they were proprietary, no standard operating system. Dyson putting vision inside its 360 Eye robot vacuum cleaner, that is not traditional machine vision – you can't bolt a PC on top of the vacuum cleaner.'
This year UKIVA held its first UK machine vision conference in Milton Keynes, which included a keynote from Dyson's Mike Aldred about the company's 360 Eye robot vacuum cleaner and the vision technology used.
Commenting on UKIVA's Machine Vision Conference (MVC), Scorpion Vision's MD and UKIVA chairman, Paul Wilson, said: 'We felt it was time to launch MVC, because there is definitely more interest in machine vision now than there ever has been.'
Scorpion Vision joined UKIVA in 2006, and Wilson gave similar reasons for joining as Williamson: he had only just started the business, and was looking to educate himself and find out about his peers and competitors.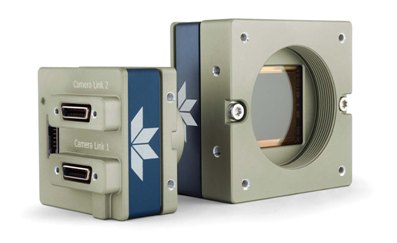 Teledyne Dalsa's Genie Nano camera has up to 500MB memory built in
Wilson also remarked that one of the things he wants to address as UKIVA chairman is the engineering skills shortage in the UK. 'We've [Scorpion Vision] been advertising for vision applications engineers, and I know that my peers have as well, and it's hard to find the right people,' he said.
Wilson said there are early discussions in UKIVA about efforts to promote careers in machine vision, potentially through thirdparty accreditation to attract more people.
'With the security of the PPMA behind UKIVA, its future is very secure,' Williamson said. 'The PPMA has the money to ensure that UKIVA, as a trade association, can be one of the best in the world at what we do, because we have the funding to do it. To put on MVC is a big step. In a way, we've come full circle. Back in the early days UKIVA ran small seminars; now, 25 years later, we've started our conference, but on a bigger scale. It had 52 exhibitors; that couldn't have happened 25 years ago.'